Horizon Forbidden West Plainsong Vista Point is found in the second area Aloy explores while heading west, and it follows the same logic as The Daunt Vista Point we already covered.
However, the HZFW Plainsong Vista Point is a bit trickier because to find where the image was taken, or the Plainsong Vista Point image location, if you want, you'll have to do a bit of exploration.
Nevertheless, the Horizon 2 Forbidden West Plainsong Vista Point is mandatory for completionists since it counts as one of the 9 Vista Points in the latest video game developed by Guerrilla Games.
So let's see how to solve this puzzle.
Horizon Forbidden West Vista Point Plainsong Location – Where To Find
HZW Plainsong Vista Point is west of Plainsong or the settlement you'll first visit when you play The Dying Lands main quest.
The said settlement is essential in Aloy's story, but you can visit the Plainsong Vista Point beforehand.
On my map below, you can observe the Vista Point in question.
Upon reaching the location on my map, once more, you'll want to find the Plainsong Vista Point Pillar and scan it.
The Pillar, in this case, is on a small hill. Make sure you dispatch the machines nearby before, though.
Once you're done, head to the front of the Pillar and scan the attached plaque.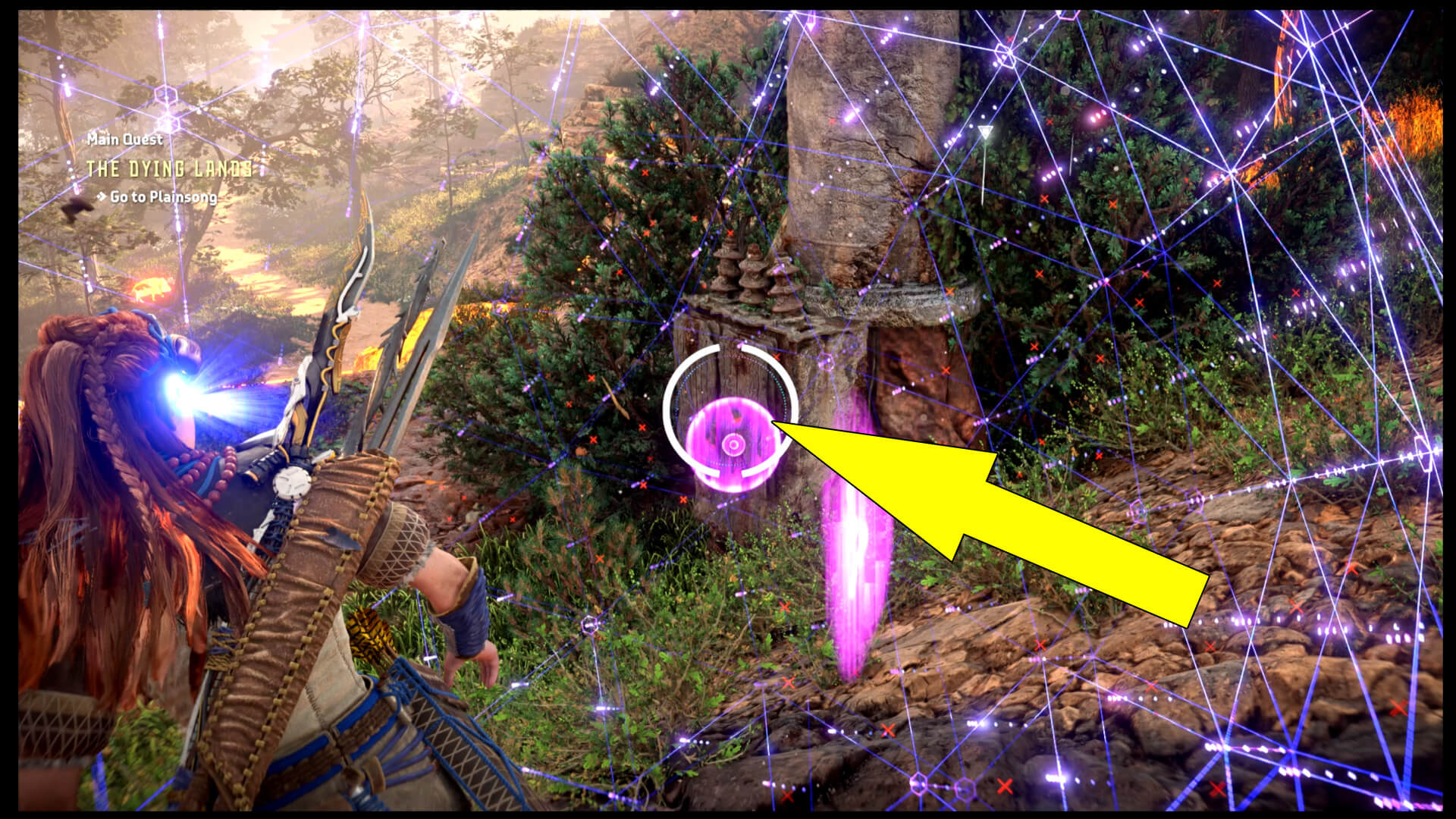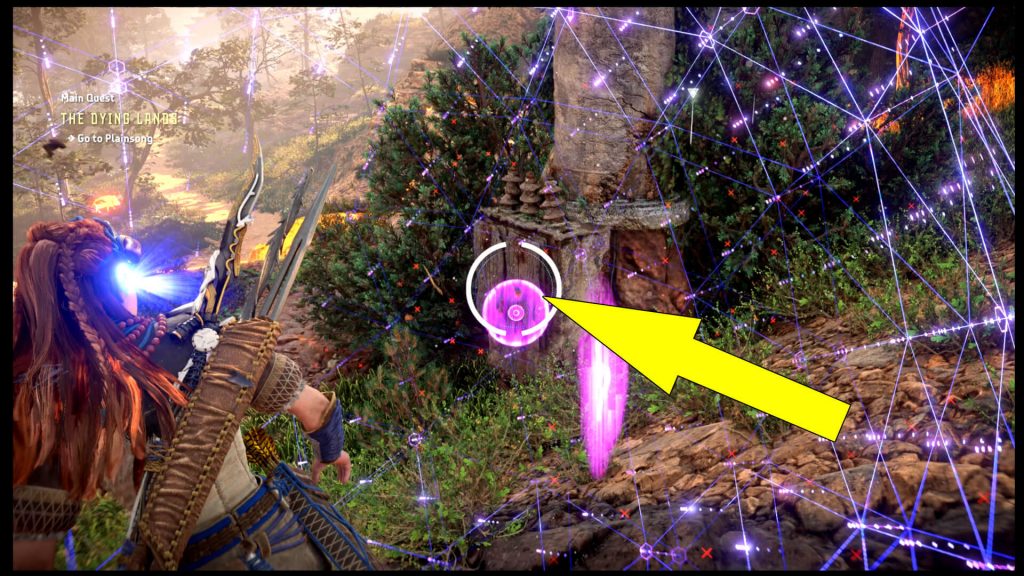 Great! Now the Vista Point: Plainsong quest should become available, and once more, you'll need to find where the image was taken.
Plainsong Vista Point Image Location – Where Was It Taken
After triggering the quest, you'll have to head south from your current location near the Pillar.
In other words, you'll have to follow the path up the mountain nearby.
As you progress, you'll see two satellite dishes (or what's left of them); however, the actual location is above them.
For this guide to be as helpful as possible, below, you can see the location where the picture was taken. That's the spot you'll have to reach.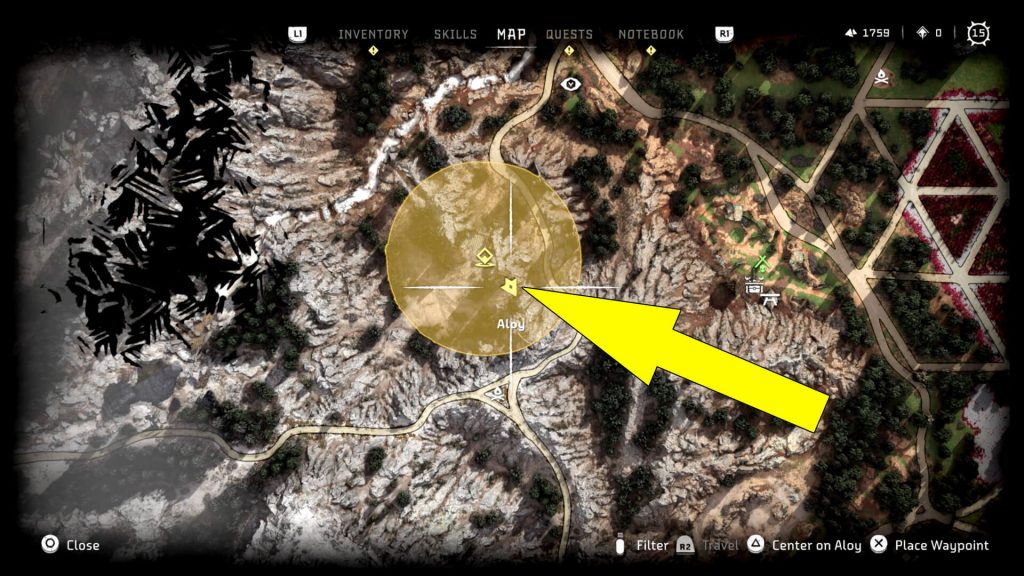 What you should know about this location is that Skydrifters heavily protect it, and you'll also have to climb the mountain wall behind the satellite dishes.
You'll most likely notice several old buildings on top of the mountain.
When you get to the spot on my map, check the ruins on the right side while facing the dishes and the valley below.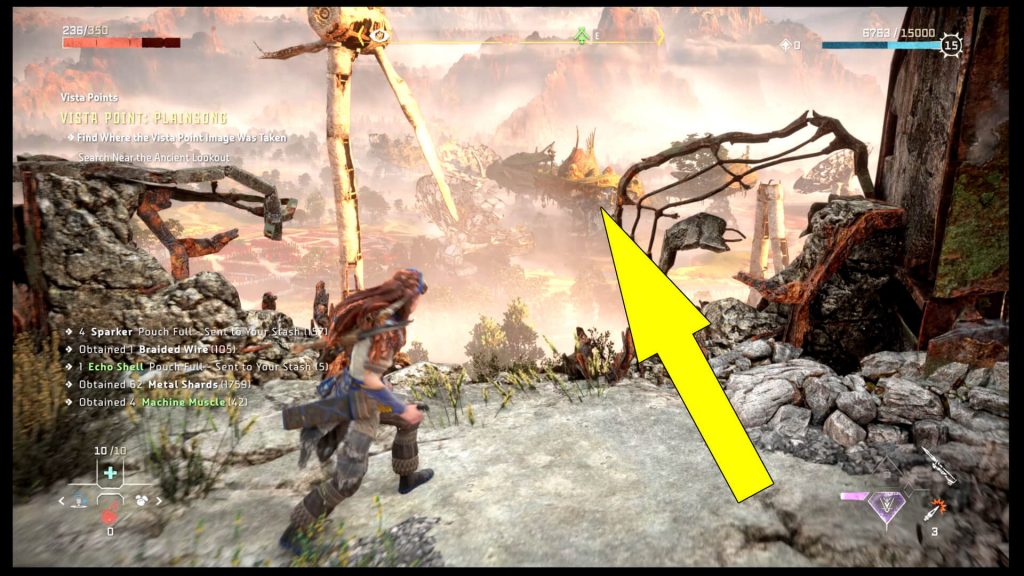 Place Aloy in the exact location as the one in my image above, then press the right thumbstick.
Now align the hologram on her Focus with the structures in the distance. You may want to use the central building to do it faster.
When the hologram and the three structures are aligned, the Horizon II Forbidden West Plainsong Vista Point puzzle is complete, and you'll receive 1500 XP, so now you may want to travel further west and solve The Long Coast Vista Point puzzle here.