Outriders Boglands is a First City area that is a bit trickier to reach, but it includes two Loot Chests which contain Gear, Scraps, and Crafting Materials.
The Outriders First City Boglands can't be accessed while playing the game's story, but it is tied to a side-quest.
This means that without starting the said side-quest, you can't enter Boglands. Just like the Old Man's Hut.
Fear not, though, because below I'll tell you how to get to Boglands in Outriders and also where to find the two hidden Loot Chests in this area.
How To Enter Boglands In Outriders
To be able to reach this section in First City, first, you have to play the Salvation main quest, up to the point when you are asked to speak to Jakub to leave for Eagle Peaks.
Or, simply put, you'll need to save Zahedi because he is the one you need to talk to.
Once you do that, head back to your First City camp, and Zahedi will have an additional task for you. And this task is part of the Endless Dark side-quest.
The moment you start the said quest, first, you'll have to return to Main Street and reach the Medical Lab.
Then, you are asked to cross the bridge between Main Street and City Center and enter Boglands.
Simple as that.
So, after you find the Medical Lab, return to the Bridge Explorer Flag and enter the cable car behind it. As you can see in my screenshot.
Good, so now that you know how to reach Boglands, let's focus on those Loot Chests.
Boglands Chests Locations
Boglands features two Loot Chests you should find, and because both of them are easy to miss, make sure you follow the order below if you want to get them.
Loot Chest #1 – In The Building Close To The Ruble
The first hidden chest is inside the building pictured below.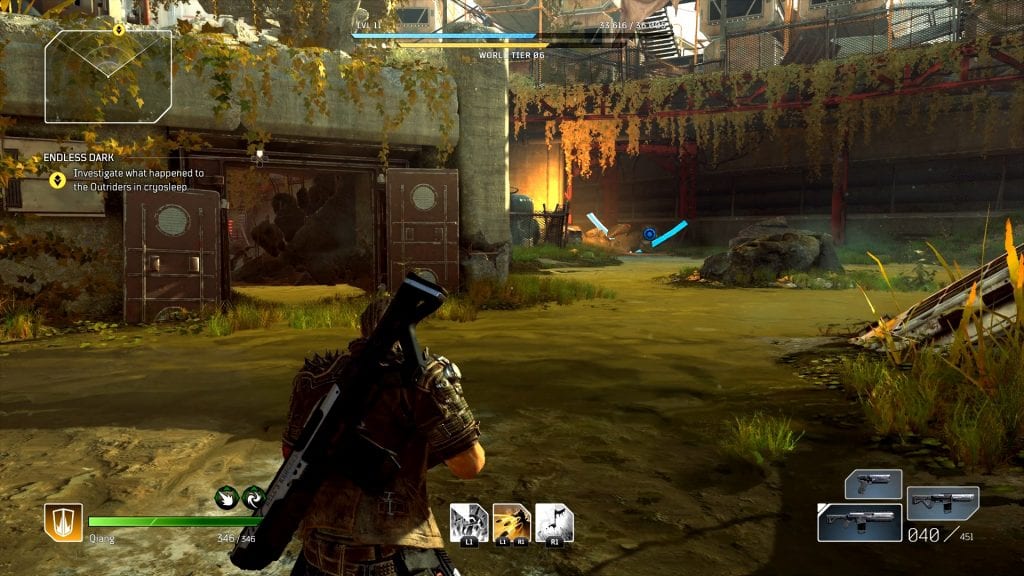 This specific house is located just before the first checkpoint, where you have to clear the rubble.
To get here, you'll have to deal with waves of Perforos, including an Alpha.
There is no need to check the whole swamp because it's quite empty. Just push forward and check the house in my image, then clear the rubble.
Loot Chest #2 – On Top Of The Hill
For the second Outriders Loot Chest in Boglands, you'll have to exit the large cave with more Perforo waiting for you.
The moment you do that, you'll see a small hill in front of you. And obviously more enemies.
Simply turn right when you reach the top of the hill to spot the chest in my screenshot.
And that's it. Now you know where to find the Outriders Boglands Loot Chests in the video game developed by People Can Fly.