Outriders Clearwater Springs is a Wreckage Zone area you can explore while playing the video game developed by People Can Fly, and it includes one Loot Chest you should find for additional Gear, Scraps, and Crafting Materials.
The Outriders Wreckage Zone Clearwater Springs is not tied to the game's main quests; however, it serves as a connection to other sections you'll most likely have to reach.
The area is otherwise very linear, especially because it is focused on combat within a large cave and several smaller tunnels.
How To Get To Wreckage Zone Clearwater Springs In Outriders
To enter Clearwater Springs the first time, from your main camp, head to the tunnels leading to the Polluted Outpost.
On your way, take a right turn and go through the red gate.
The area behind the said door or gate is known as Clearwater Springs.
Clearwater Springs Chest Location
Since in this region, you'll have to face waves of Perforo, don't worry about the loot chests or anything else except your survival.
There is one main path to follow here, and it will lead you to a very large cave where you will be ambushed multiple times.
Once you clear the cave, head up the hill, and you will be asked to clear the rocks in front of the Crevice Explorer Flag.
Loot Chest – By The Debris
The Outriders Loot Chest is found on the right side of the tunnel leading you to the Crevice.
As you can see in my image below, it is basically near the barrier you'll have to destroy.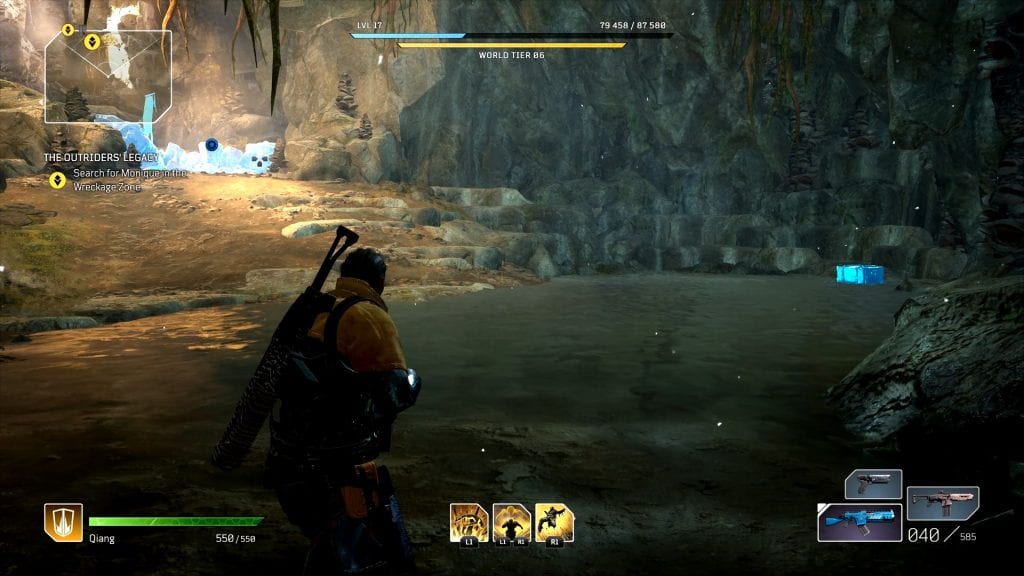 Collect the goodies inside and head up the hill to unlock the Crevice Flag.
From this checkpoint, you can access other areas such as Secluded Homestead (which includes 2 Loot Chests) and Derelict Mine (where 2 additional chests can be found).
And that's it. Now you know where to find the Outriders Clearwater Springs Loot Chest, so go get it.