Outriders Helmets look pretty badass, but nothing can beat the face of an angry Outrider filled with scars. Furthermore, the Helmets in Outriders make your character hard to spot when in a group.
As such, the awesome devs at People Can Fly decided that an option to remove or hide your Outrider's helmet is a must-have, and below we will talk about it.
Or, simply put, I'll tell you how to hide your helmet in Outriders, the video game.
How Does The Outriders Helmet Visibility Work
Before we discuss how the option works, one very important thing that must be outlined is that this change won't affect the gameplay.
What this means is that by hiding your Outrider's helmet, you won't suffer any penalties when it comes to your character's stats.
For example, in the image below, you can see that my Outrider has a Wraith's Mask equipped. Not the best Outriders Headgear, but it does the job.
This specific helmet has an armor rating of 125, along with a bonus firepower of 26 and the Fire Eater Mod.
Now, if I decide to hide the headgear, my bald Outrider looks like this.
Again he may not be Prince Charming, but he's pretty great at handling guns. Big ones.
As you can see, the Helmet was removed, but his stats remain the same, and by that, I mean the bonuses offered by my fancy Wraith's Mask above.
Long story short is that you'll still be able and you should equip a headgear, but by removing it, you'll only affect your character's cosmetics. Or your Outrider's looks.
How To Hide Your Headgear
Now that we know what the Outriders Helmet Visibility means let's see how you can set it on or off, so your awesome character can show his face to the world.
This option is pretty easy to find, and you can find it in the Gameplay tab.
On PlayStation 5 and 4, these are the steps you have to follow:
Press the Options button on your PlayStation controller.
In the Game Menu, under World Tier, pick Options
In the Gameplay Tab, you'll see the Helmet option just above the Enable Crossplay we already discussed
On PC, Xbox One, Xbox Series X/S, and Stadia, these steps are pretty much the same.
Below you can see the actual option, which by default is turned on.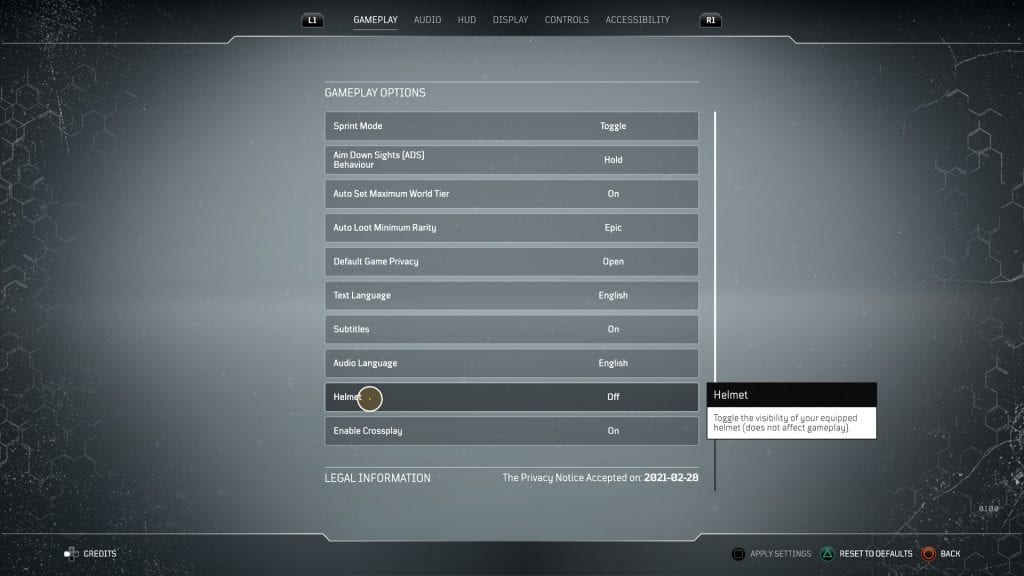 And that's about it, friends! Now you know how to hide your Helmets or Headgear in Outriders.