Outriders Outpost Gate is a main-quest Quarry area you will have to explore while playing the Expedition mission, and it includes three Loot Chests you may want to open for additional resources and gear.
The Outriders Quarry Outpost Gate is relatively small compared to other regions; however, to reach it, you'll have to cross the Swamps.
Since there are no Loot Chests in the Swamps, you should only focus on surviving the waves of Perforo waiting for you.
How To Get To Quarry Outpost Gate In Outriders
To enter the Outpost Gate the first time, you have to track the Expedition main quest or mission.
Your first goal in the Quarry is to reach a proper place to set your camp, yet, your truck won't be able to advance without a bit of help.
So, you'll reach the Swamps first, and you'll have to push forward up to the point where you'll have to fight another Brood Mother. You may remember this boss from the Irradiated Shore.
Once you deal with her, deploy the Outpost Gate Explore Flag, then head to the actual Outpost.
The game prompts you to lower the Outpost Bridge so the convoy can enter the Quarry.
Once you open the red door near the said flag, you'll enter the Outpost where the three chests below can be found.
Outpost Gate Chests Locations
When you enter the Outpost, you should be very careful because you'll be constantly attacked by lots of Perforo.
Expect regular ones, Venomous Perforo and also Alpha Perforo.
The idea here is to reach the top of the Outpost. The path is linear, so focus on collecting the following chests as you progress.
Loot Chest #1 – Near The Starting Point
The first Outriders Outpost Gate Loot Chest is extremely easy to find.
Look for it the moment you enter the Outpost on your right side.
It is impossible to miss because it's on your way toward the second section.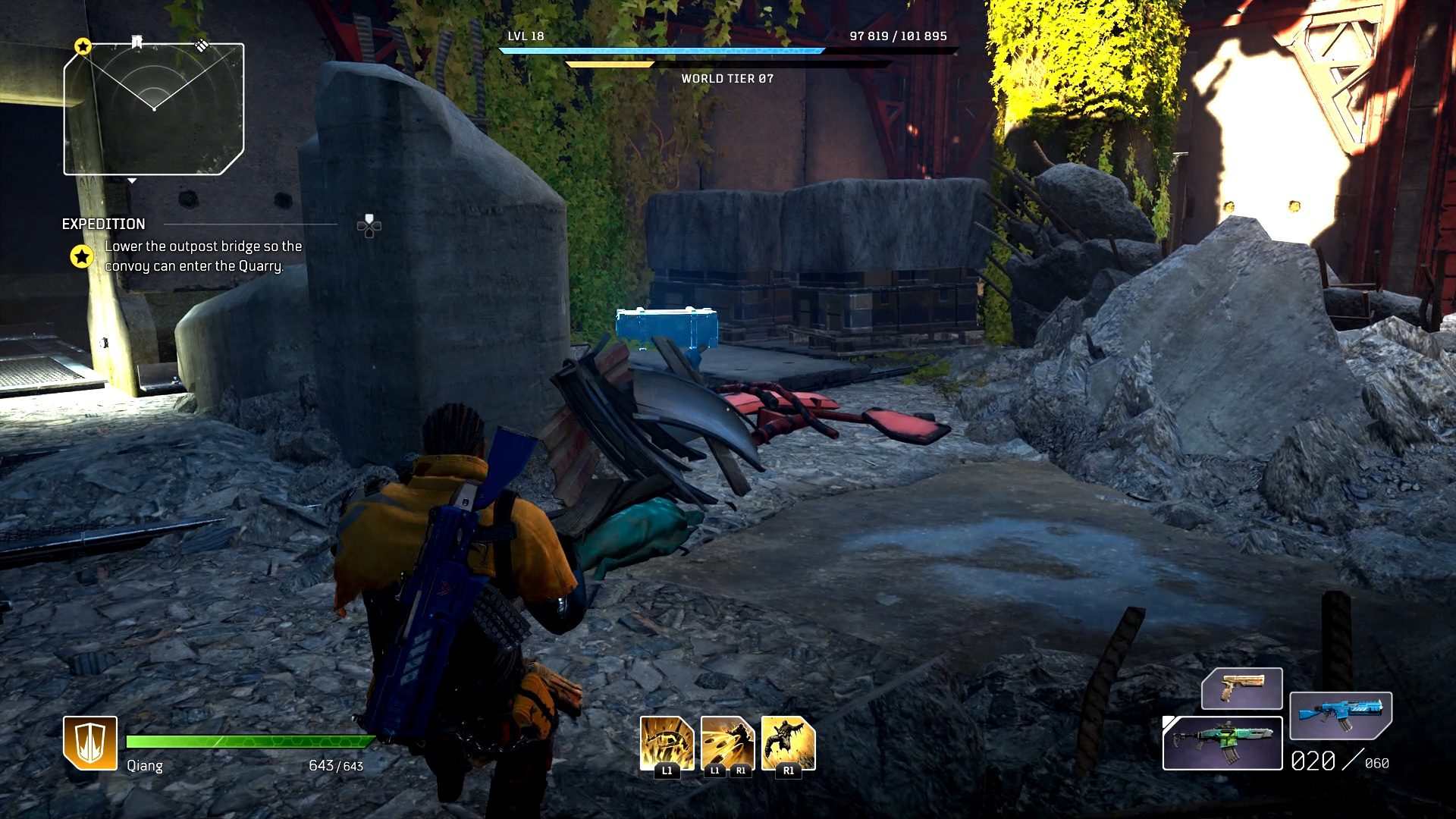 Loot Chest #2 – Behind A Breakable Wall
After you get the previous chest, move down the ramp to the lower section of the Outpost, then turn left to see the chest in my image.
This one is a bit trickier to get because you need to shoot the explosive canisters (red) and break the wall. Once you do that, the goodies inside the chest are yours.
Loot Chest #3 – On Top Of The Outpost
Finally, we have the third and final Outriders Outpost Gate Chest which is also impossible to miss.
It is found on top of the Outpost, where you have to pull the switch and lower the bridge for your truck.
Simply look for it around the corner.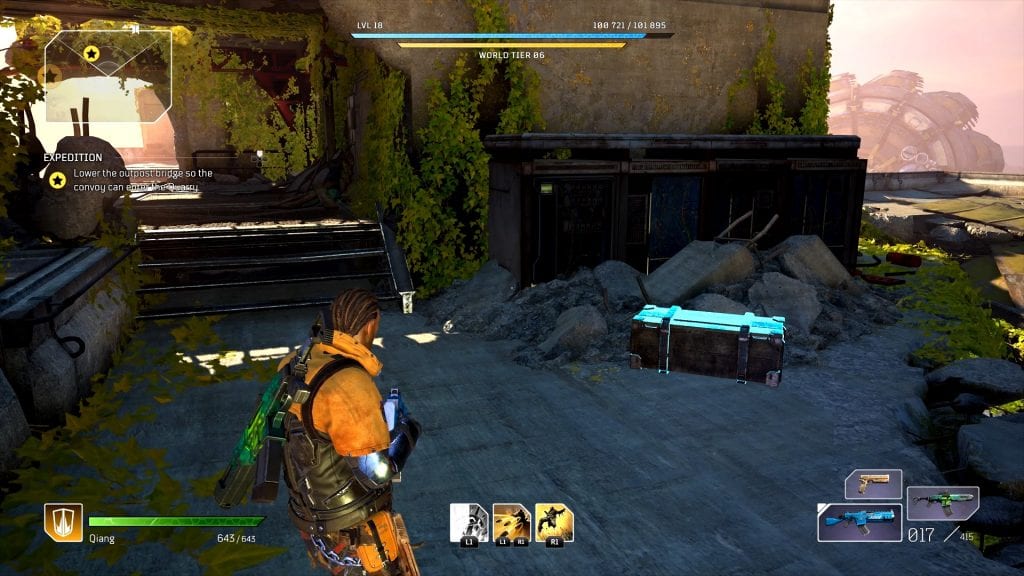 Get this one, then complete your objective to set your camp in the Quarry.
And that's it, friends. Now you know where to find the Outriders Outpost Gate Loot Chests in the video game developed by People Can Fly.