Solar Panels Chests include Gear, Scraps, and Crafting Materials you should not miss while playing the Outriders, so to help you find them faster, below, we will discuss the Loot Chests in this area. Similar to the Ruined Outpost, this area features 2 Outriders Loot Chests you may remember from the Legendary Gear Farming guide we talked about.
They are pretty easy to find, but just in case you need help, I'll tell you where to look for them. Before we start, just so you know, this area is unlocked while playing the Reunion main quest as you advance toward the Solar Tower Platform.
As usual, the area between the Rift Passage Explorer Flag and the Solar Panels doesn't have any notable loot, except for some mining locations you can totally ignore. The moment you pass the Rift Passage Explorer Flag, however, you'll have to deal with a bunch of Cutthroats. Dispatch them quickly and keep pushing up the hill.
Loot Chest #1
The first Solar Panels Loot Chest is found in a dead-end. Once you start moving up the first hill, hug the left side, and you'll see an entrance with a broken pipe that floods the ground. On the other side of this dead-end is the chest you're looking for, and you can see it in the image below.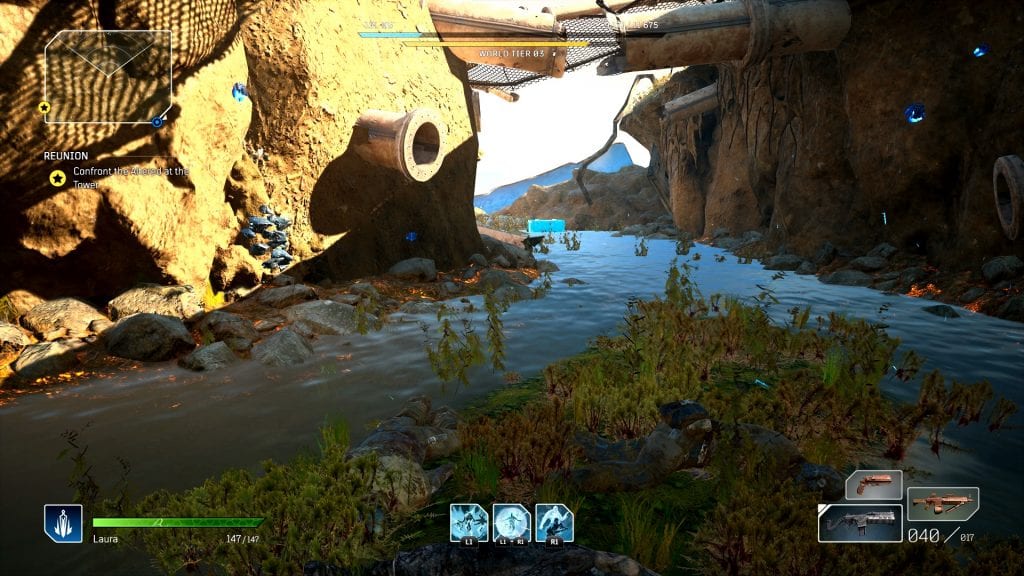 Loot Chest #2
For the second Outriders Loot Chest in Solar Panels, all you have to do is retrace your steps back to the main path after you get the previous one. Continue to move up the hill, and when you reach the top, you'll see a rather large building. This is the Solar Towers Platform in Outriders, and to enter, you'll need a key dropped by one of the mobs.
Before entering the building, though, turn left, and you'll spot a new Loot Chest by a fence on top of the hill. My Trickster below is aiming at it.
Great! Now you know where to find all Solar Panels Chests, so let's find those in the Solar Tower Platform.