Outriders Hounds Base Chests also allow you to get additional loot while playing the video game developed by People Can Fly, and throughout the following guide, we'll discuss the locations of these Loot Chests.
Unlike the Hounds Warehouse, this time you'll need to find 3 Outriders Loot Chests, so make sure you follow the order below in order to find all of them in a single run.
Before we begin, keep in mind that even though you may not find any Legendary Gear inside them, you should still open all these chests as they provide other goodies you can sell to get Scraps or Crafting Materials.
Finally, this area is unlocked when playing the Outriders A Bad Day side-quest which starts at your camp in Rift Town.
Outriders Hounds Base Chests Locations
As you enter the Hounds Base, you'll find yourself in an elevated area with multiple enemies right below you.
There are several waves that will spawn here, so make sure you hold your ground and deal with all of them.
I'll not insist on tactics or combat because it is not the point of this guide.
Simply clear the first region.
Now, the Area Objective states that you need to Open the Gate.
Loot Chest #1
The moment your objective changes, look for the first Outriders Hounds Base Loot Chest inside a wooden shack on the right side.
In the picture below, you can see my Trickster looking at the door to the said shack. Notice the graffiti above it.
You'll be able to spot it right before you enter the larger hall where the gate is located.
Loot Chest #2
The second Outriders Loot Chest in Hounds Base is located behind the gate mentioned above.
Once you open it, you'll enter a rather large hall where you should expect heavy resistance.
Clear all enemies and before heading towards the next objective (Confront the Hounds' leader, Barker), look for the chest in a room on the left side.
It is under the upper platform where the next objective is located. Again, you can see my character looking at the said room and chest.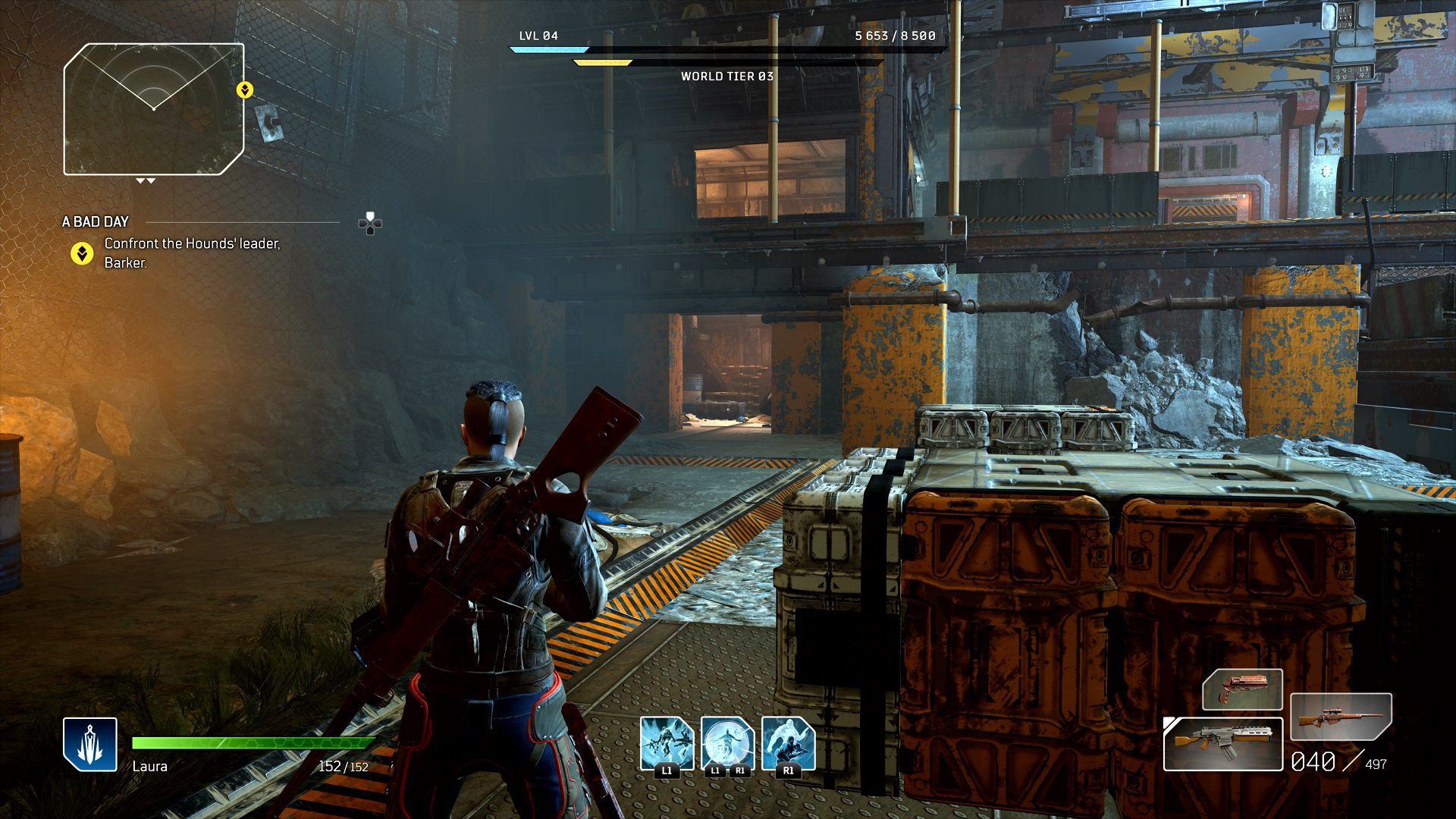 Loot Chest #3
The third and final chest in the Outriders Hounds Base is the easiest to find.
It's inside Barker's Hideout, and you'll be able to get it after the cutscene when you confront him.
Once you get the final chest, use the Hounds Base Return Point to fast-travel back to your camp and turn in the quest. And that's it! Now you know where to find all Outriders Hounds Base Chests, so let's find those on Bunker Hill next.