Dying Light 2 Old Mound Street Glass House is a location you'll have to investigate during a sad side-quest, named The Rose Garden.
Dying Light 2 Stay Human Old Mound Street Glass House is in Quarry End District, and your objective is to get inside and find an old lady.
The DL2 Rose Garden is, as most quests in Techland's latest video game, a sad one, and tells the story of a florist named Peter and his only customer, an old lady.
As such, in case you need help with this side-quest, below I'll tell you where to find the Glass House on Old Mound Street and how to deliver Peter's rose.
Dying Light 2 Rose Garden Quest – How To Start
To play the Dying Light 2 Rose Garden quest, your first goal is to activate the Oak Windmill, which is the only Windmill in Houndfield.
If needed, refer to this Oak Windmill activation guide.
Next, you'll need to find Peter, the florist or the quest-giver. His location is marked on the map below, and it is the roof of the Cadet Academy Settlement.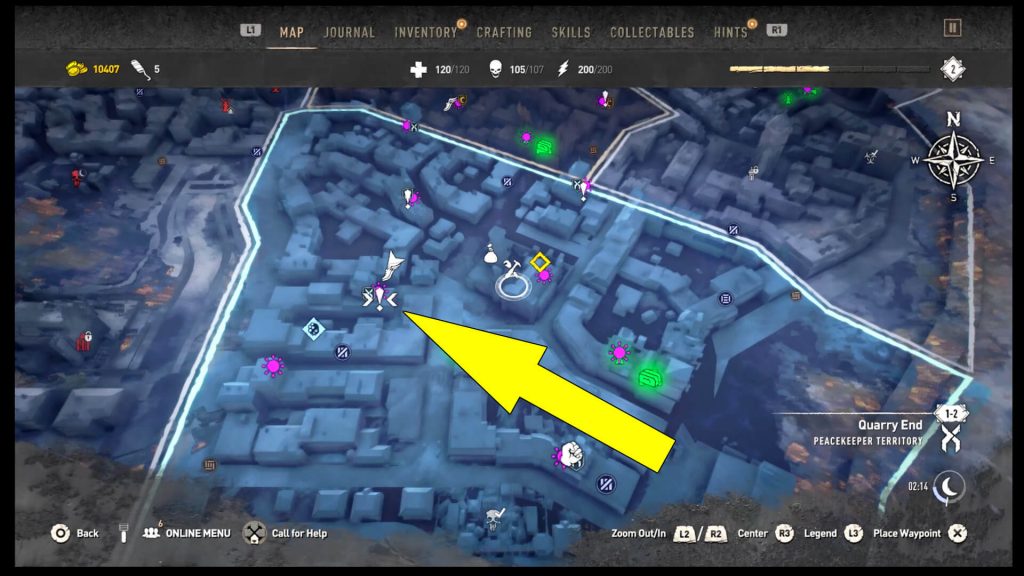 Make sure you head to that location, and you'll find Peter in the screenshot below.
Before talking to him, you should know that there are several dialogue choices, but they won't affect the story or the rewards you'll receive at the end of the quest.
Now, if you pay close attention to Peter's story, you'll find out that he is a florist and he had only one customer. An old lady.
The said lady used to visit him daily to buy flowers; however, recently, the old lady stopped seeing Peter. As you can guess, Peter is concerned, and he needs your help to find his customer and deliver a rose.
So this is a simple delivery quest, but with an unfortunate ending.
The Rose Garden Old Mound Street Glass House – Where To Find
The Dying Light 2 Old Mound Street Glass House is in Houndfield District, just south of Peter's location.
You can see it on the map below; however, what makes it a bit difficult to identify is the fact that you'll approach it from the north while the house is facing south.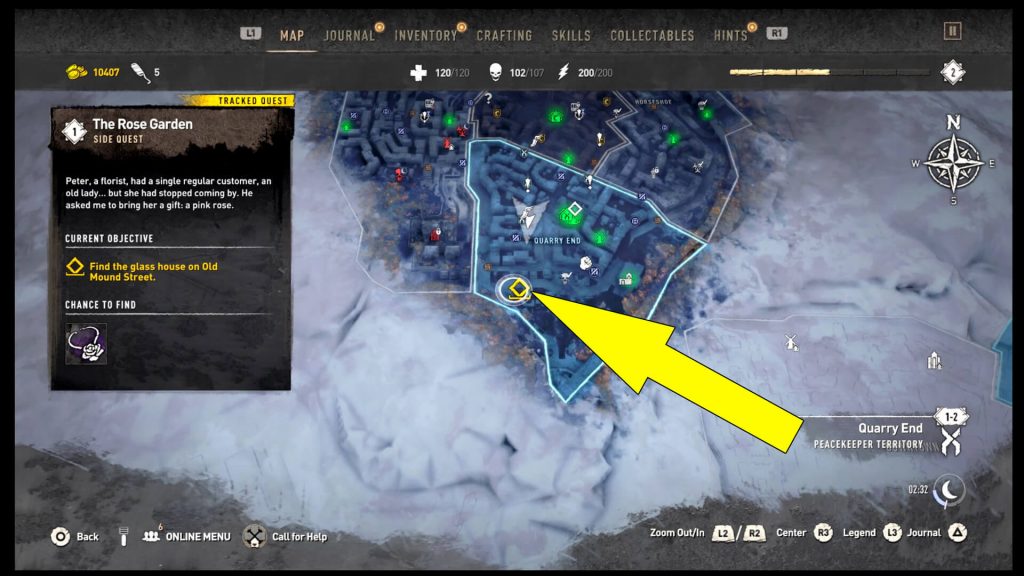 This means that when you arrive at the location marked on your map, you'll have to look for a house like the one in the following screenshot.
Once you find it, go around it, and you'll see the main entrance, which is made of glass, but it is locked.
Therefore, head left while facing the main entrance and look for a large door.
Rose – How To Give Peter's Rose To The Old Lady
To give Peter's rose to the old lady, you obviously have to find her first.
So, once you enter the house, head towards the lobby, then turn right.
Now, you'll enter a large garden with a fountain in the middle.
While facing the fountain, on the right side, you'll see a letter on a table (pictured below).
Pick it up because it belongs to the old lady named Helen. In fact, it's her testimony.
Now, turn right again, and several steps away, you'll see the old lady in a chair.
Interact with the corpse, and Aiden will place Peter's rose next to her.
Now you'll have to head back to Peter and tell him the truth about the old lady or her mother. Before doing so, you can also read the collectible you just found.
Also, don't forget to cross the street and open the Quarry End House Safe as explained in this guide.
When you talk to Peter, as you can guess, he'll be pretty upset that the old lady passed away.
But at the same time, he'll be happy knowing that his mother, who left him when he was young, visited him every single day.
After you talk to Peter, the Dying Light 2 The Rose Garden quest ends, and you'll receive Helen's Rose Necklace, which can be sold.