Dying Light 2 Oak Windmill is the only Quarry End Windmill you have to activate in the southern neighborhood of the first region on your map.
Similar to the previous Windmill we have covered (Larch Windmill), the Dying Light 2 Stay Human Oak Windmill counts as one of the 17 Windmills featured in the video game developed by Techland.
Therefore, the DL2 Oak Windmill is mandatory to unlock the Don Quixote trophy/achievement.
Obviously, to power up the Quarry End Windmill, you'll have to do some climbing and follow a specific route which I'll explain below.
Dying Light 2 Oak Windmill Location – Where To Find
As you can see on the map below, the Quarry End Oak Windmill is southeast of the Faction Hub.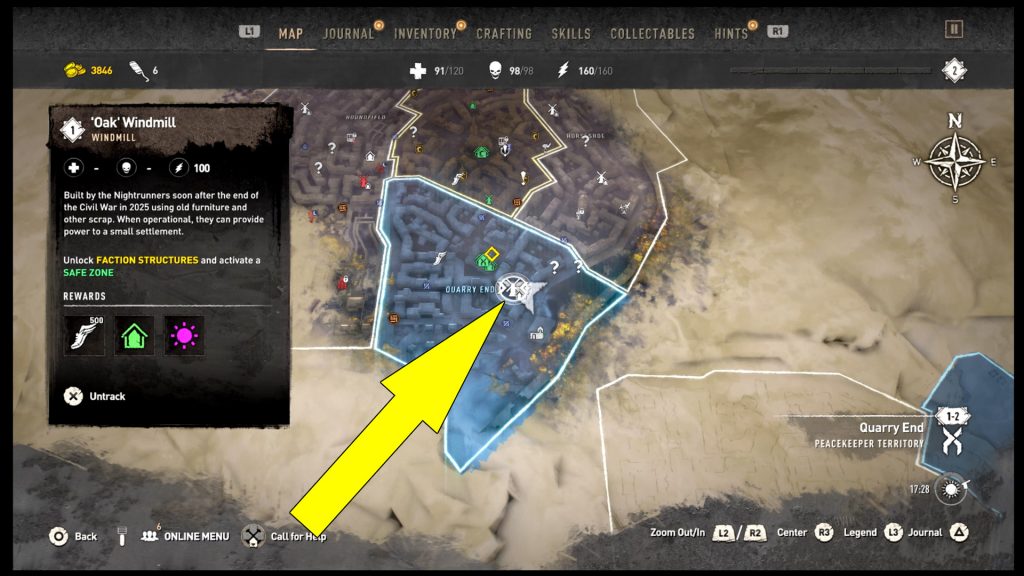 What you should know about this landmark is that it's one of the easiest Windmills because it doesn't require too much Stamina.
Or, simply put, you can activate it very early in the game, assuming you have at least 100 Stamina.
So, your first objective is to reach the location on my map.
Oak Windmill – How To Climb To The Top
Upon reaching the Oak Windmill, it is time to climb to the top.
Your starting point should be the wooden board with a yellow tarp on it.
Jump and grab the yellow tarp, then pull yourself up to the wooden platform.
Now turn around, and you'll see a moving weight.
Wait for it to reach the bottom, then jump and grab it.
While standing on the moving weight, wait until it reaches the top, then turn around, and you'll see another wooden platform.
It is on the other side of the mill, as opposed to the moving weight.
While standing on the second platform, look up, and you'll see another yellow tarp you can grab.
Pull yourself up, then go right so you can face the second moving weight, which is a bit smaller.
The next step is to jump and grab the smaller side of the weight.
Once you do this (while hanging), move to the left, then turn around.
Behind you is the next wooden platform you can jump on.
From here, things are pretty straightforward because all that's left to do is to slowly walk on the wooden beam around the corner.
Now, keep going around the central structure, and on the other side, you'll see a ladder.
Climb on it to spot the DL2 Oak Windmill fuse box you have to activate.
After interacting with the fuse box above, the Dying Light 2 Oak Windmill in Quarry End becomes operational.