Dying Light 2 Birch Windmill is one of the two Windmills in the Houndfield district and one of the 17 Windmills in the video game developed by Techland.
Alongside the Cherry Windmill, the Dying Light 2 Stay Human Birch Windmill is the first one with a different requirement, and it is a bit trickier than all Windmills we have covered so far.
Nevertheless, the DL2 Birch Windmill can be activated, provided you know the requirements and the path you'll need to follow to get to the roof.
As such, below, we'll cover this landmark, and I'll tell you everything you need to know about it.
Dying Light 2 Birch Windmill Location – Where To Find
The map below shows that the DL2 Birch Mill is northwest of the Hayward Square Metro Station.
Also, you can see that it is on the northwestern side of the Houndfield district.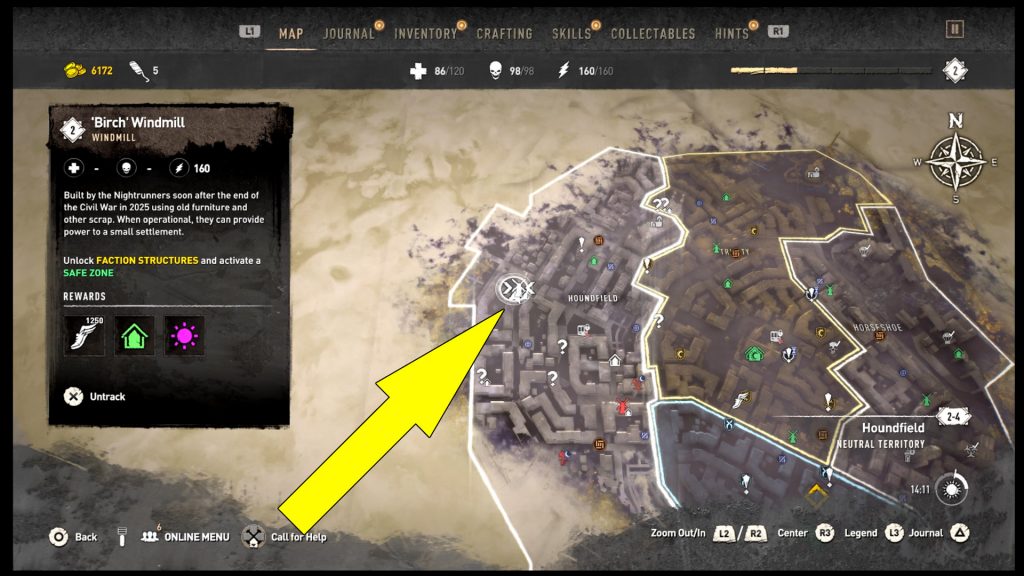 Before moving forward with the path and the challenge, you'll have to know that this Windmill requires 160 Stamina since it's a level 2 mill.
Without the required stamina, you won't reach the top.
As such, head to the location on my map after you find enough Inhibitors.
Birch Windmill – How To Climb To The Top
Upon arriving at the location on my map is time to start the challenge.
The starting point here is the wooden platform with a yellow tarp on it.
Climb on the platform, then turn around to spot a moving weight (pictured below).
Wait for it to reach the bottom, then jump on it.
Now, while hanging, turn around, and you'll see another moving weight.
The idea here is to keep hanging until the second weight is at the same height as the first one.
Just as you see in the following screenshot.
Once you jump, the next step is essential and the actual trick.
On the right side, you'll see a wooden platform; however, you won't be able to reach it unless you move right (while hanging from the second weight).
Basically, the trick here is to move right and go around the corner of the small moving platform.
Only then should you turn around and jump on the upper wooden platform.
Once you get on the next platform, turn around again, and you'll see a ledge you can jump on.
Grab the ledge in my screenshot above, then pull yourself up and turn left.
Now you'll see the ladder that grants you access to the roof where the fuse box awaits.
Activate the fuse box, and the Dying Light 2 Birch Windmill Activity is completed.