Dante's Den is a Cyberpunk 2077 location and objective for a Reported Crime you can complete in Westbrook, Japantown area of the video game developed by CD Projekt Red.
In Another Circle Of Hell Reported Crime, your goal is to find Dante's Den and retrieve the contents of a stash.
Cyberpunk 2077 Reported Crime: Another Circle Of Hell requires you to complete the Playing For Time story mission first.
Once you do that, you may also want to complete other Japantown NCPD Scanner Hustles because these activities provide Shards you can read.
By reading them, you'll unlock new locations, side-missions, and obviously reported crimes.
Journal Entry
Choom wanted to grab someone's data, got himself burned. Clear? BURNED.
But seriously – it could be worth checking the coords from his gear. Chooms like him usually have some nice toys.
Reported Crime: Another Circle Of Hell Location
Look for this NCPD Scanner Hustle or Reported Crime in central Japantown.
On my map below, you can see that this crime is just southwest of Redwood Market fast travel point.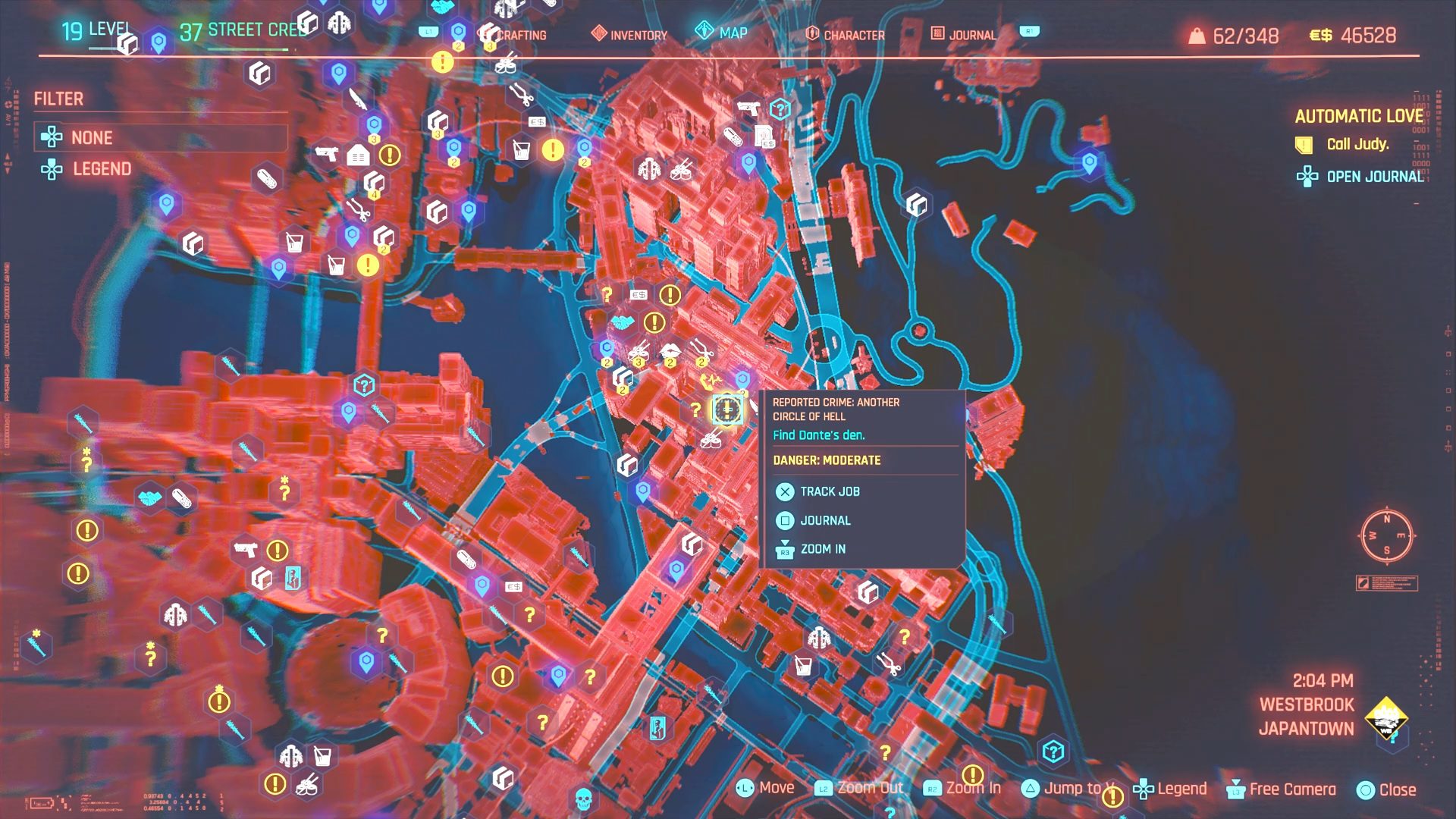 When you get close to the location, you'll receive a call from Wakako Okada and unlock the Wakako's Favorite Gig.
Before attempting the Gig, though, you must find Dante's Den, which happens to be a deposit.
Where To Find Dante's Den
The good thing about Dante's Den is that it's an unprotected location, meaning that there are no enemies here and no goons you have to kill.
The Den, as you can see in my screenshot below, is, in fact, a simple deposit of some sort.
You'll find it in between several stairs at the marked location on my map. Notice the red tree and the Tyger graffiti.
After you open the door to the Den above, you'll have to search for a stash.
Although there is a lot of loot inside, the objective of this mission is to loot the stash on the right side (also pictured).
You can see it next to the red radio.
Inside Dante's Stash, you'll find a Bioconductor and a Skill Shard: Breach Protocol Epic Progression Shard.
Once you get these, the mission ends, but obviously, you'll want to fully explore this place and also read the emails on the computer nearby.
That's everything you need to know about Dante's Den in the Cyberpunk 2077 Reported Crime: Another Circle Of Hell mission.