Cyberpunk 2077 Reported Crime Paranoia: Dirty Fred's Stash Location
In Cyberpunk 2077 Dirty Fred's Stash is your objective for a Reported Crime you can complete in Watson, Little China area.
This Reported Crime is named Paranoia, and your goal is to go to Dirty Fred's Stash.
Cyberpunk 2077 Reported Crime: Paranoia requires you to complete The Rescue story mission first.
Once you do that, you may also want to complete other Watson NCPD Scanner Hustles, because these activities provide Shards you can read.
By reading them you'll unlock new locations, side-missions, and obviously Reported Crimes.
Fred's Stash is very similar to R.J. Griffin's Urn.
Cyberpunk 2077 Reported Crime: Paranoia Location
Look for this NCPD Scanner Hustle or Reported Crime close to the Drake Ave fast travel point, in the northern part of Watson.
On my map below you can see that it's in the proximity of the border to Watson Northside.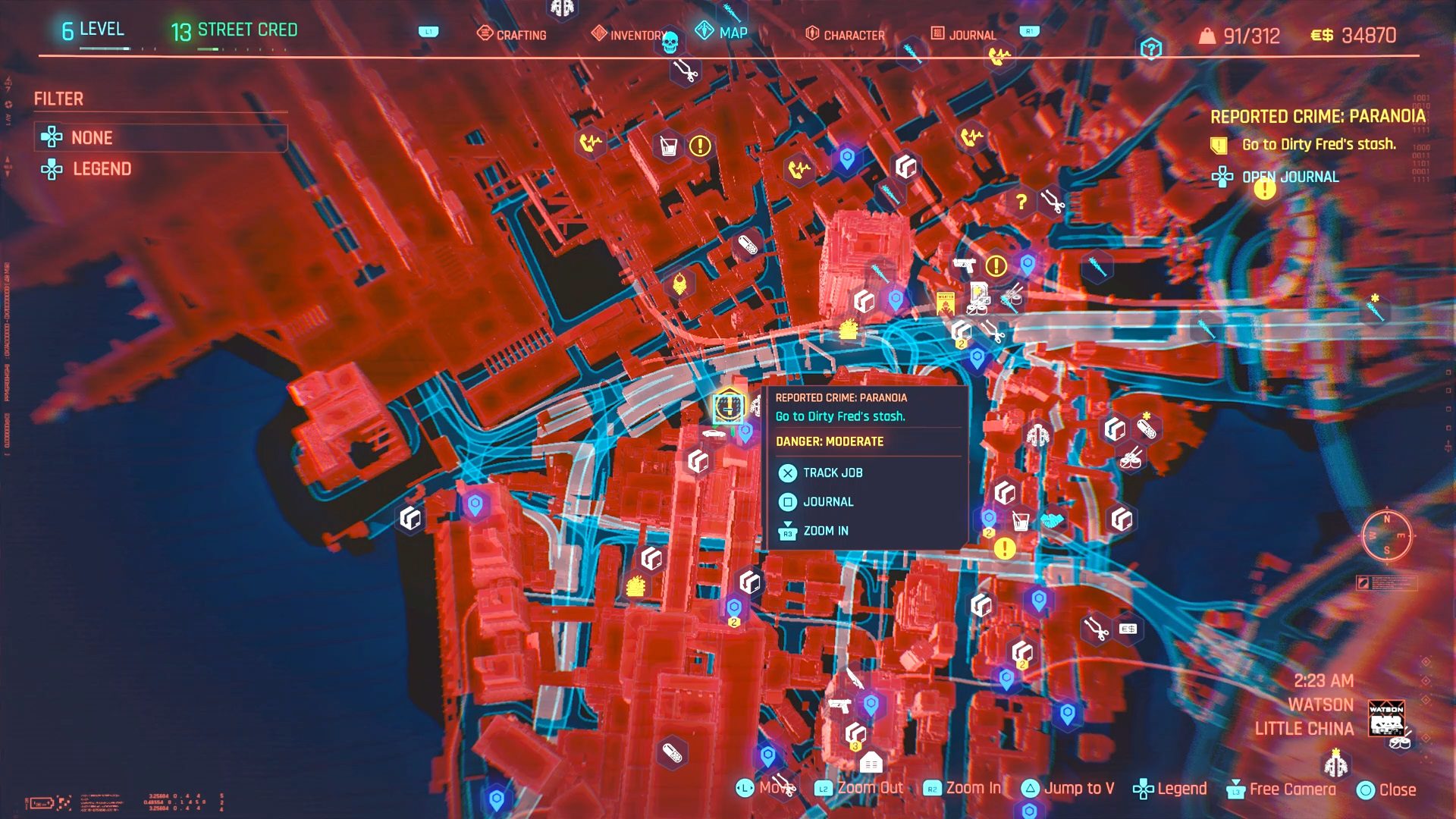 When you get close to this location, you may be surprised that you won't find anyone.
That's because this crime is a bit different than the rest, and your goal is easy at first sight.
Find, open, and loot Dirty Fred's Stash. But where is it?
Where To Find Dirty Fred's Stash In Cyberpunk 2077
Dirty Fred's Stash is on top of a lower roof, which can't be reached at first sight.
Except that it can. And I am going to tell you how.
When you reach the location marked on my map look for a building with a billboard on it. Notice the Turbo sign.
On top of it is the stash which is basically a crate.
While facing the building in the image below (like I am doing), go right, and you'll find a fast-food kiosk.
In my picture below you can see two things. The said kiosk and a cable which connects the kiosk and the Turbo building.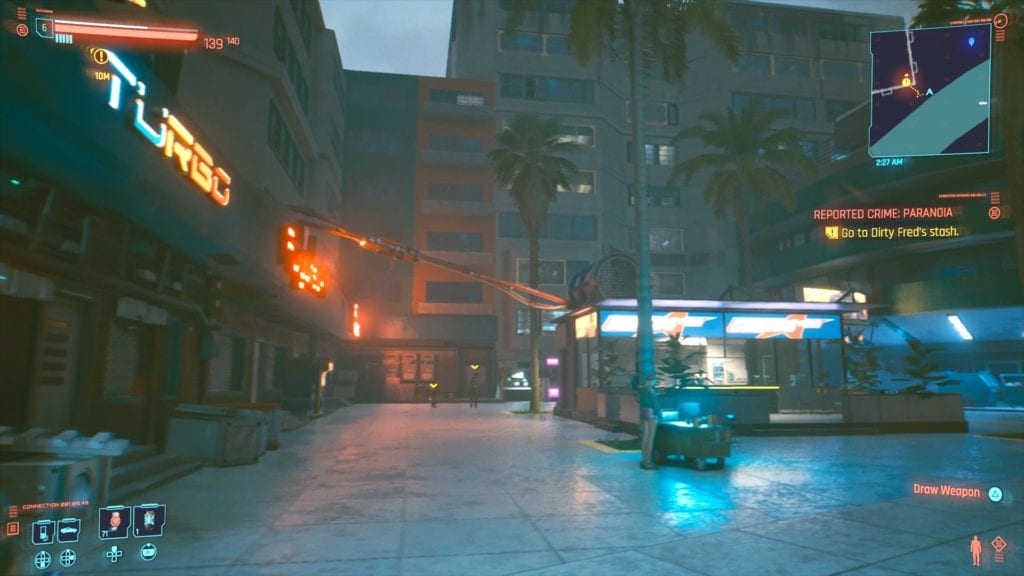 That is the bridge you'll have to use to get to Fred's Stash.
So, what you have to do next, is to go around the kiosk and you'll find some crates.
Climb on them by jumping and you'll reach the kiosk's roof.
Now, head to the bridge (cable) and use it to get on the roof where Fred's Stash is waiting for you.
Loot it and inside you'll find some great items; however, I think that they are random.
In my case inside Dirty Fred's Stash, I found a Rare Steel Pipe (Blue One-Handed Club) and an Uncommon Blood Pump (Green Skill).
That's everything you need to know about Dirty Fred's Stash and the Cyberpunk 2077 Reported Crime: Paranoia; so good luck retrieving it and let me know what you found inside it.