Cyberpunk 2077 Galena G240 or Thorton Galena G240 (2031) is one of the 27 vehicles you'll need to purchase in order to unlock the Autojock Trophy/Achievement.
It can be found in Watson, along with the Quartz EC-L R275, Thorton Colby C240T, Shion MZ2, and Type-66 Cthulu, all of them being required for the same trophy/achievement.
Cyberpunk 2077 Thorton Galena G240 (2031) unlocks after you complete the Playing For Time.
Vehicle Description
It used to be people only desired bread and circuses. By the 21st century, however, automobiles were added to the list. Without a car, you can't get to work, drop the kids at kindergarten, or escape spontaneous turf wars.
The Thorton Galena first hit roads in 2031 following a government stimulus to pump out affordable cars and give Americans a boost following the recession. As Thorton didn't have much experience producing small cars at the time, the company bought engines for the Galena from India's Mahir Motors.
Unfortunately, the collaboration was not considered a success, with the Galena yielding unremarkable performance and even less remarkable sales. Still, it drives – and that's the most important thing.
Where To Find The Thorton Galena G240
Look for this vehicle close to V's apartment and the Megabuilding H10: Atrium in Little China. On my map below, you can see the car's location.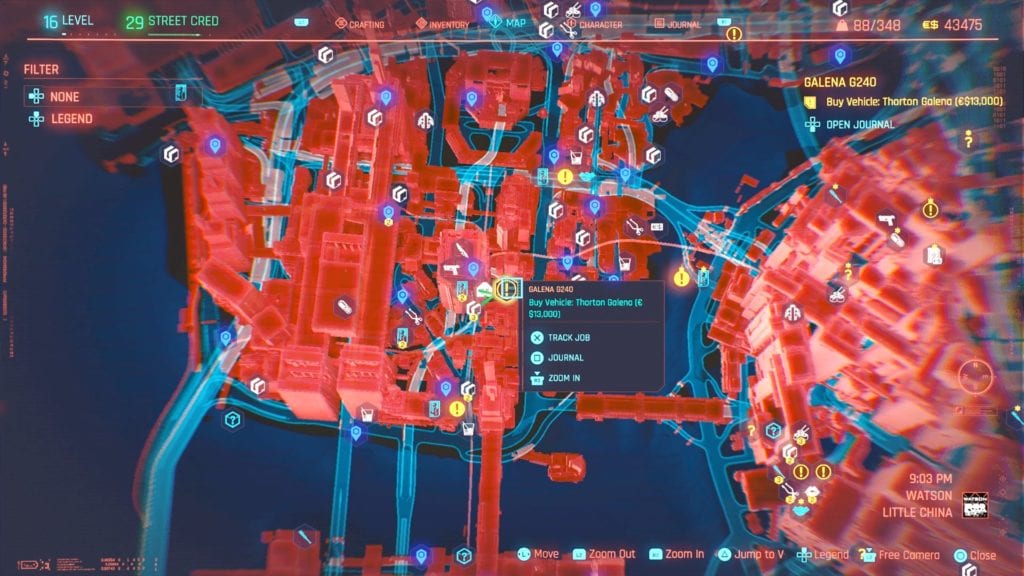 When you reach the spot on my map, you should be able to find it in a parking lot with multiple levels.
The said lot can be reached by descending from the roof or simply by following the ramps from the ground level.
You can also see the car below.
The Cyberpunk 2077 Galena G240 costs €$13,000, so make sure you have enough money to buy it.
For purchasing (unlocking) the Thorton Galena G240, you'll also receive 80 Street Cred XP Points.
Once purchased, if you want to call your brand new Galena G240, press and hold Right on your D-Pad, select it from the list, and then hit Confirm.
That's everything you need to know about the Cyberpunk 2077 Thorton Galena G240 (2031).