The Cyberpunk 2077 Tarot Graffiti are required to complete the Fool on the Hill Side Job, and out of 20 collectibles, in the guide below, we'll discuss the 4 Westbrook Tarot Cards locations or the Tarot Graffiti you must find in Westbrook.
These collectibles or quest items appear on your map after you complete the Playing For Time main job or when the whole map in the video game becomes available for exploration.
After the said mission, you'll unlock a new side job named Fool on the Hill, which basically requires you to find 20 Cyberpunk 2077 Tarot Cards hidden within the city.
Now that we already covered the Tarot Cards in Watson, let's see where we can find those in Westbrook.
North Oak Tarot Cards Locations
In North Oak, you can find 3 Tarot Cards.
The Lovers
The Lovers is the first card you should find in Westbrook. It is in North Oak, and it is the trickiest to get.
It is located inside the Drive-In Theather, but the door is locked; hence you won't be able to get it.
Except that you can.
When you get to the location marked on my map below, check the ticket kiosk at the entrance. Specifically the computer.
Now read the Severance message, and you'll get the Drive-In Theather access code. Which happens to be 0000. Hilarious right?
Use it to unlock the door, then cross the theater and look for the Tarot Card behind the projection screen, as pictured below.
The Moon
The Moon is the second Tarot Card in North Oak. It's really easy to find, and on my map below, you can see that is located close to Arasaka Estate Fast Travel Point.
Basically, while standing in front of the Arasaka Estate, head left, and you'll see it on the exterior wall. It depicts two wolves.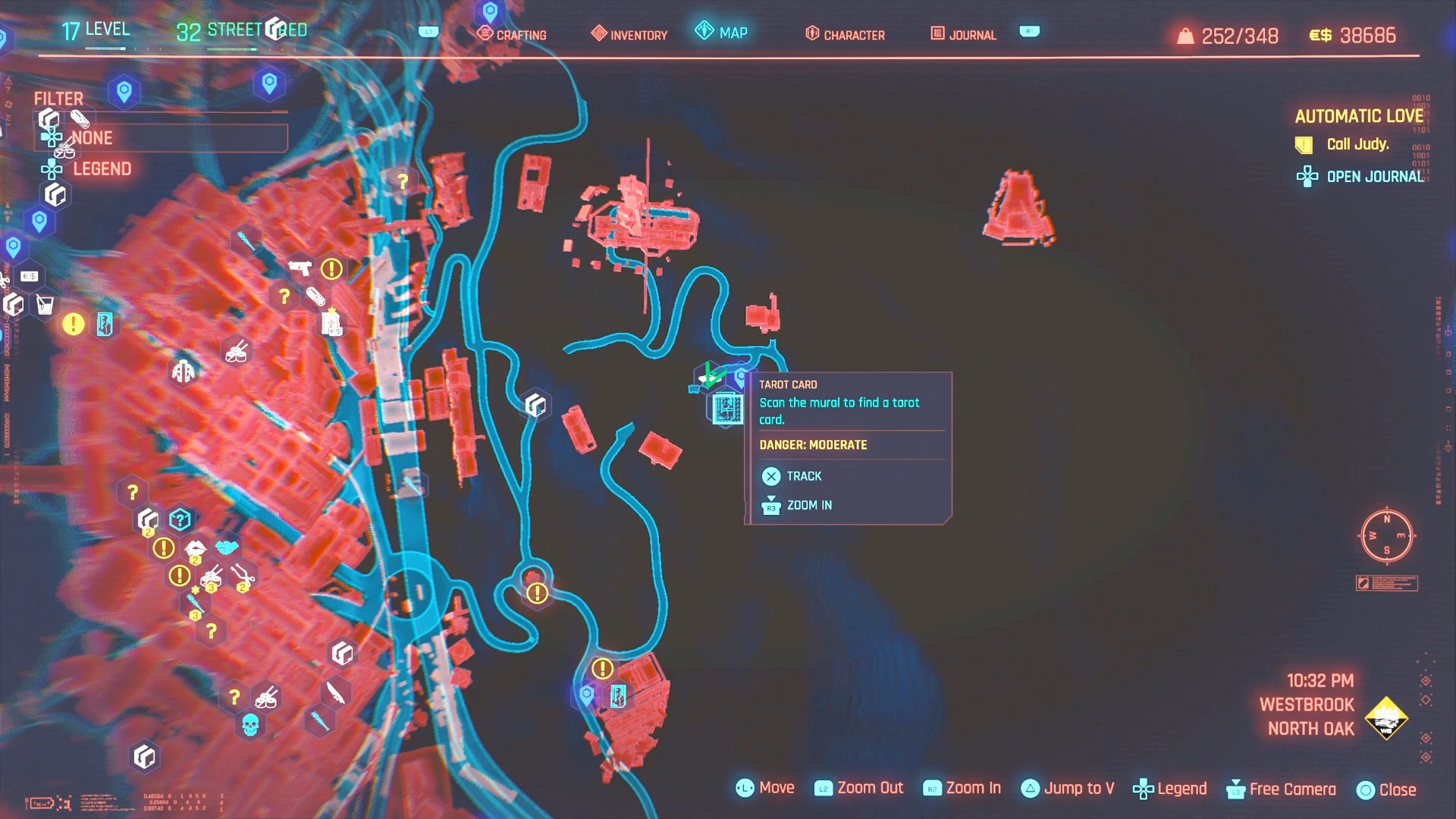 Temperance
The third and final North Oak Tarot Card is Temperance.
This one can be found in the Columbarium.
As you enter the area, take a right turn, then check the second plaque on the first row, on your left.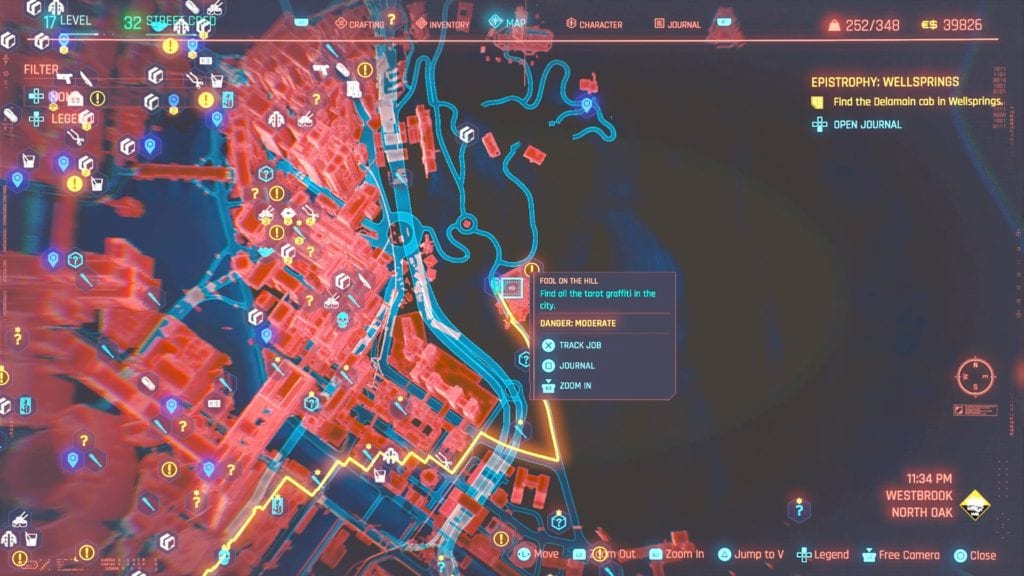 Japantown Tarot Card Location
Finally, we have Japantown, where you can find 1 Cyberpunk 2077 Tarot Card.
The Hierophant
This one is located close to Japantown West Fast Travel Point.
You'll find it on the left wall of a tunnel, marked on my map. It is a location you'll also get to visit while playing one of the game's story missions (no spoilers, though).
These are all Cyberpunk 2077 Westbrook Tarot Cards Graffiti collectibles you'll need to find in this specific area.