The Cyberpunk 2077 Crash Test Dealer's Stash is your objective for a Reported Crime you can complete in Westbrook, Japantown. Look for this NCPD Scanner Hustle or Reported Crime in central Japantown. On my map below, you can see the exact location of this crime.
When you get close to the location, you'll have to follow some stairs that will take you to a rather large area behind a building. Your goal is simple. Eliminate the four guards and retrieve the stash.
There are four goons you'll have to dispatch here. Three of them are outside, while the fourth one is inside the room with the stash facing the door. All guards outside can be dispatched silently because they are scattered.
Where To Find The Dealer's Stash in Cyberpunk 2077
After you clear the three goons outside, head around the central area to find a side room. The door is next to a vending machine, and once you open it, you'll have to deal with another goon who is protecting the stash (pictured below).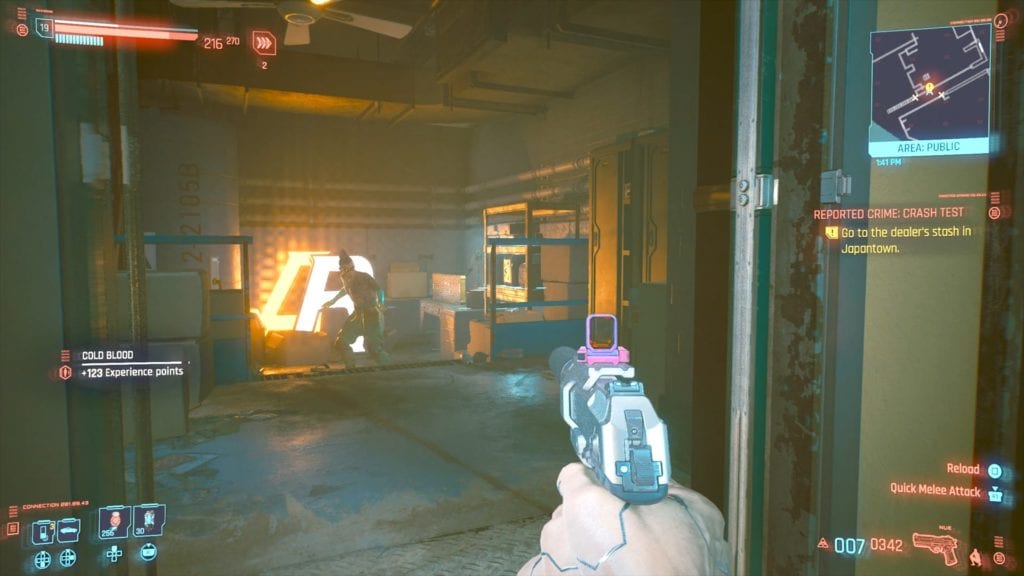 The stash is located on a desk on the right side of the said room, next to a computer. Inside the Dealer's Stash, you'll find the HJKE-11 YUKIMURA Smart Pistol. Once you loot the stash, the job ends.