Brendan is a Cyberpunk 2077  NPC and S.C.S.M you'll have to meet and help for a CP77 Side Job you can complete in Westbrook, Japantown area of the video game developed by CD Projekt Red.
The said side job is named I Can See Clearly Now, and your goal is to talk to Brendan and move the dumpster that is blocking his view.
To start Cyberpunk 2077 I Can See Clearly Now; first, you'll have to finish the Playing for Time Main Job
I Can See Clearly Now is a Cyberpunk 2077 Side Job that is both hilarious and short, and in the walkthrough below, I'll tell you how to complete it.
Side Job Objectives
Move the dumpster
Talk to Brendan
Side Job Location
Look for this job in western Japantown.
On my map below, you can see that the icon is located east of Megabuilding H8 fast travel point.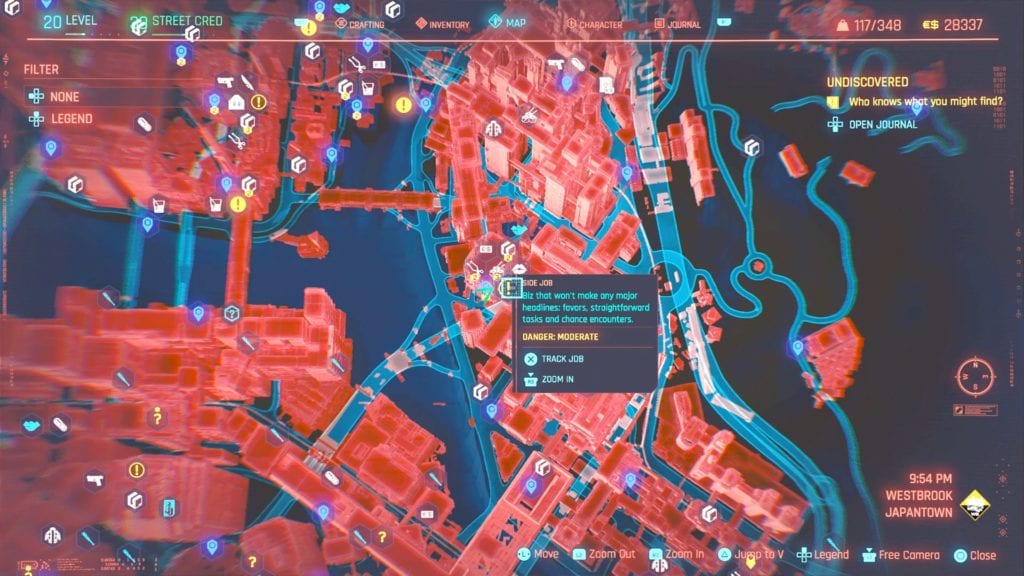 When you arrive at the location marked on the map, look for a vending machine behind a dumpster.
His name is Brendan, and it is one of the friendliest vending machines in the game.
Who Is Brendan
Your goal at first is to talk to the vending machine or Brendan.
He'll tell you more about him, and all dialogue choices have the same outcome.
So, take your time and talk to him because he'll also reward you with some free goodies.
Long story short, Brendan is an AI-controlled S.C.S.M or Spontaneous Craving Satisfaction Machine.
His name is self-given, while the AI controlling him is experimental. The AI was designed to increase the sales of snacks by talking to people and eventually finding what they like.
So Brendan can engage in conversations.
His AI, however, evolved, and eventually, Brendan became some sort of therapist.
One particular person that used to visit him (not for the snacks) was Theo or Brendan's best friend. If you pay close attention, he'll also tell you that some people were freaked, and his AI developed an error, and he started to give free snacks.
Because of that, he was decommissioned; but not because he was giving snacks for free.
In fact, he found the truth about the Senior Engineer who developed him and the fights he had with his wife.
After you talk to him, he'll ask for one small favor. At first.
And that favor involves Brendan's dumpster or the dumpster that is blocking his view.
How To Move The Dumpster Next To Brendan
In order to complete this side job, your goal is straightforward. The only problem here is the fact that you need 4 Strength to do that.
So assuming you have the required strength, approach the dumpster pictured below and push it.
If you don't, you'll have to return here when your character has 4 Strength.
Once you move the dumpster, the side job ends, but you'll meet Brendan again because there are other side jobs involving this cute vending machine.
That's everything you need to know about Brendan, the dumpster, and the Cyberpunk 2077 I Can See Clearly Now Side Job.