Lauren Costigan is a Cyberpunk 2077 NPC, and the mission objective you'll have to find and rescue for a CP77 Gig you can complete in Westbrook, Japantown area of the video game developed by CD Projekt Red.
The said gig is named We Have Your Wife, and your goal is to find Lauren Costigan, who is being held captive by the Tyger Claws in a workshop.
Cyberpunk 2077 We Have Your Wife takes place inside a building on Raymond St.
To start it, first, you'll have to finish the Playing for Time Main Job; then, if you travel to the location on my map below, Wakako Okada calls you.
We Have Your Wife is a Cyberpunk 2077 SOS: Merc Needed Gig, and below I'll tell you where to find Lauren and how to save her.
We Have Your Wife Cyberpunk 2077 Gig Location
Look for this gig in the northern part of Westbrook Japantown.
On my map below, you can see the location of the workshop on Raymond St.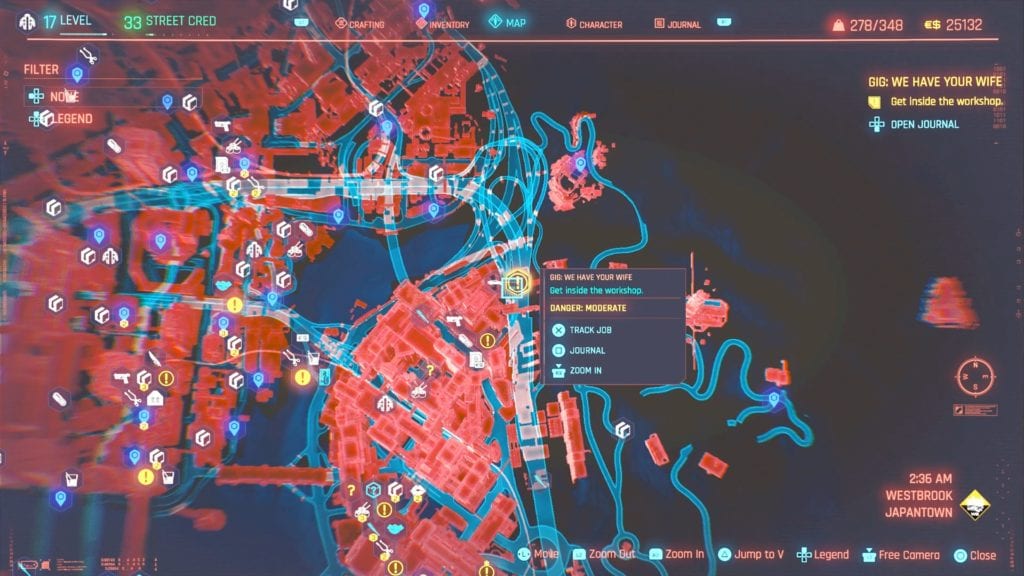 Getting inside the warehouse is extremely easy, especially if you don't want to get spotted.
While facing the main entrance, head left and look for a rather large hole in the concrete fence. You can see it below.
Get inside the warehouse, then start taking out all enemies silently, but always look for cameras and turn them off.
Once the courtyard has been cleared, enter the building but be advised that more enemies are found inside.
Where To Find Lauren Costigan
Lauren Costigan is located in the basement of the warehouse; however, before going down to rescue her, there are several things you should know.
First, there are more enemies waiting for you downstairs, so I suggest using the stairs instead of the elevator hole in the warehouse.
Second, in order to rescue Lauren Costigan, you'll need to open a locked door, and that door requires an access key.
The said key (pictured below) is carried by one of the goons, so make sure you loot all corpses in the basement to obtain the Side-Door Access Token.
Once you get it, head to the small side room, open the door, and in a corner, you'll see Lauren Costigan.
Before talking to her, though, be advised that you'll have to escort her outside, and even more goons will spawn.
At this point, maintaining a low profile is a bit hard, but it is doable, provided you exit the warehouse through the same hole in the wall mentioned above.
When you do that, take Lauren to the car that is waiting outside, and Wakako Okada will call you.
That's everything you need to know about Lauren Costigan and the Cyberpunk 2077 We Have Your Wife Gig, so why not try to find and rescue 8ug8ear.