Cyberpunk 2077 Thorton Colby C240T is one of the 27 vehicles you'll need to purchase in order to unlock the Autojock Trophy/Achievement.
It can be found in Watson, along with the Quartz EC-L R275, Thorton Galena G240 (2031), Shion MZ2, and Type-66 Cthulu, all of them being required for the same trophy/achievement.
Cyberpunk 2077 Colby C240T unlocks after you complete the Playing For Time main mission and after you reach Street Cred Level 20.
Vehicle Description
The perfect example of a typical middle-of-the-road car. Its reliable performance on both city streets and interstate highways is the reason the Colby has become a favorite of nomads and urban courier services alike.
The first model rolled off the assembly line in Chicago in 2045; with its reliability and simple construction paving the way to immediate and immense commercial success. By 2060 over five million units had been manufactured.
Somehow, there are even more being used on the road today.
Where To Find The Thorton Colby C240T In Cyberpunk 2077
Look for this vehicle southwest of the Docks Fast Travel Point in Northside. On my map below, you can see the car's location.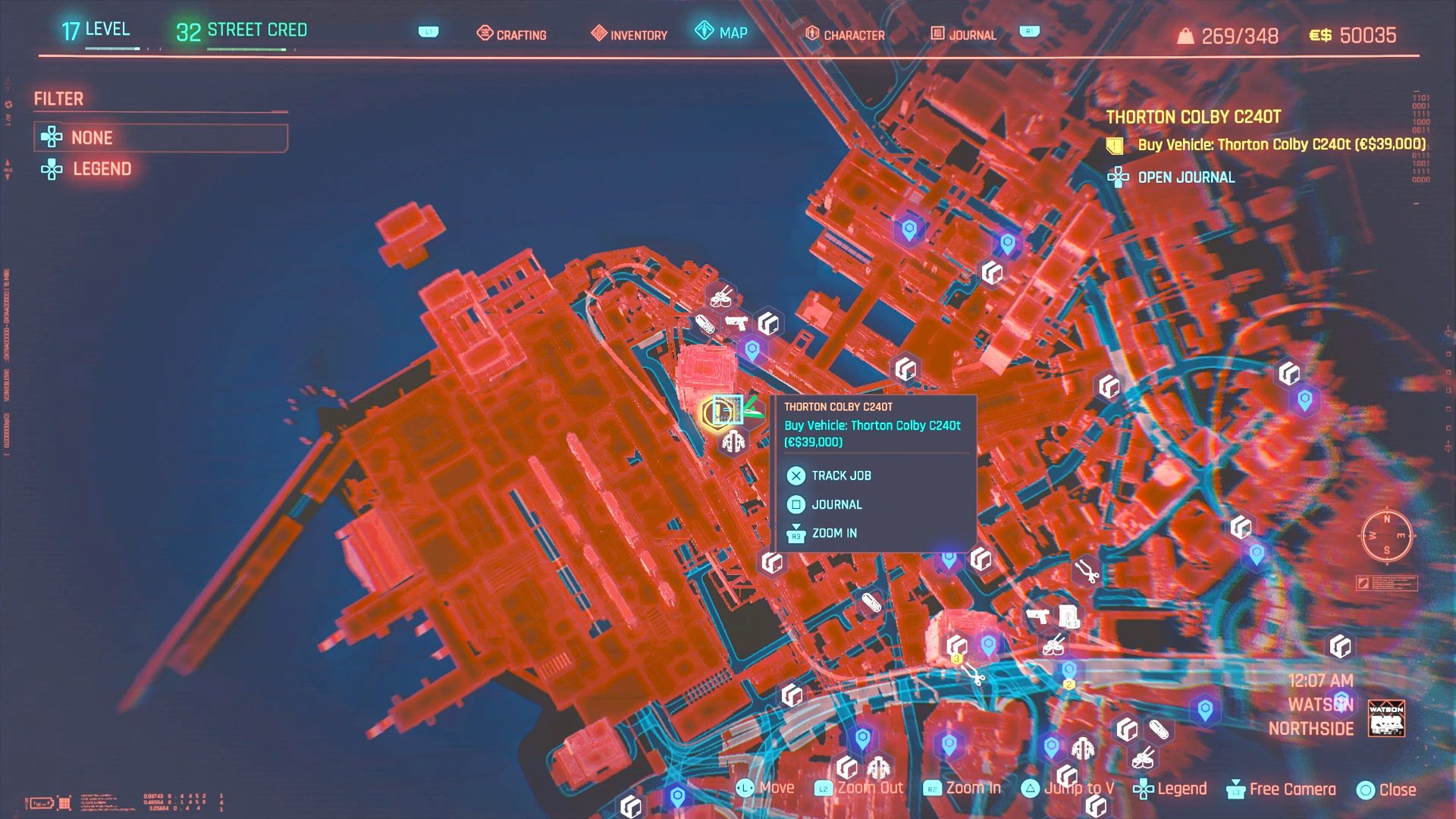 When you reach the spot pinpointed on my map, the car will be waiting for you in front of the clothing store nearby.
You can also see the car below.
The Cyberpunk 2077 Colby C240T costs €$39,000, so make sure you have enough money to buy it.
For purchasing (unlocking) the Colby C240T, you'll also receive 240 Street Cred XP Points.
Once purchased, if you want to call your brand new Thorton Colby C240T, press and hold Right on your D-Pad, select it from the list, and then hit Confirm.
That's everything you need to know about the Cyberpunk 2077 Thorton Colby C240T.