Tiny Tina's Wonderlands Weepwild Dankness Scrolls or Lore Scrolls play the same role as all other collectibles we have found in the dark mushroom forest you get to explore during your adventure in the video game developed by Gearbox Software.
This means that you'll need to find all three Weepwild Dankness Lore Scrolls we'll cover below if you want to get 100% completion in this area.
It is essential to know, though, that you won't be able to get all of them while playing the main quest here simply because some Lore Scrolls are in areas that you'll need to unlock later.
Assuming you don't know how to get to them, follow this Tiny Tina's Wonderlands Weepwild Dankness Scrolls locations guide, and we'll help you figure it out.
Where To Find All Weepwild Dankness Scrolls In Tiny Tina's Wonderlands
As you can notice on the map below, there are 3 Tiny Tina's Wonderlands Scrolls in the Weepwild Dankness area, and their locations have been marked accordingly.
Your objective is to move to the spots on the map above and retrieve all three of them. Here is where they have been hidden.
Lore Scroll #1: On A Walkway
The first Weepwild Dankness Lore scroll is at the end of a walkway behind a house.
You can see it below, and it's in the Grotto of Sorrows, several steps away from the Weepwild Dankness – Dank Encroachment fast travel point.
The scroll named Mara's Lament is a diary page left by Mara. It's hilarious because it describes her struggle to find what true love means.
Lore Scroll #2: On A Balcony Near A Lucky Dice
The second Weepwild Dankness Scroll is on the balcony of a house in Murph Refugee Camp.
The Murph Refugee Camp, however, is a locked area when you first enter the woods, and to unlock it, you'll need to play the Little Boys Blue side quest.
After entering the Murph Refugee Camp, look for the largest house (pictured above).
Climb on the balcony, and you'll find the Scroll (Fungal Fun Times) on a table by the door.
Lore Scroll #3: In A Watchtower
Finally, the third Weepwild Dankness Scroll collectible is found in a watchtower guarding the entrance to Murphshire.
Upon clearing the goblins nearby, you'll see the wooden tower in my screenshot.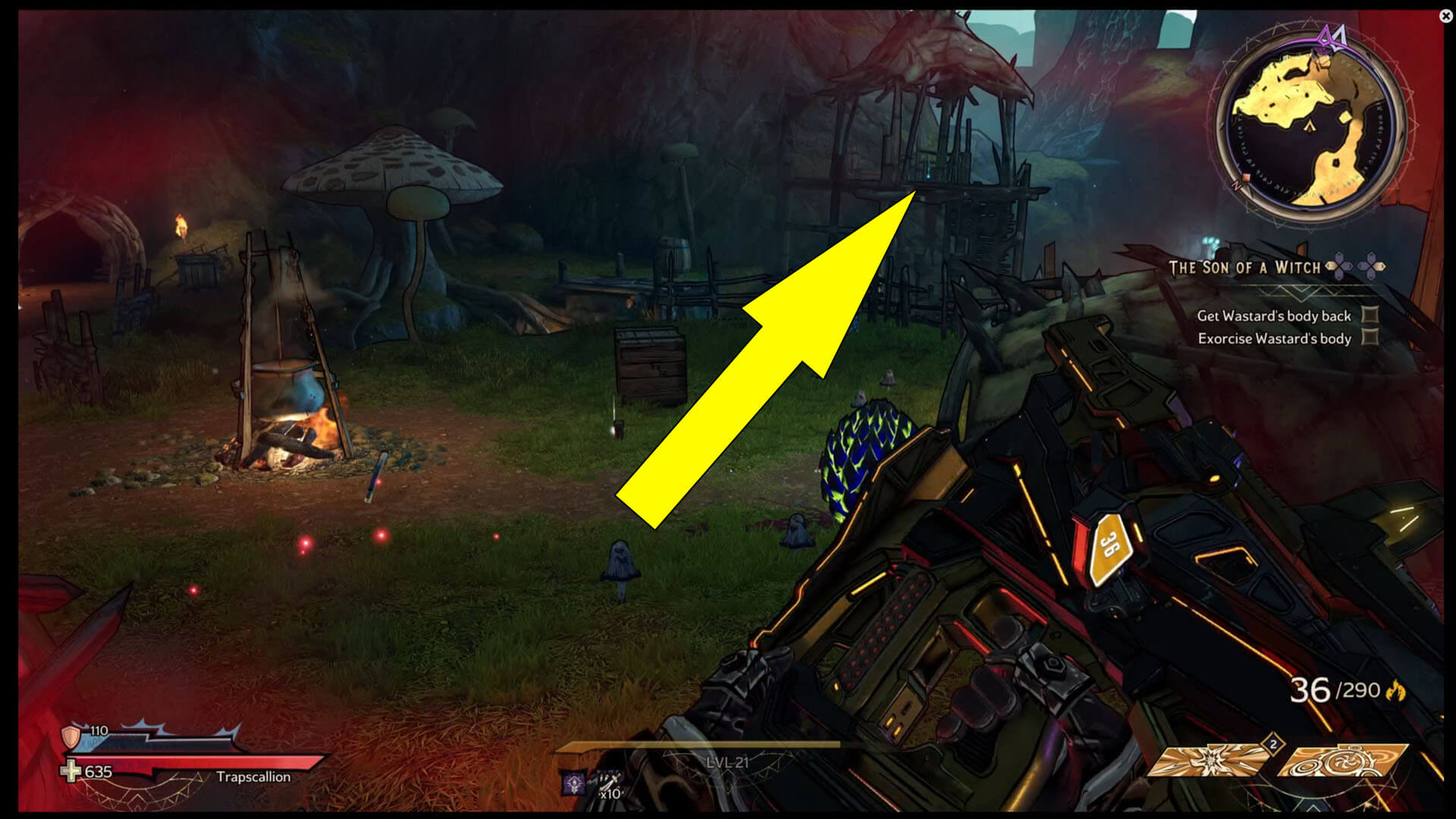 You may remember it since we also found one of the Lost Marbles in the same tower.
So hop on the wooden platform and collect the Watching You Scroll.
Now that you have found all of Tiny Tina's Wonderlands Weepwild Dankness Scrolls, make sure you collect the remaining items, and you'll get 100% completion in no time!