Tiny Tina's Wonderlands Snoring Valley Scrolls are required to get 100% completion in the first area of the video game developed by Gearbox Software.
The Snoring Valley Scrolls are pretty accessible compared to the Lucky Dice chests we already discovered. While they do not offer any loot, they are funny as they provide insights into the game's lore.
Keep in mind that along with the Lucky Dice collectibles and the Poetry Page in Snoring Valley, you'll need the Lore Scrolls to reach 100% progress in the tutorial area.
So, let's see where to find both Snoring Valley Scrolls collectibles in this region.
Where To Find All Snoring Valley Scrolls In Tiny Tina's Wonderlands
Before we go over the first Scroll, it is worth outlining that you can return to Snoring Valley later via fast travel if you miss any of these.
You can also pick these two in any order you want, but the guide below covers them chronologically.
Lore Scroll #1: In The Village Area
While playing the Bunker & Badasses quest, you'll come across a village where you'll need to heal the peasant-ass peasant.
This objective is part of the tutorial and teaches you how to heal teammates.
One of the Snoring Valley Scrolls is inside the house on top of the tunnel, where you find the first Lucky Dice.
There is also a small river you can notice in this area. Head inside the house and turn left to find the Garrifex Scroll.
Lore Scroll #2: In Castle's Crypts
The second Snoring Valley Scroll is also very accessible, and you can find it after you drop the chandelier in the castle.
Jump through the hole in the ground and then slide to a tunnel in the crypts.
The moment you reach the bottom, turn right to see a dead-end and the second collectible.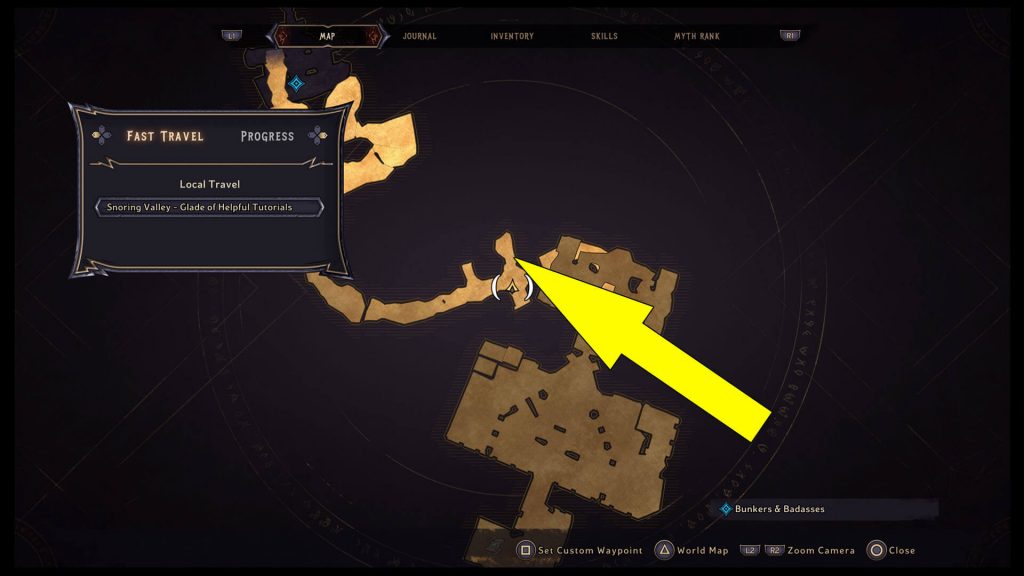 The Lore Scroll belongs to Duchess Harrow, and it's hilarious because if you pay close attention to the dialogue, you'll find out how she got poisoned, which SUCKS!
And that's it, Fatemakers! These are the two Snoring Valley Scrolls locations you'll need to find in Tiny Tina's Wonderlands tutorial area! However, the next region is much larger and features a lot more collectibles, including 3 new Lore Scrolls.