After finding the two Lost Marbles, you should focus on the two Tiny Tina's Wonderlands Mount Craw Poetry Pages; you'll also need to reach 100% progress in the mountain area of the video game developed by Gearbox Software.
These collectibles, as you know, appear only when you get close to them, and the good thing here is that you don't have to complete any side quests to get them since both locations can be accessed during or after the main quest.
One of the two Mount Craw Poetry Pages, though, is very hard to spot from the ground, and you'll need to progress in this area the get it.
As such, below, I'll tell you where to find Tiny Tina's Wonderlands Mount Craw Poetry Pages collectibles.
Where To Find All Mount Craw Poetry Pages In Tiny Tina's Wonderlands
On the map below, you can notice both Poetry Pages locations in the Mount Craw area or the spots you'll have to reach if you want them to appear on your map.
Obviously, you can use only the map above to guide you to these collectibles, but if you need additional help, check the following hints and screenshots.
Poetry Page #1: In A Cave
The first Mount Craw Poetry Page location above is a cave you can access in the central region or The Shimmering Loch.
It is relatively easy to find since all you need to do is cross the frozen lake and the small village looking for the said cave (pictured below).
Be careful when you enter because there are some streams on the ceiling.
Inside the cave, you'll also find a large chest, and by collecting the Poetry Page, you'll unlock the Lozenge Motley Banner Pattern.
Poetry Page #2: On An Upper Ledge
The second Poetry Page in Mount Craw is not as accessible as the first one. That's because it's sitting on a ledge inside the Tribute Way cave.
First, head to the location marked above, then look for the glowing collectible pictured below. Keep in mind that you'll only see it if you're standing on a platform across the path in the cave.
To get it, look around for a small ladder that is basically across the same path in the cave.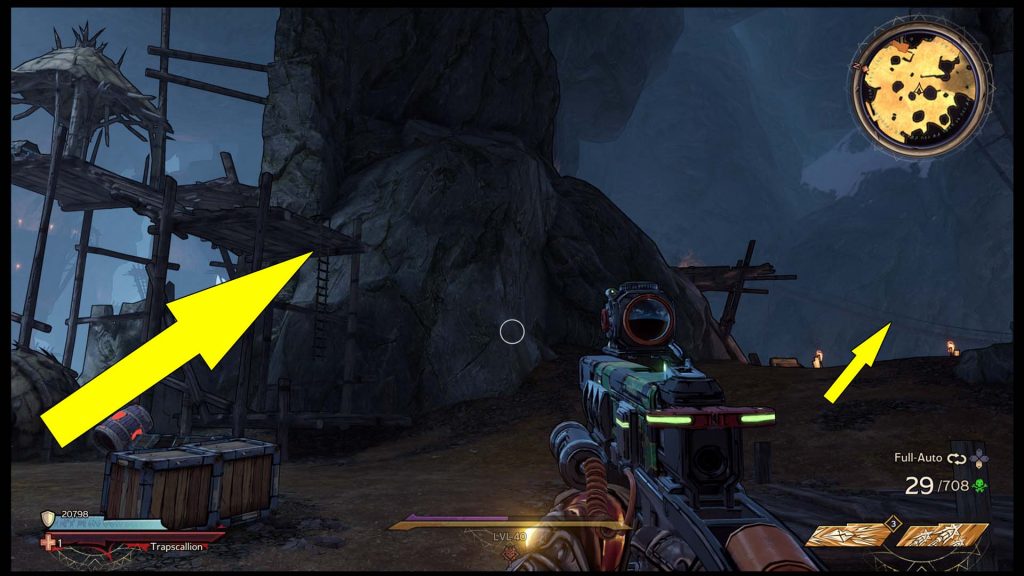 Climb this specific ladder and follow the wooden platforms that eventually bring you to the suspended bridge marked above.
From this bridge, if you look on the right side, you'll spot the glowing Mount Craw Poetry Page collectible.
Follow the second bridge and collect the page to unlock the Amor Vincit Banner Color.
Before heading back to the ground, make sure you get the Lucky Dice chest on the balcony of the house nearby (#17 in our guide here).
And that's it. You just found both Tiny Tina's Wonderlands Mount Craw Poetry Pages.