Besides the Rune Switch explained earlier, you'll also need to find and complete Tiny Tina's Wonderlands Sunfang Oasis Ancient Obelisk challenge if you wish to get 100% completion in the Sandy Sanctuary area.
The Sunfang Oasis Ancient Obelisk is relatively easy to find and accessible even if you approach it while playing the video game on a higher difficulty level.
Even so, in case you need help with it, throughout the guide below, we'll go over the location of the Ancient Obelisk in the Sunfang Oasis region of the video game released by Gearbox Software for PC, PlayStation, and Xbox.
Where To Find The Sunfang Oasis Ancient Obelisk In Tiny Tina's Wonderlands
The map below shows the location of the Ancient Obelisk in Sunfang Oasis, and as you can see, it's inside a cave on the southwestern side of Aorta Lagoons.
This cave can be accessed when you enter Sunfang Oasis, meaning that you don't have to complete any of the side-quests to get to the Ancient Obelisk.
As you descend toward the location I have marked above, you'll see the obelisk in the center of the cave, and this is the area where you'll have to deal with another mini-boss, known as Oculus.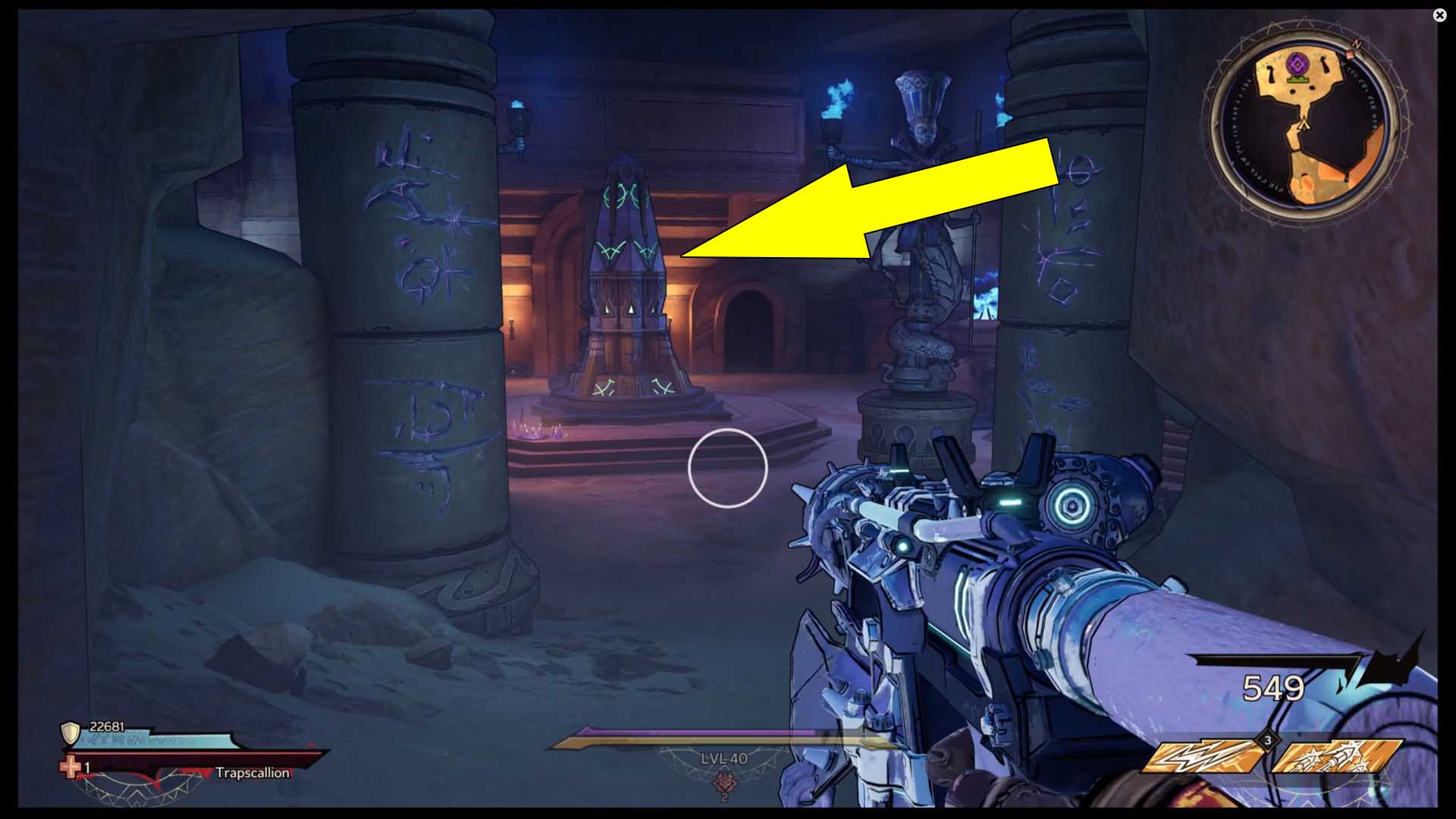 How To Complete Sunfang Oasis Ancient Obelisk Challenge
Before activating the Ancient Obelisk, it is worth knowing that you'll have to deal with many Coiled mobs.
These enemies are very weak to ice damage, so try using the proper spells and weapons. You should also know that most Coiled in the arena are resilient against poison, which means that you'll likely deal less damage.
Last but not least, since the arena is in a cave, if you don't want to get surrounded by enemies, you can retrace your steps to the tunnel at the entrance.
This will force the enemies to line up in front of you.
The Oculus boss is a Cyclops that spawns only when the Ancient Obelisk is charged.
Like the Coiled mobs, Oculus is very weak to ice, so you don't have to change your weapons, but you'll want to stay mobile because it can hit hard.
Finally, don't forget that after you defeat Oculus, you'll also have to shoot his flying eye.
If you manage to beat Oculus, you'll have a chance to get the Legendary Calamity Armor and the Perceiver Legendary Pistol; however, the drop rate depends on your Loot Luck. Consider looking for all Lucky Dice Chests if you want to increase your character's Loot Luck.
Tiny Tina's Wonderlands Sunfang Oasis Ancient Obelisk challenge counts as completed after you deal with Oculus, and like all other Ancient Obelisks, you can replay it by fast-traveling to another region and then returning to the same cave.