Tiny Tina's Wonderlands Fearamid Ancient Obelisk is the second challenge you have to complete in the last region (after the Rune Switch) of the video game developed by Gearbox Software for PC, PlayStation, and Xbox.
The Fearamid Ancient Obelisk in Tiny Tina's Wonderlands is in the lower section of the Ruling Core, and obviously, you'll have to defeat the mini-boss here for this challenge to count as completed.
Due to the large number of mobs, you'll spawn when activating the Ancient Obelisk, this challenge might prove a bit difficult.
However, throughout the guide below, I'll tell you where to find it, and I'll also share a tip with you that hopefully will help you finish the Fearamid Ancient Obelisk challenge.
Where To Find The Fearamid Ancient Obelisk In Tiny Tina's Wonderlands
On the map below, you can see the exact location of the Ancient Obelisk in the Fearamid area. As you can notice, it's on a lower level in the Ruling Core.
To get to it, start from The Fearamid – Facing Fear fast travel point and enter the large temple following the stairs.
After clearing the Ruling Core area, cross the bridge ahead, then head left, collecting all Lucky Dice Chests outlined here.
After crossing the wooden bridge where the Poetry Page is found, keep heading forward and instead of going through the first hallway on the right side, look for the second one.
Eventually, you'll need to descend some stairs, and on a plate, you'll find one of the Lore Scrolls.
Now, look down, and you'll spot the Fearamid Ancient Obelisk.
How To Complete Fearamid Ancient Obelisk Challenge
As you can notice in the screenshot above, near the Fearamid Obelisk is a pink jump pad that can help you get back to the upper section after completing the challenge.
However, this jump pad can also help you finish the challenge if you get swarmed by enemies.
So, start by activating the Ancient Obelisk, then immediately use the jump pad to get to the upper platform.
If you do this, the enemies that spawn will come after you, but you'll be able to pick them up one by one.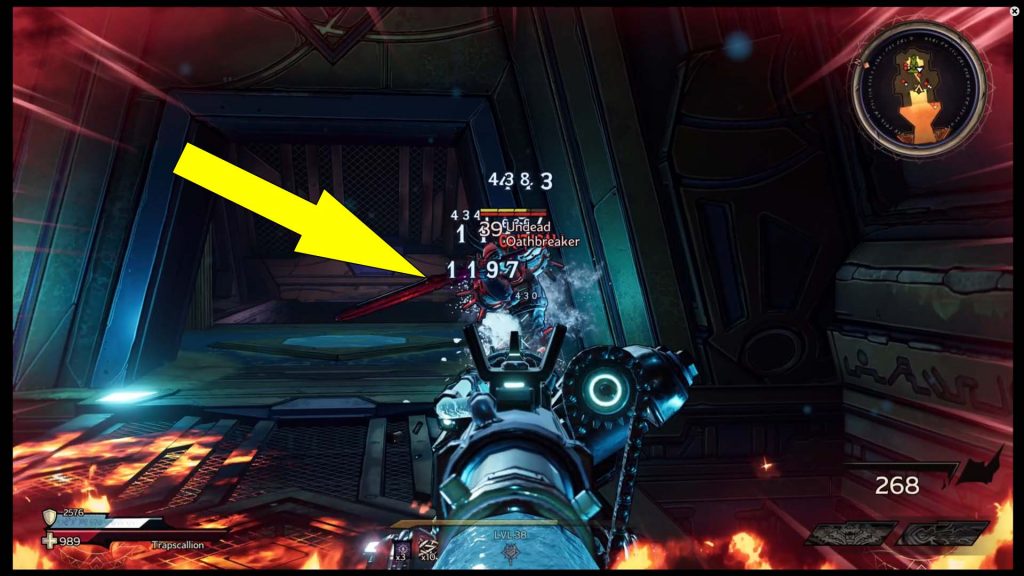 Furthermore, from this spot, you'll also have the high-ground advantage making the whole challenge a lot easier.
As you can see in the following screenshot, you can shoot the mobs in the area below through the holes near the upper platform.
The Fearamid Ancient Obelisk boss you have to defeat is Death Rattler, which takes substantial damage from ice-based attacks.
Using a weapon that deals ice damage and shooting the boss from above is a great way to finish Tiny Tina's Wonderlands Fearamid Ancient Obelisk challenge, even on the highest difficulty level.