After the 21 Lucky Dice uncovered earlier, it's time to deal with the two Tiny Tina's Wonderlands Wargtooth Shallows Poetry Pages required to get 100% progress in the area, also known as Ex-Seabed.
The Wargtooth Shallows Pages are no different from all other Poetry Pages collectibles we have recovered so far, meaning that all you have to do is get close and collect them.
As usual, these collectibles don't appear on your map unless you are close to them, which makes them a bit difficult to spot.
So, if you wonder where to find the Wargtooth Shallows Poetry Pages collectibles below, I will guide you to them.
Where To Find The Wargtooth Shallows Poetry Pages In Tiny Tina's Wonderlands
To make your quest more accessible, let's start with the Wargtooth Shallows Poetry Pages locations map. As you can notice, one of them is pretty close to the central fast travel point. But in fact, it's a bit far from it.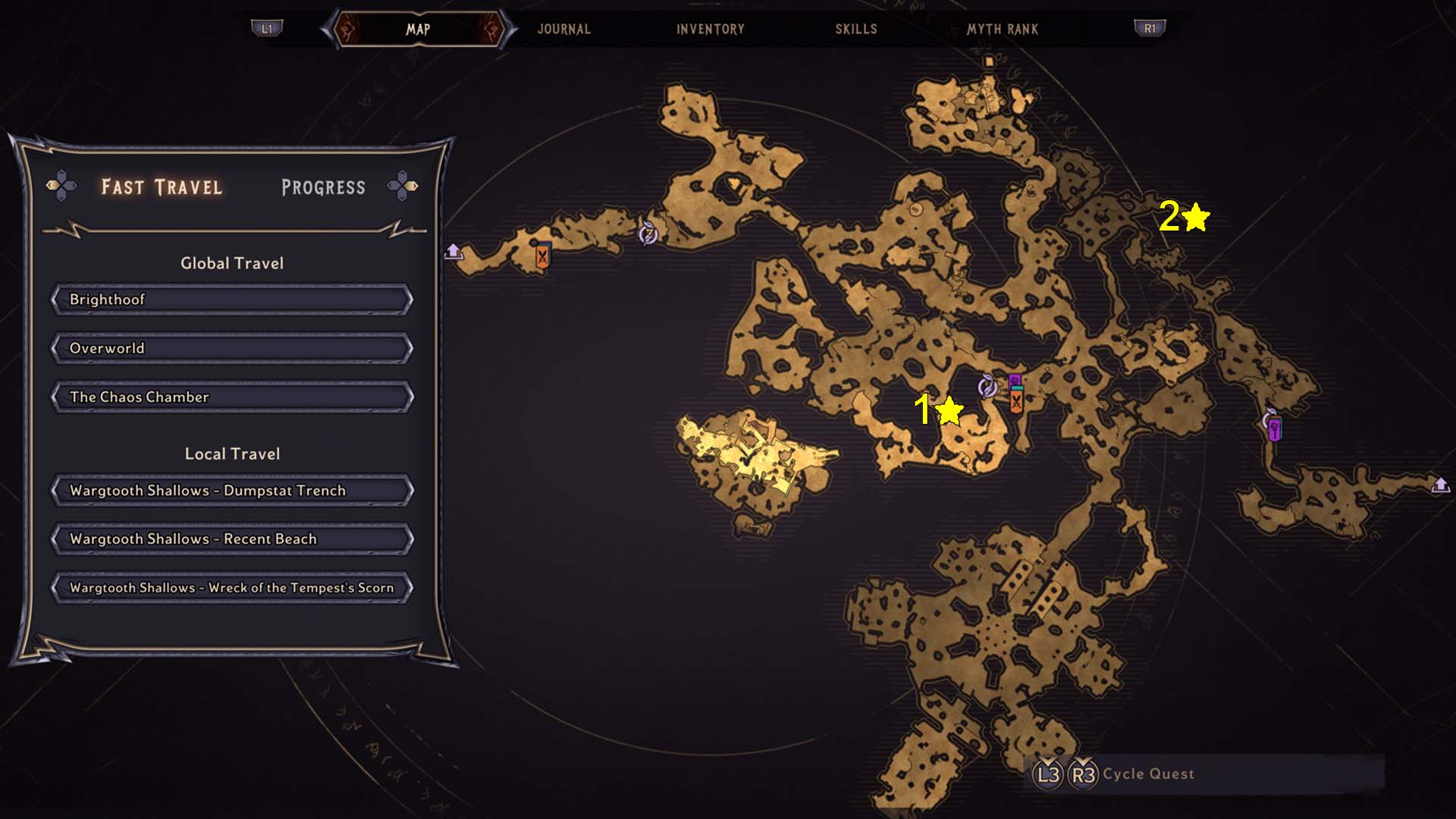 If you wonder how to get these two collectibles, we'll go over both of them; however, remember that you should look for them only after completing the main quest in this area and both side-quests.
All Wargtooth Shallows areas in the video game developed by Gearbox Software will be unlocked if you finish them.
Poetry Page #1: In A Shipwreck
The first of the Wargtooth Shallows Poetry Pages on the map above is the trickiest because although you can see it near the Wargtooth Shallows – Dumpstat Trench fast travel point, it is on a shipwreck that requires a bit of legwork.
Basically, to get it, you'll have to head west (on the map above), enter a cave, then head south to get to Plunder Port.
Here, you'll find the Rune Switch and, next to it, a pink jump pad you can use to get to the isolated area west of the collectibles (also on the map above).
Upon getting on top of the structure there, you'll find a second pink jump pad that you can use to cross the large gap below and enter the Splish Splash Path.
Here, you'll want to use the water slider to get to a small clearing where you'll see a shipwreck. There is also one Lucky Die here (#17 in our guide) and on a crate, near a skeleton, the first Poetry Page.
Collect the Page to unlock the Motley Per Bend Banner Pattern.
Poetry Page #2: In A Shipwreck
To get the second Wargtooth Shallows Poetry Page, start from the Wargtooth Shallows – Wreck of the Tempest's Scorn fast travel point and head towards the Wreck of the Marley Maiden. Or north according to the position of my map above.
Upon getting to the large shipwreck, find the tunnel I have marked above, and it will lead you to a house.
On the porch is a table, and the second Poetry Page is on it.
This Poetry Page unlocks the Wildfire Banner Color.
These are the locations for Tiny Tina's Wonderlands Wargtooth Shallows Poetry Pages, so don't miss them.