The choices you make with certain characters in Baldur's Gate 3 affect their reappearance later in the game, such as Arabella, who reappears in Act 2 if you spare her during your first encounter in Druid Grove.
When you meet Arabella again, she tells you that her parents are missing and were last seen in Shadow Cursed Lands.
If you agree to help find her parents, you'll embark on a journey to discover what happened to them.
As such, follow our BG3 to learn where to find Arabella's Parents and how to complete the quest.
How to Start the Baldur's Gate 3 Find Arabella's Parents Quest
In order to start BG3 Find Arabella's Parents quest, you must speak with Arabella and choose the dialogue option that asks about her parents.
You can find Arabella north of the Statue Puzzle in Reithwin Town at the following coordinates: (X: -153; Y: 19).
After deciding to find Arabella's parents, you can ask her to wait for you at either the Last Light Inn or your camp.
How To Find Arabella's Parents in Baldur's Gate 3
Once you finish the dialogue with her, head north to the House of Healing and go through the main entrance in the southern part of the building.
If this is your first time visiting the House of Healing, you will be welcomed by Sister Sinda, who will tell you that the doctor is busy right now and you'll have to join the line.
You can pass a Deception, Performance, Persuasion, or Intimidation check to skip the line and see the doctor right now, but we won't.
Instead, head to the eastern part of the House of Healing, and you'll notice a merchant icon of Sister Lidwin.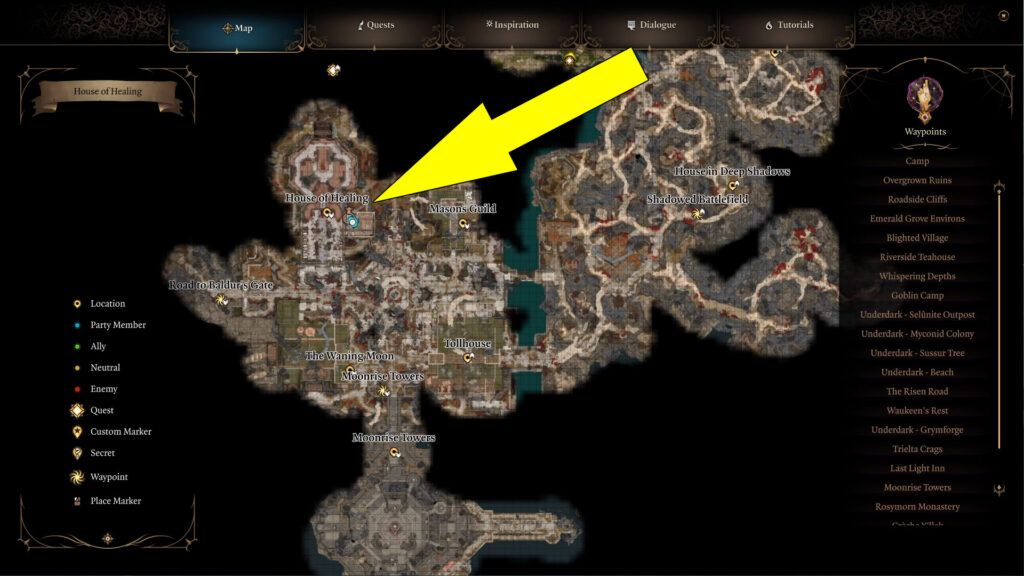 Laying on the beds near Sister Lidwin, you'll see the dead bodies of Arabella's parents, Locke and Komira.
Upon interacting with Sister Lidwin, you will have a few dialogue options available. You may ask her for more information, but you must eventually choose how to end this encounter.
You can either tell her that the patients are dead or convince her that she has successfully treated them and that they're now peacefully sleeping, but you'll have to pass a Deception check to make it happen.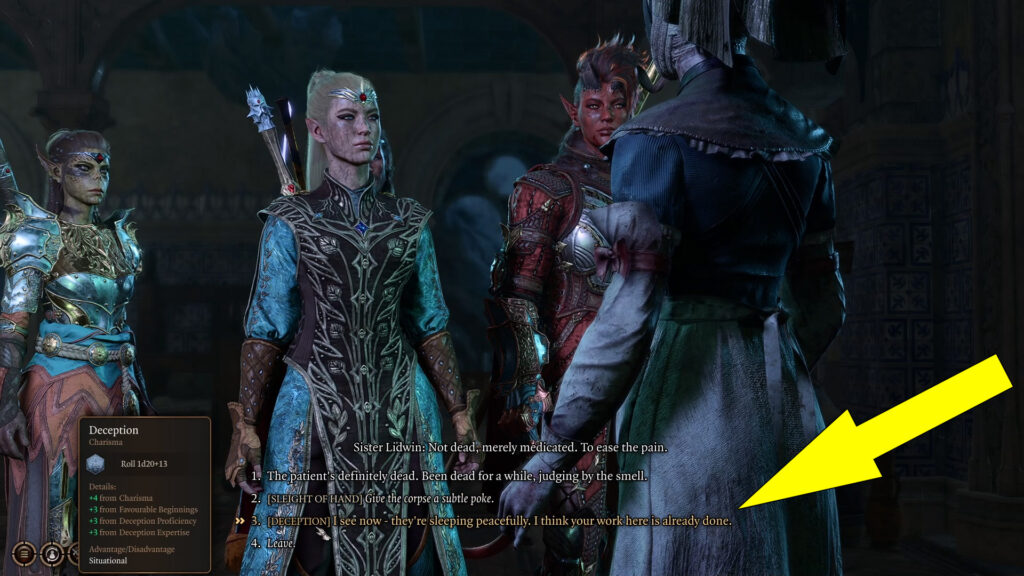 You can also kill Sister Lidwin, but doing so will cause you to lose access to buying the Purple Worm Poison from her shop, one of the most potent poisons available in Baldur's Gate 3.
If you want to complete the quest without losing Sister Lidwin as a merchant, persuade her that the corpses are peacefully sleeping and that she has successfully treated them.
But if you tell her that Arabella's parents are deceased, Sister Lidwin will become hostile.
After finishing the conversation with Sister Lidwin, go back to Arabella. Her location will vary based on whether you sent her to the Last Light Inn or your campsite.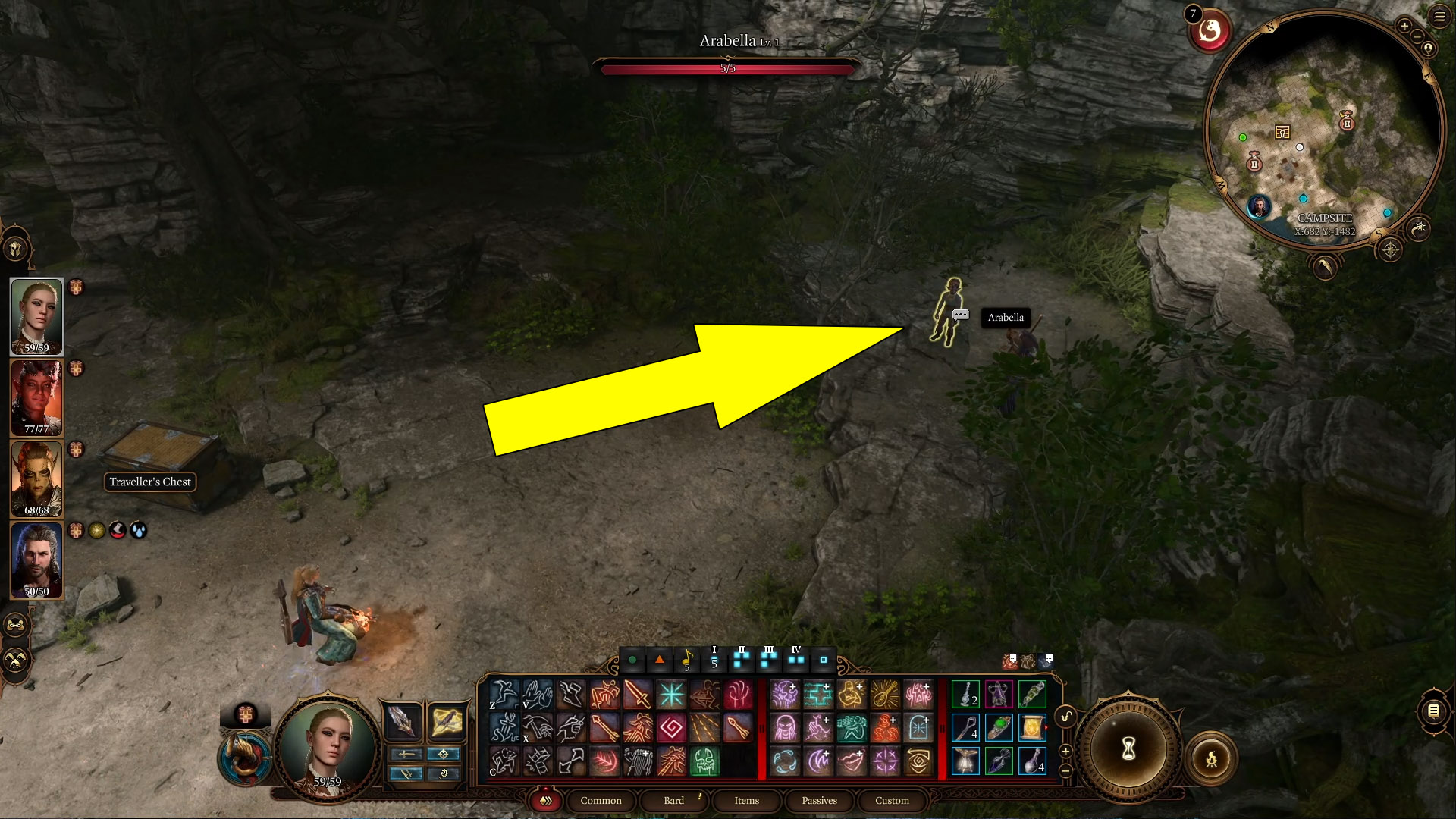 To complete the Find Arabella's Parents quest in Baldur's Gate 3, you must reveal the truth to Arabella about her parents. Although it will upset her, she will come to terms with it and move on.
After you take a long rest, speak with her again to finish the quest and claim your rewards, such as the Shadowblade Ring.
If you think this guide was helpful, make sure to visit our BG3 Wiki Hub Page for more guides like this one.