Forza Horizon 5 Heardingcats (#Heardingcats) is the first FH5 Series 3 Photo Challenge and you can complete it in the Summer Season.
FH5 Heardingcats is also a bit trickier than the previous Photo Challenge (Unpeelievable) but easier mainly because you need to know where to find Farid Rueda's Lion Mural in Playa Azul.
Other than that, you also need to have a Jaguar in your garage, but luckily some of these models are really cheap.
So, if you wonder how to complete the Forza Horizon 5 Heardingcats Photo Challenge during Series 3 Summer Season, below, I'll tell you just that.
Forza Horizon 5 Heardingcats Photo Challenge Location
As the Photo Challenge description clearly outlines, to get 2 Series Points and the Cat Meow Forza Link Reward, your goal is to photograph any Jaguar at Farid's Lion Mural in Playa Azul.
If you wonder what Farid's Lion Mural is, well, it is a large graffiti depicting a lion.
You can find Farid's Lion Mural in Forza Horizon 5 on the easternmost road in Playa Azul, which is on the eastern coast.
Precisely at the location marked on my map above.
#Heardingcats – How To Photograph Any Jaguar At Farid's Lion Mural In Playa Azul
Once you arrive at the location on my map above, look around for a blue house by the main road.
On it, you'll spot a large graffiti like the one in my image below.
As you can see, it is pretty big, and it is impossible to miss, especially if you are driving on the road nearby.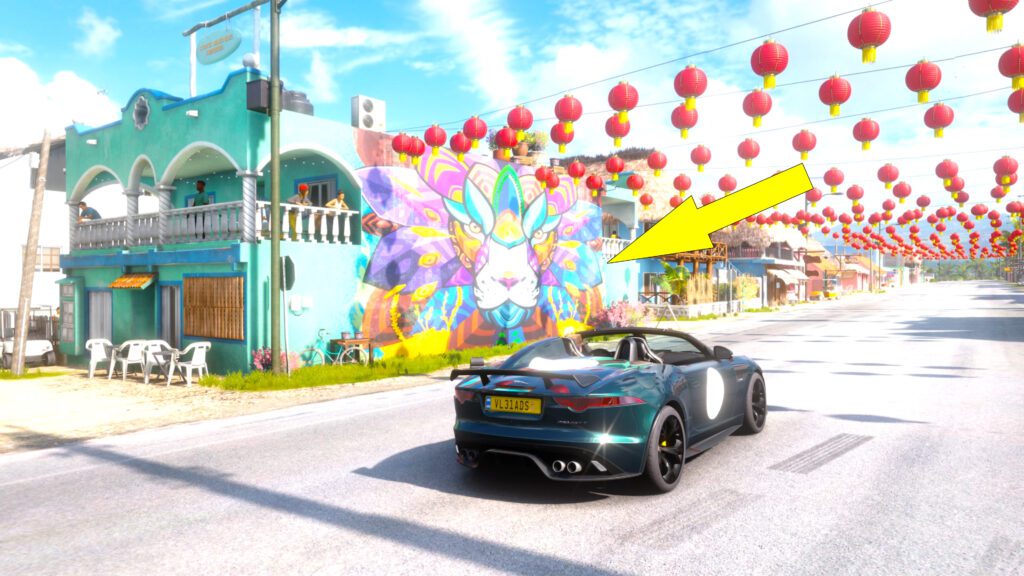 Before taking the photograph for the Heardingcats Challenge, make sure you change your car to a Jaguar.
It can be any model, making this challenge even easier if you just started the latest Forza game developed by Playground Games.
If you already unlocked a Jaguar, use that. If not, buy one from the Car Collection, then get inside it.
Finally, place your car near Farid Rueda's Lion Mural, press Up on your Dpad to pull out your camera, then move it around to capture both your Jaguar and the drawing in a single photo.
Press A and the FH5 Heardingcats Series 3 Summer Photo Challenge is complete.