Forza Horizon 5 Stories Replay feature, or how to Replay Stories in FH5, is worth knowing, especially if you are a completionist looking to get 3 Stars in all of the game's stories.
Unfortunately, Playground Games did a pretty lousy job with this option; however, this doesn't mean you can't learn how to use it.
Therefore, below I'll tell you how to replay a Forza Horizon 5 Story if you want to beat your previous score or get those missing stars.
Forza Horizon 5 Stories & Chapters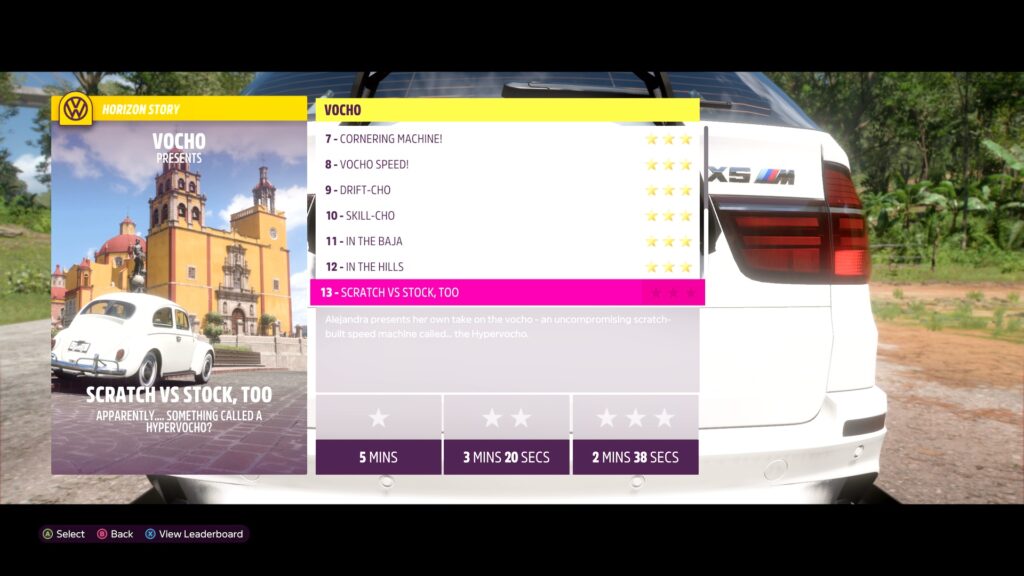 From the beginning, it's worth learning what a Forza Horizon 5 Story is and what are the FH5 Chapters.
The FH5 Stories are small missions (some of them highly challenging) that are included in Chapters.
Currently, there is a total of 6 FH5 Chapters:
El Camino
Vocho
Test Driver
Lucha De Carreteras
Born Fast
V10
Each of the Chapters above features a series of Stories.
For example, the Vocho Chapter includes the following Horizon Stories:
The Vocho
Scrats Vs. Stock
Group V
Vocho Skills
Vocho Across Country
Vocho Can Fly!
Cornering Machine!
Vocho Speed!
Drift-Cho
Skill-Cho
In The Baja
In The Hills
These Forza Horizon 5 Events or missions, if you want, are always marked on your map by yellow icons, as you can see in the picture below.
Story Branches
As you progress through a Chapter, sometimes you'll be asked to choose one of the two available Stories. These are known as Story Branches.
In the image above, you can see two Vocho Story Branches.
No matter which one you pick, the other one disappears, so the question you may have is how to play the missing FH5 Stories. Or those that are not part of the Story Branch you picked.
You can do this via the Story Select option, which you'll also use to replay all Forza Horizon 5 Stories.
Replay Stories Option – Where To Find
If you want to replay a Story in Forza Horizon 5 or play a missing Story Branch, head to the closest Story Icon on your map.
You'll always have at least one, even after you beat all stories. 
For example, you can see the W icons that mark the Vocho Stories on the map above.
Now, start the mission by pressing the corresponding button when close to the icon, and you'll see the complete list of stories and the stars you earned—something like this.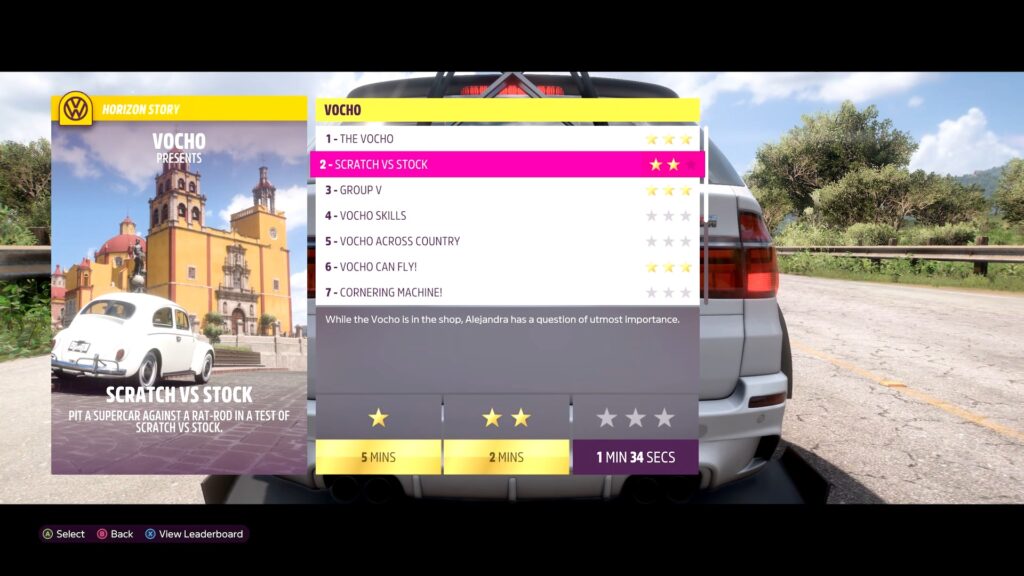 From this menu, you can select any FH5 Story you wish to play or replay.
Once you do that, the game will automatically send you to the location of that specific story.
So, whenever you want to replay an FH5 Story, you'll need to do it via the icons on your map.
Last but not least, if you ask yourself what happens once you finish a Chapter, well, the first two branches in that Chapter remain on your map.
You must use these icons whenever you wish to select a Forza Horizon 5 Story Mission, to replay it, or get more stars.
Even though the FH5 Replay Stories option may look confusing at first, it's pretty easy to use once you learn what you have to do.
The game's developers somehow hid the stories (and their icons) to reduce the total number of icons on your map because, let's face it, if you activate all of them, your eyes may start spinning.