Forza Horizon 5 Series 10 Spring Season or Hot Season is here, so there is a new Treasure Hunt we need to complete, named simply Hot And Sandy.
The FH5 Hot and Sandy Treasure Hunt is almost identical to the previous one (Practical Metal), meaning that in order to unlock the associated Treasure Chest, we need to complete a specific event.
Obviously using an Extreme E vehicle, which luckily is the same as the one we used last week.
As with most treasure hunts, you have one week to finish the Forza 5 Hot And Sandy Treasure Hunt if you wish to claim 100 Forzathon Points.
The Forzathon Shop Points allow you to purchase various goodies from the Forzathon Shop, and this week the Playground Games devs listed the following rewards:
Lotus Evija '20 2020 – 100 FP
Extreme E GreenRace Suit -75 FP
Welcome Spring Car Horn – 75 FP
6 Penske Sunoco T70 MKIIIB – 300 FP
1 Horizon Wheelspin – 60 FP
1 Horizon Super Wheelspin – 150 FP
Now, as you can see, these items cost FP, and to get your hands on them, you'll have to complete several weekly challenges, the trickiest one being the Hot And Sandy Treasure Hunt.
Let's see what you have to do to claim this week's FH5 Treasure Chest on both Xbox and PC.
FH5 Hot And Sandy Treasure Hunt: Series 10 Spring Season Guide
If you just started Forza Horizon 5, the first thing you'll want to do is to find the Hot And Sandy Hunt on your Festival Playlist.
You can see it above, and to access it, you have to:
Go to the game's menu
Choose the Campaign Tab
Select Festival Playlist
Pick the Spring Tab
On your Xbox controller, use the left thumbstick to scroll right and see the FH5 Hot And Sandy Treasure Hunt challenge in my screenshot above
When accessing this event, you can also observe the clue offered by developers. In this case, it states:
EVs blaze through the sand and deliver a gold star rated service.

Hot And Sandy Treasure Clue
Great, but what does this mean? Well, the clue comes with several keywords:
EVs stands for electric cars
Sand indicates the sandy area known as Dunas Blancas
Blaze refers to a trailblazer event
Gold Star, as you can guess, is your goal
Hot And Sandy Treasure Clue Solution
If we add all the clues side by side is relatively easy to figure out that to find the Hot And Sandy Chest or Treasure Chest in FH5 Series 10 Hot Season, we need to complete the Sand and Deliver Trailblazer and get at least one Gold Star.
Obviously, while driving an Extreme E. car.
So, open your map and head to the location marked below.
This PR Stunt is found southwest of Horizon Baja Outpost.
To complete the event, you'll need to start from the northern gate and drive over the desert dunes heading southeast.
For a gold star, which is reasonably accessible to get, you have to reach the finish line with at least 5 seconds left on your clock.
Now, if you wonder what car you should use, you have many options, including the 2022 #99 Chip Ganassi Racing GMC Hummer EV we used last week.
There are no class limitations here; however, you need an electric vehicle, so pick a car from the Extreme E class.
Where To Find The Hot And Sandy Treasure Chest
Upon reaching the finish gate with at least 5 seconds left (securing the gold star), the FH5 Hot And Sandy Treasure Chest's location should appear on your map.
As you can notice on the map below, it is found south of Baja California Trail, one of the Seasonal Championships.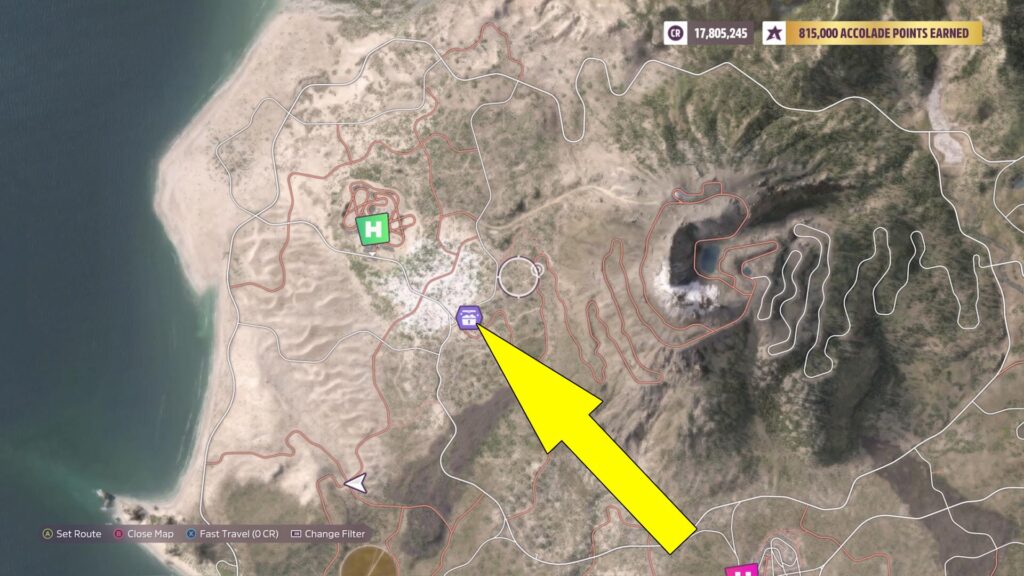 Now, all you need to do is to fast-travel or drive to the location on the map above, then drive south, where you should be able to spot a small farm by the road.
Within the courtyard, near a trailer, you should be able to see the Hot And Sandy Chest, waiting to be smashed.
Simply drive into the chest, and the Series 10 Spring Season Hot And Sandy Treasure Hunt is complete so feel free to focus on the new challenges available this week in Forza Horizon 5.