When it comes to finding the best Forza Horizon 5 Infinite Money Farming method, you have to be aware that a lot of YouTubers will do anything to get your attention, claiming that they found the Holy Grail or the fastest way to get rich in the latest Forza game developed by Playground Games.
In fact, only a handful of YouTubers created races that can help you get unlimited Forza Horizon 5 Credits without wasting your time and energy, and these YouTubers are pretty rare.
Therefore, to save you time, below, we'll go over one of the best FH5 Infinite Credits farming strategies that will most likely help you get all cars in the game in a matter of days.
Before we start with the actual process of how to get unlimited money in Forza Horizon 5, it is worth mentioning several essential aspects:
This FH5 Unlimited Money Glitch relies on a race created from scratch by YouTuber Grrae, which means that all credits go to him
Although it is an AFK Forza Horizon 5 Money Glitch, it comes with a twist that can help you get a lot of Credits without finishing the race
Last but not least, this Forza Horizon 5 Fast Credits Farming method requires you to follow specific steps, so try not to miss any of them
Forza Horizon 5 Infinite Money Farm – What Car To Use
The first thing we'll cover is the car you'll want to use for this Forza Horizon 5 fast money-making glitch.
Although you can use other cars, you'll need the 2016 Pagani Huayra BC in my image below for the best results.
If you don't have it, you should buy it from the Auction House, and as you can see, it costs around 500.000 CR.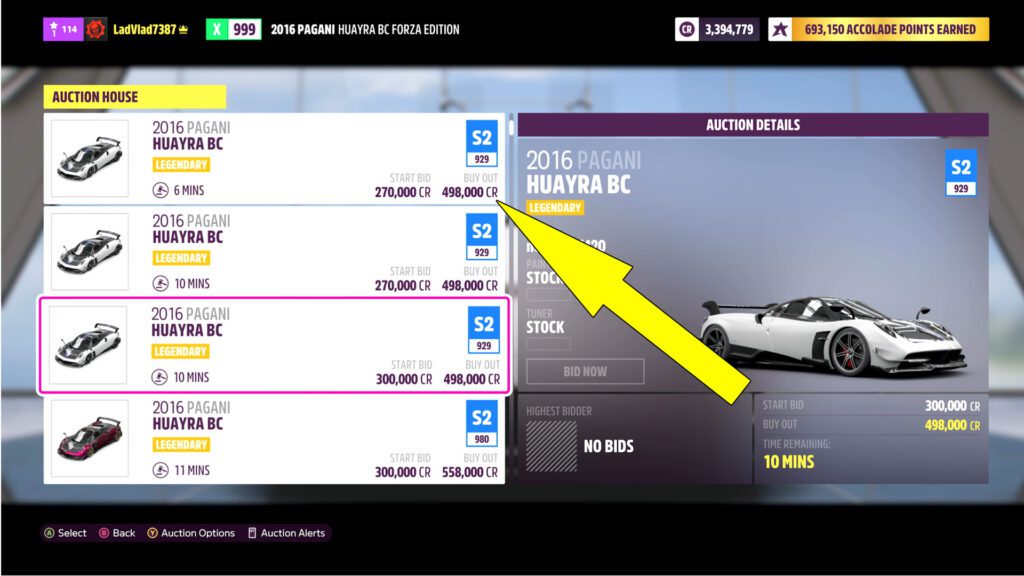 Once you get the car, you'll want to use a specific tune for it, mainly because the tune will stop your car from spinning.
To get the recommended tune, first, get in your 2016 Pagani Huayra BC, then follow these steps:
Go to Menu
Choose the Cars tab
Select Tune Car
Open the Setup Manager (lower-left corner of the screen)
Select Load Setup
Open the Search window (lower-left corner of the screen)
In the Search window, go to Share Code and type: 114372532
Now hit Search
In the next window, you'll see the following tune.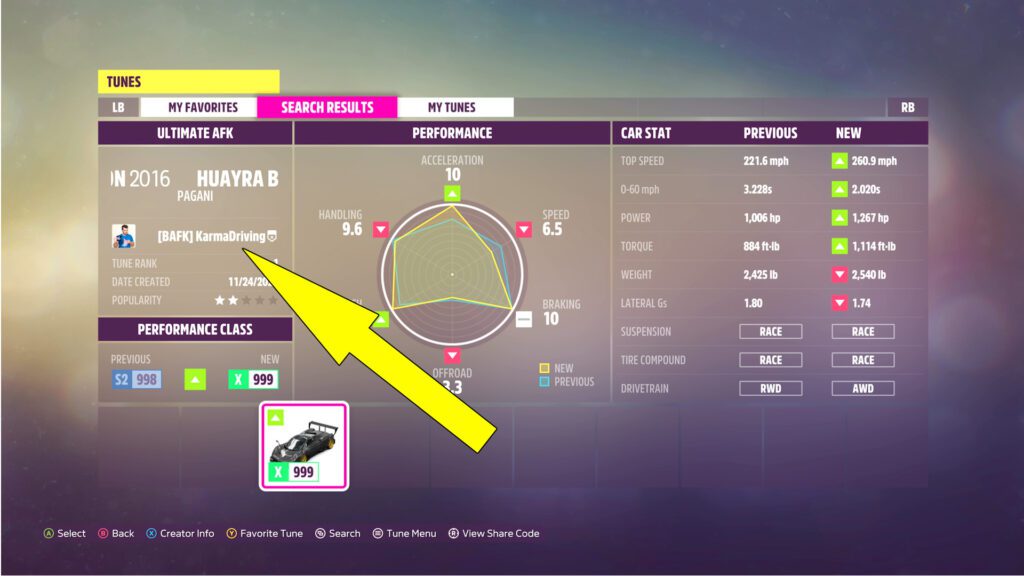 Select the tune in my screenshot, then download and install it on your car.
Good job! Now, the last changes you'll want to make are those from your Car Mastery tree.
Basically, here, you'll want to unlock all Skills except for the Time Extended. Or simply put, your Car Mastery should look like this.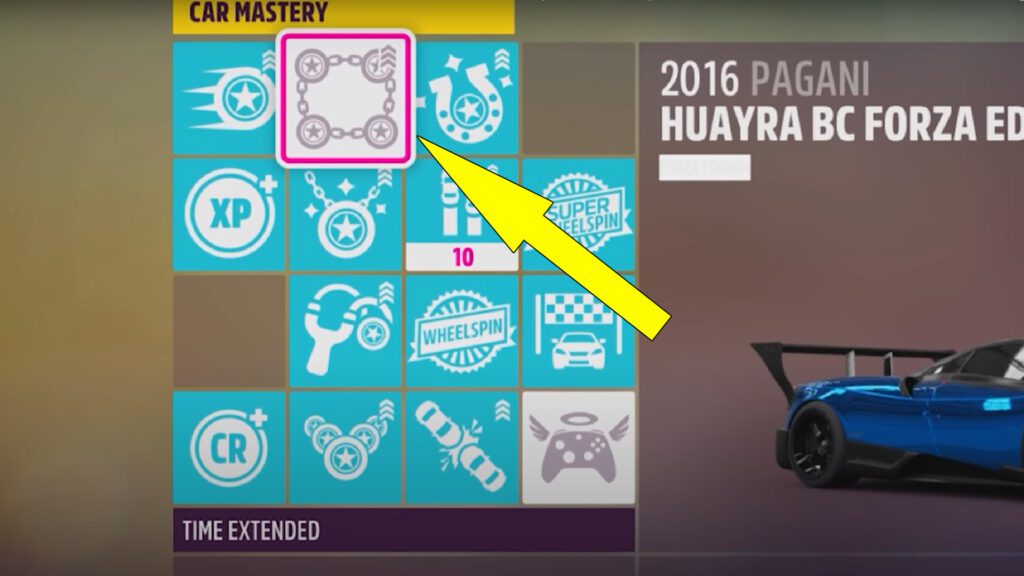 Awesome! Now your car is set for the Forza 5 Money Glitch.
Unlimited Money Farm – Recommended Settings
To make the Forza Horizon 5 AFK Money Glitch as productive as possible, next you'll want to make some essential changes to the game's settings:
Open the game's menu and go to Campaign
Select Settings, then Difficulty
Here, make sure that you change the following settings:
Drivatar Difficulty: Unbeatable
Driving Assist Preset: Custom
Braking: Assisted
Steering: Auto-Steering
Traction Control: On
Stability Control: On
Shifting: Automatic
Driving Line: Full
Damage & Tire Wear: Cosmetic
Rewind: On
Here is how your settings screen should look like.
AFK Money Glitch – How To Get Infinite Skill Points
With all the settings ready, it's time to start racing and get as many SP (Skill Points) as possible.
The idea behind this farming method is easy to understand. Your goal is to get infinite FH5 SP and turn them into Wheelspins, which will result in money.
But first, you'll need the Skill Points, and you'll have to play the race created by Grrae.
After you make all the above changes while driving the 2016 Pagani Huayra BC, follow these steps:
In the game's menu, press RB and go to Creative Hub
Choose the Event Lab in the next window
Now, select Event Blueprints
Use the Search option at the bottom of the screen
In the Search window, leave all fields as they are and edit the Share Code field only
In the Share Code field, add the following code: 194486045
Once you add the code, hit Search, and you'll see the following event.
This is the one you need to play, and depending on how much time you can spare, you have several options:
If you have a lot of time, you can use a rubber band and block the acceleration button (LB on Xbox), then sit back and watch the Auto-Steering do the driving
If you don't have a lot of time and want to do the driving, you can set the Steering to Standard or Simulation, and you can enjoy a nice race
As you can see in my screenshot, this race has 50 Laps, but its beauty is that you can end it anytime and keep the Skill Points you get.
To do so, simply press A (E-Brake) on Xbox, and the race finishes.
Assuming you want to do something else (watch a movie, for example), make sure to check from time to time that your race is still going because the controller may get disconnected.
If, by any chance, you want to let the race finish, be advised that it can take up to 6 hours, but, as you can see below, you'll get around 800 SP, which is an insane amount.
This amount, however, depends on the Skills you unlock and the car you use.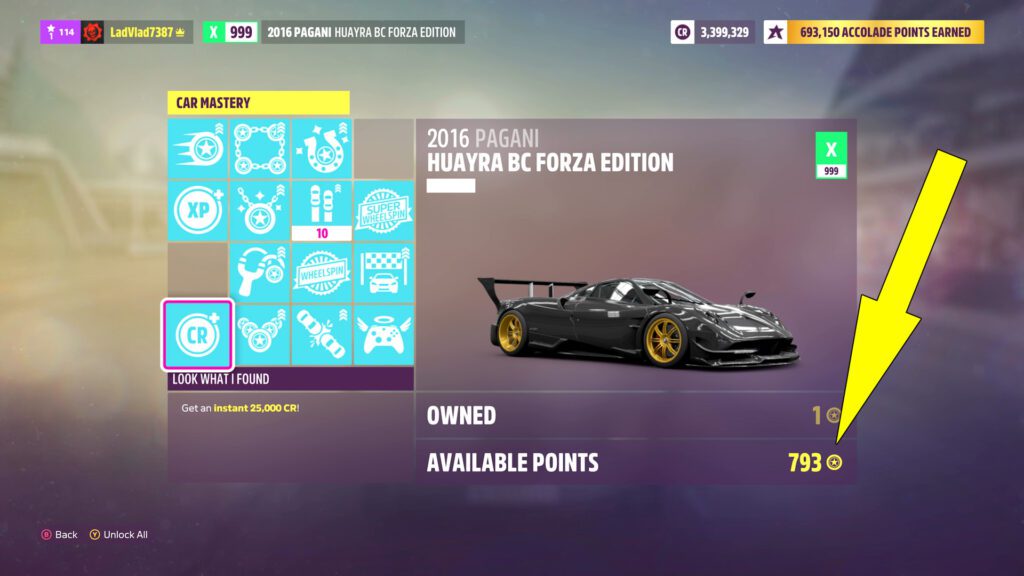 Infinite Credits – How To Turn Skill Points Into Credits
Once you amass a large number of Skill Points, it's time to turn them into Credits.
As you can imagine, since the race above allows you to get unlimited FH5 Skill Points, it means that you can get unlimited Wheelspins and infinite Credits.
However, the next step focuses on not wasting too many SP to get Wheelspins.
Let's see how you can do this.
After you finish the race, fast-travel to a Horizon festival site, then enter the outpost. Here you'll want to:
Go to your Garage
Select Car Collection
In the Manufacturer window, pick Porsche
Buy as many 2015 Cayman GTS as you can by pressing Y on your Xbox controller
You can see the exact car you have to buy in the following screenshot.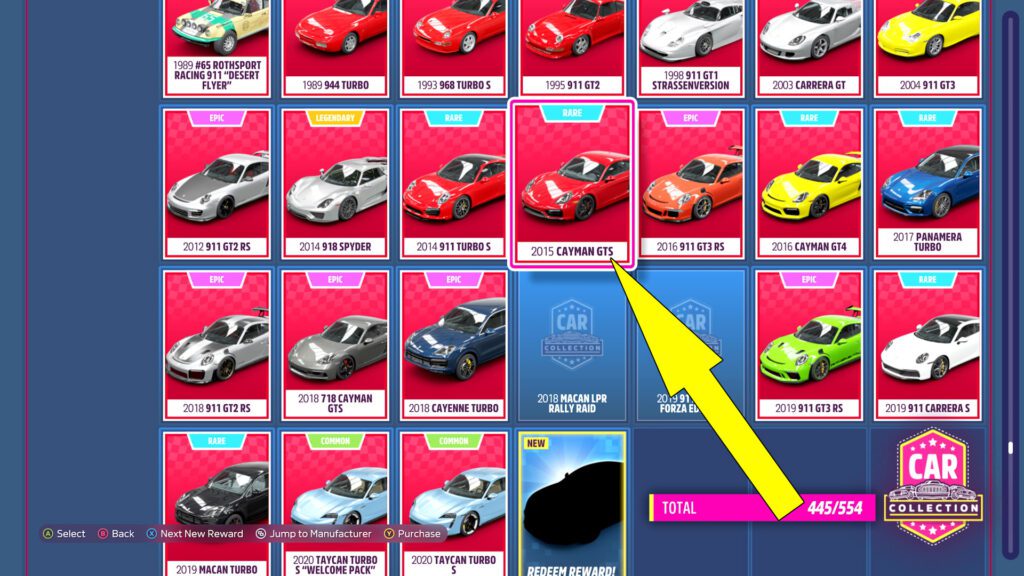 After you run out of money, return to your Garage and go to My Cars.
Here you'll want to switch from your current car to one of the Porsches you just bought.
Select Jump To Manufacturer
In the next window, pick Porsche
Now select a Cayman GTS 2015 but make sure it is marked as NEW
Finally, choose to Get In Car
Once you are in the car, press B to return to your Garage and pick Upgrades & Tuning, followed by Car Mastery.
Here you'll want to unlock only the following Skills:
Humble Brag (1 SP)
Sublime Handling (1 SP)
Headline Act (1 SP)
Refined Bodywork (3 SP)
Spinball Wizard (3 SP)
What's Not To Like? (5 SP)
These are the Skills you have to unlock.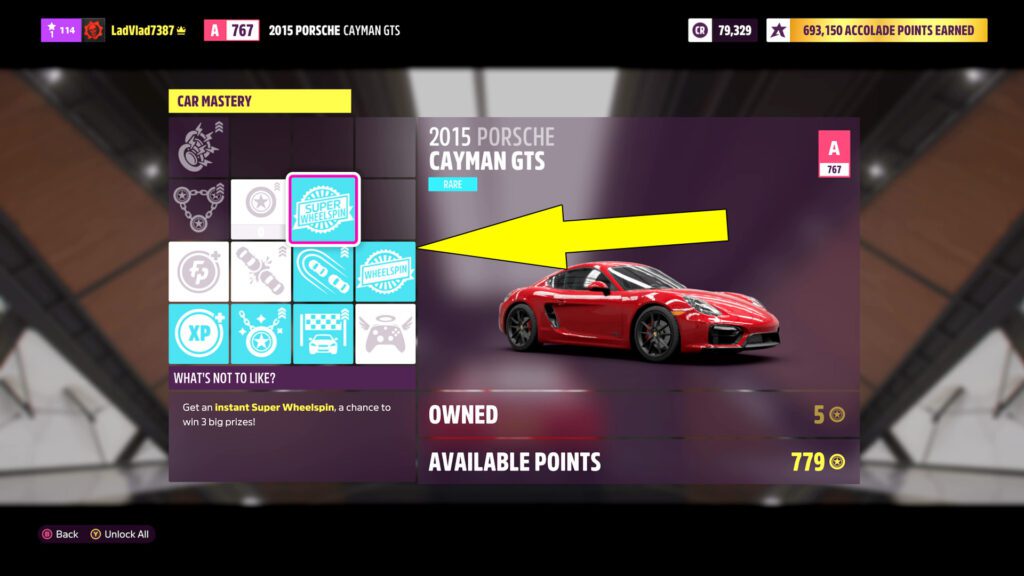 The last two Skills in the Car Mastery Tree unlock a Super Wheelspin and a regular Wheelspin, which means that for 14 SP and the cost of a Cayman, you got both of them.
To speed up the process of switching between the Porsches you buy, after you unlock all Skills above, here is what you have to do.
Hit Back twice to return to your Garage
Choose Designs & Paints
Now pick Choose Car
Press X to Sort
Select Performance Class
Now select another Cayman GTS 2015 that is marked as NEW
Obviously, now you'll have to unlock the same perks mentioned above to get more Wheelspins.
When you run out of new Caymans, use the Wheelspins you have unlocked to get more money and buy new Porsches.
If you don't want to stock up on Porsche Caymans, consider removing them from the Garage once you unlock the Wheelspins.
Typically you'll want to sell these at the Auction House, but it is already saturated, so there is a small chance to sell so many.
Last but not least, although this Forza Horizon 5 Infinite Credits Farming method may look complicated, it is extremely easy to use, and you'll get an insane amount of money, especially later in the game when you can sell the duplicate cars.