Forza Horizon 5 High Voltage Pole Suspended XP Board or the Bonus Board suspended on the transmission tower in the Cordillera area, just northeast of Mulege, is far trickier than the Festival Plane Wing Bonus Board.
That's because it is far from the ground, and it is also hard to spot unless you look up.
So, if you thought that the XP Board on the plane wing was hard to collect, then you're in for a treat because the FH5 Suspended XP Bonus Board is notably harder.
Regardless, throughout the guide below, I'll tell you how to get this board if you wish to unlock the Complete Collection achievement in the latest Forza game developed by Playground Games.
Forza Horizon 5 Cordillera Highway Suspended XP Board Location
As usual, let's start with the location of the Forza Horizon 5 Cordillera Highway Suspended XP Bonus Board.
You can see it on the map below, and if you follow my FH5 XP Bonus Boards Treasure Map, you know it is the 168th.
On the map below, you can see that it is northeast of Mulege.
When you get to the location on my map, look for a large high-voltage pole near a hill. Now, look up to spot a hanging XP Bonus Board.
As you can guess, your goal is to smash it, and you'll need to do this while flying.
Let's see how you can achieve that, knowing the three factors that matter the most: car, speed, and recommended path.
Recommended Car
When it comes to the recommended car, there are many choices; however, you may want to use a lightweight car because you'll have to fly relatively high.
For example, it's pretty hard to get to the Bonus Board while driving a Ford Bronco.
Since the car's power is also essential, you may want to opt for a supercar such as a Koenigsegg.
For this board, I have used the same 2016 X Class Koenigsegg Regera bought from the Auction House for 900.000 CR or the car that brought me the Plane Wing XP Board.
Starting Location
Now that you know what car you should use let's go over the starting location, which you can see on the map above.
As you can notice, it is east of the FH5 Suspended XP Board you want to reach.
The white squares mark a farm.
From this location, you'll have to head straight towards a hill pictured below. However, things are not that simple.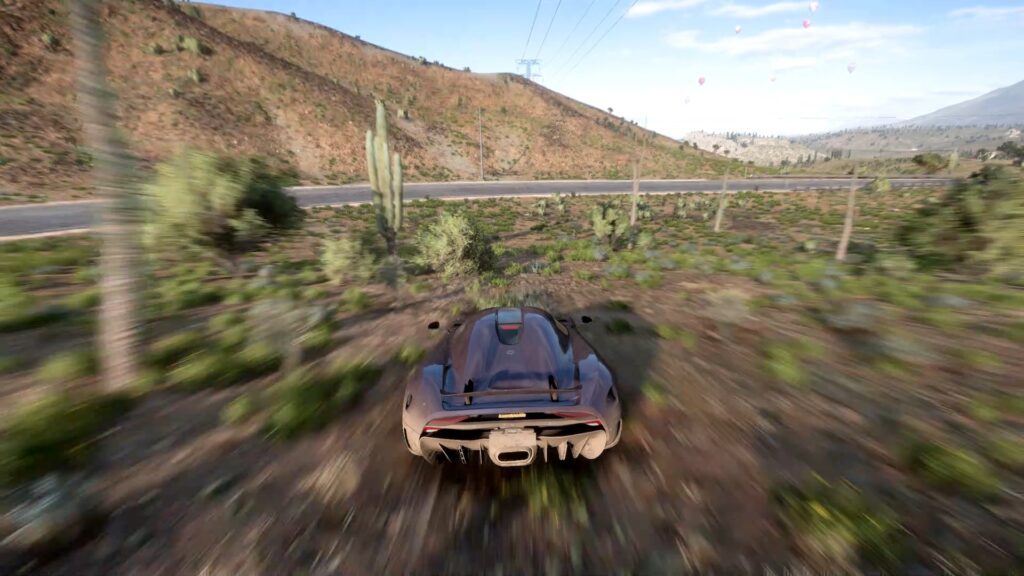 How To Get The XP Bonus Board Suspended On Electric Tower
The optimal path you need to follow for this collectible relies on two elements, both of them pictured below:
First is the small wooden pole that is close to the road you need to cross. This pole should always be on your left side.
Second, the peak of the mountain you need to hit at high speed so you can jump toward the suspended board.
After you cross the street as close as you can to the small wooden pillar marked above, you'll want to head right. But only slightly.
The idea is to have your car facing the board and reach the hill's peak (see below) while maintaining a speed between 100 and 105 MPH using the recommended car mentioned above.
Now, your chances to get this board on your first try are relatively small, but once you find the correct path, you can make minor adjustments using the rewind option (press Y on your Xbox controller).
As such, you can decrease the speed if you fly too far or increase it if needed. Remember to rewind until your car is on the ground because the adjustments are useless while flying.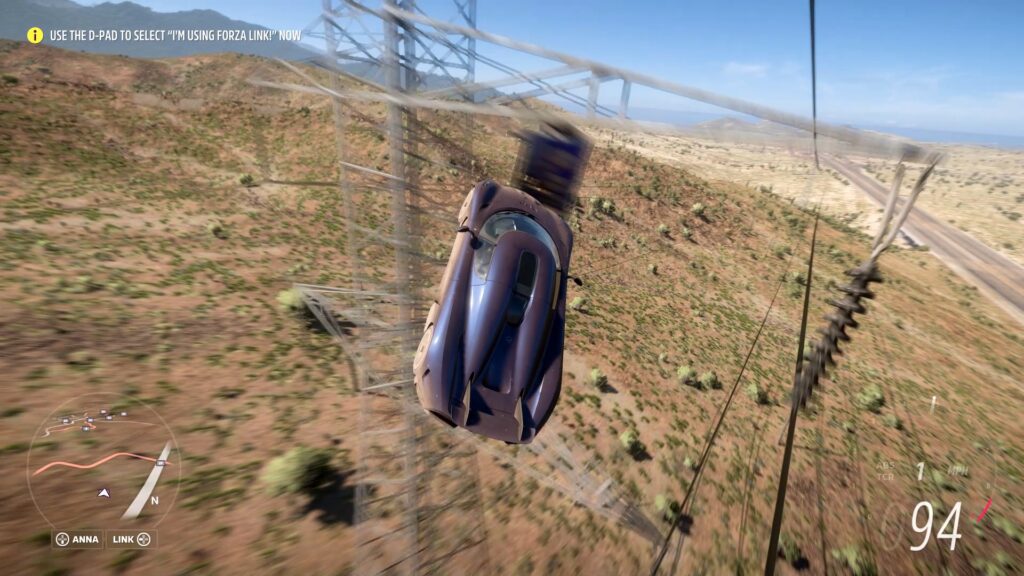 Keep in mind that this board requires patience, and it can become frustrating, but you should be able to smash the board faster using the tips above.
Did you manage to get it? What car did you use?