Forza Horizon 5 Unpeelievable (#Unpeelievable) is the fourth FH5 Series 2 Photo Challenge you can complete in the Spring Season.
FH5 Unpeelievable is most likely the last Challenge you will complete during the Spring Season, and by doing this, you'll be awarded 2 PTS and the "Air Guitar" Remote Reward.
Furthermore, the Forza Horizon 5 #Unpeelievable Photo Challenge is one of the trickiest so far, even though it has a single requirement:
Take a photo of the 1965 Peel Trident at Teotihuacan
Forza Horizon 5 Unpeelievable Photo Challenge Location
What makes the Forza 5 Unpeelievable Photo Challenge a bit harder than all previous challenges is not the location where you have to take the photo (marked above) but the car you have to use.
In this case, we are dealing with the smallest car in the video game developed by Playground Games. The 1965 Peel Trident.
Besides the fact that it is small, this car is also very rare, meaning that you can't find it at the Auction House (nobody is selling it these days), and you can't buy it from Autoshow.
As such, to get the 1965 Peel Trident in Forza Horizon 5, you have to unlock it, and as you can see in my image below, you need to get 45 Spring Season Points.
How To Get The 1965 Peel Trident
So basically, for the Forza Horizon 5 Unpeelievable Photo Challenge, you have to complete as many Spring Challenges as possible.
Here is the complete list; however, keep in mind that you need only 45 Points for the Peel Trident:
Driftacular! – Horizon Open – 2 PTS
The Eliminator – Battle Royale – 2 PTS
Too Cool To Air – Treasure Hunt – 3 PTS (check this guide to complete it)
Down For The Countdown – Seasonal Championship – 5 PTS
Co-Op Championships – Horizon Tour – 3 PTS
Auld Lang Syne – Seasonal Championship – 5 PTS
New Beginnings – Seasonal Championship – 5 PTS
Los Arboles – Speed Trap – 2 PTS
Punto De Vista – Speed Zone – 2 PTS
Boardwalk – Danger Sign – 2 PTS
No Small Wonder – Seasonal Playground Games – 3 PTS
Daftmonk3610 Presents – Event Lab – 3 PTS
Tis The Season To Be Hooning – The Trial – 10 PTS
Mini Games- Horizon Arcade – 3 PTS
All events listed above award Season Points that will help you unlock the 1965 Peel Trident.
Additionally, you can also complete daily challenges if you need more points.
Once you have 45, simply unlock the car from the Spring Season progress window.
#Unpeelievable – How To Take A Photo Of The 1965 Peel Trident At Teotihuacan
Things get pretty straightforward after you unlock the Peel Trident because all you need to do is travel to the location on my map above.
Here, you'll see a giant pyramid and an airstrip.
Obviously, you need to be in your newly acquired Peel Trident for this challenge.
Now, place your car in front of the pyramid next, then press Up on your DPad to pull out your camera and then A, to take a beautiful photo with this tiny car.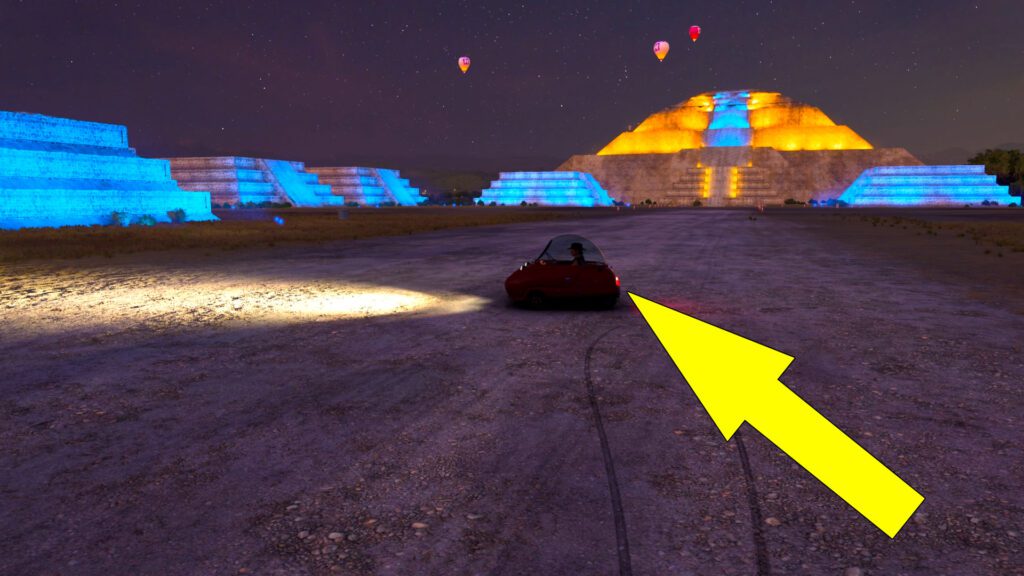 Once you take the photo, the Forza Horizon 5 #Unpeelievable Photo Challenge marks it as completed.