Forza Horizon 5 Parasols are Smashable Objects very similar to the Beach Flags explained here, and they allow you to unlock the Throwing Shade Accolade in the video game developed by Playground Games.
Unlike the Beach Flags, though, the 10 FH5 Parasols must be smashed within 45 seconds, and this task can prove a bit tricky if you don't know where to find them.
Therefore, throughout the guide below, we'll go over the fastest way to smash 10 Forza Horizon 5 Parasols and eventually unlock the Throwing Shade Accolade.
Forza Horizon 5 Parasols – Where To Find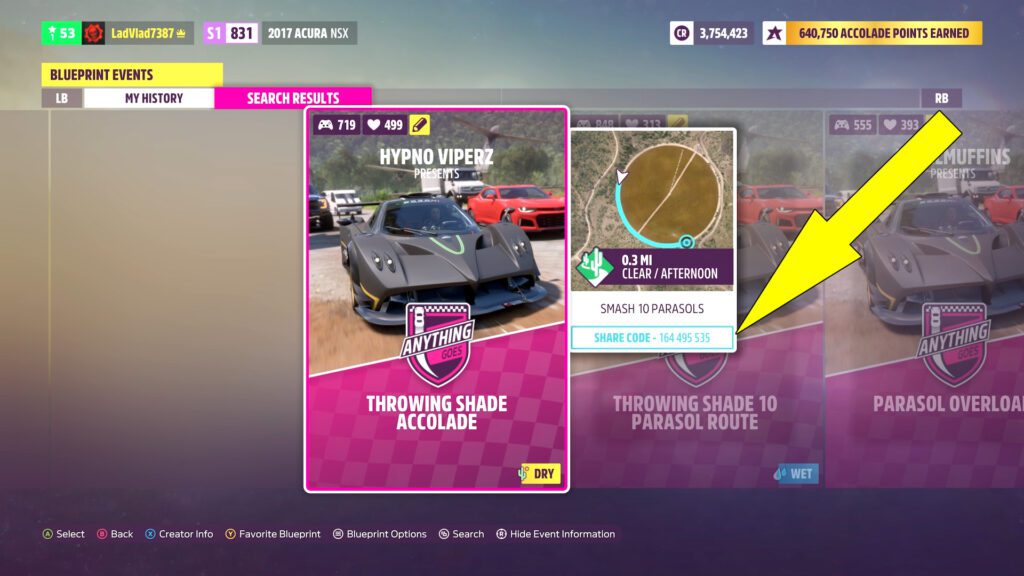 Although the Forza 5 Parasols can be found on the western coast of Mexico, usually on the beach, if you wish to unlock the Throwing Shade Discovery Accolade faster, the best option is to play a Community Challenge focused on this specific Accolade.
In this case, we'll use the one created by the user Hypno Viperz.
To access it, follow these steps:
In the game's menu, press RB and go to Creative Hub
Choose the Event Lab in the next window
Now, select Event Blueprints
Use the Search option at the bottom of the screen
In the Search window, leave all fields as they are and edit the Share Code field only
In the Share Code field, add the following code: 164495535
You can see the Share Code and the Challenge in the image above, and you can use whatever car you want.
Thanks to user Hypno Viperz, this Accolade is one of the easiest in the game, and once you start the Challenge, you'll see more than 10 Parasols (pictured below) aligned on the racing track.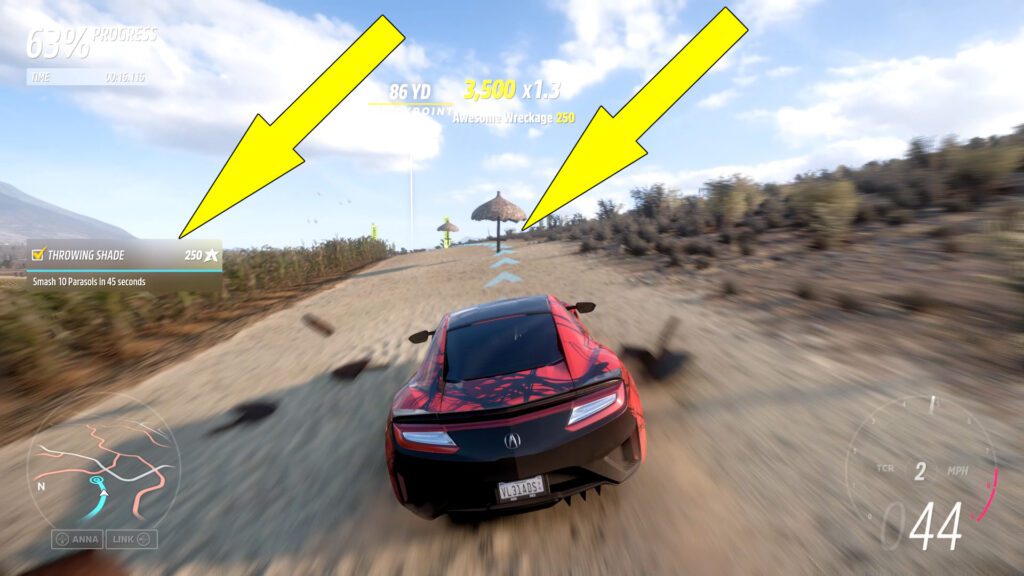 As you can guess, all you need to do is to follow the track on the GPS and smash all Parasols on your way toward the finish line.
This race takes less than 20 seconds which means that you'll finish it within the required time.
Last but not least, if by any chance this is removed, you can look for similar ones by tying Throwing Shade in the Title field while searching for Blueprint events.