Forza Horizon 5 Vado Del Rio Speed Trap is probably the trickiest FH5 Speed Trap PR Stunt when it comes to getting 3 Stars because the Speed Trap you need to hit at 135 MPH is in a river.
However, the FH5 Vado Del Rio Speed Trap is doable, but unlike all other Speed Traps in the video game developed by Playground Games, you'll have to consider a specific car.
As such, throughout the following Forza Horizon 5 Vado Del Rio Speed Trap 3 Stars PR Stunt guide, I'll tell you everything you need to know about this small event, including the car you should use, the setup, and the path you'll need to follow to get at least 135 MPH.
Forza Horizon 5 Vado Del Rio Speed Trap Location
Let's start with the Vado Del Rio PR Stunt location in Forza Horizon 5.
As you can see on the map below, this PR Stunt is on the southern side of the map, north of San Sebastian and south of Atlantes De Tula.
It is in a swampy area, and if you drive to the Speed Trap location, you'll see it in the middle of a river.
What makes the FH5 Speed Trap in Vale Del Rio so tricky is the river where the trap sits.
That's because whenever you hit the water, most cars in the video game will slow down. But this happens with most cars, not all cars.
As such, after you find the Speed Trap, you'll most likely want to change your car.
Vado Del Rio Speed Trap 3 Stars Guide
Before we talk about the car I recommend using, it's worth knowing that the goal of this guide is to help you get three stars, not to set a new world record.
Basically, this guide is for average players because if you wish to increase the record you set on this trap, fine-tuning is required, as well as a bit of knowledge on how to change your car's stats.
But for this trap, we'll use what the game provides.
Recommended Car
Although there are many options for the Vado Del Rio Speed Trap, I recommend using the 204 Local Motors Rally Fighter.
This is an inexpensive car you can buy for 100.000 CR.
If you don't have it, follow these steps to get it:
Head to a Horizon Festival spot
Select the Buy & Sell tab
Select Autoshow
Use the Jump to Manufacturer filter
Now select Local Motors from the list
Finally, buy the Rally Fighter 2014
After you customize this car, get inside and drive or fast-travel back to the location of the Vado Del Rio Speed Trap.
Recommended Setup
Now, if you want to try your luck with the stock Rally Fighter, feel free to do it; however, chances are you won't be able to get those three stars.
One thing you can notice, though, is that this car won't slow down as much as the rest the moment it hits the water.
But further modifications are required. Specifically, you'll want to increase the car's class from A to S.
I won't go into technical details here, so just follow these steps:
Go to the game's Menu
Select the Cars tab
Now pick Tune Car
Press the Setup Manager button in the lower-left corner of the screen
Hit Load Setup
Pick any S1 Setup you want. The higher the rating, the better. In the picture above, you can see one of them
Good, now your car is ready to go.
Vado Del Rio Speed Trap 3 Stars – How To Get
Obviously, to get to 135 MPH, you'll need to drive as fast as you can without hitting any obstacles.
Additionally, the recommended path is in a straight line; therefore, you'll need to start from a spot that helps you gain as much speed as possible as fast as possible.
On the map above, you can see that spot marked by another yellow arrow.
It is south of the Vado Del Rio PR Stunt, on a hill.
You'll also see a lot of banana trees on the same hill.
You'll have to descend the small hill from that spot, then hit the road towards the Speed Trap.
As you can see in the following screenshot, by the time you reach the river, you'll have around 155 MPH, which is more than you need for the FH5 Vado Del Rio Speed Trap.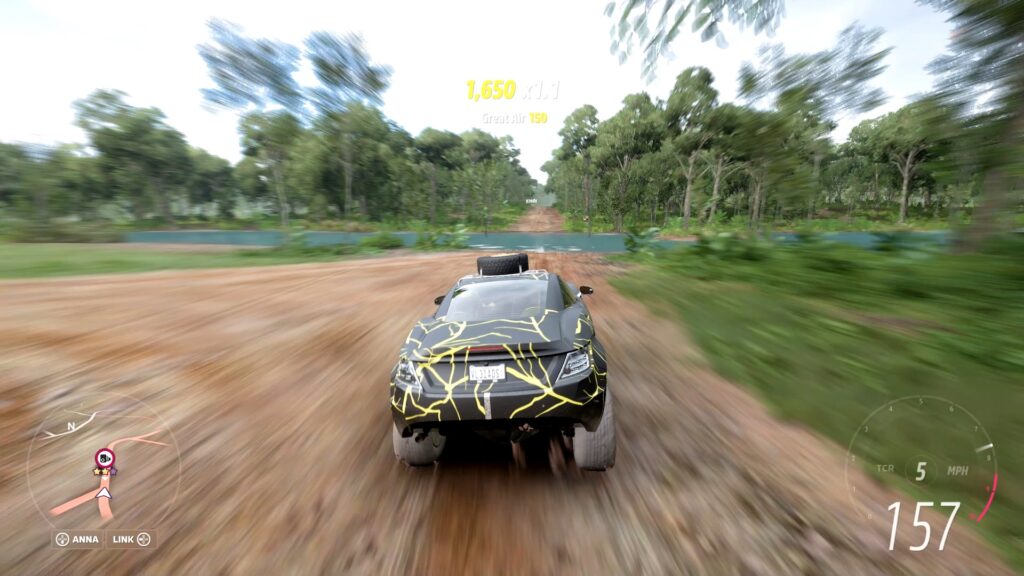 One last thing worth mentioning is that if you see that your car slows down for no reason, you may want to remove the Assisted Braking.
Here is how to do it:
Go to the game's Menu
Select the Campaign tab
Pick Settings
Now, select Difficulty
Set Braking to Anti-Lock Off
And that's it. Now you know how to get 3 Gold Stars in Forza Horizon 5 Vado Del Rio Speed Trap.