Forza Horizon 5 Wild Truck Cross Country Racing is one of the Accolades that most players consider bugged; however, while there may be minor issues, The Wild Truck Accolade is obtainable.
The FH5 Wild Truck Accolade requires you to win a Cross Country Event in a Truck, which should be an easy task.
The problem here, though, is the truck you have to use. And where to find it.
As such, throughout the guide below, I'll tell you how to unlock The Wild Truck in Forza Horizon 5.
Forza Horizon 5 The Wild Truck Accolade Location
Let's start with the location I have used to unlock this Accolade and to make sure you get it; I suggest using it as well since this event is the one I tested.
Most likely, you can unlock this Accolade while playing other Cross Country Events; but if you want to get it as fast as possible, head to the Ribera Rocosa Cross Country Event location.
You can see it above, and that's the one I suggest playing. The idea here was to play one of the shortest racing events.
How To Win A Cross Country Event In A Truck
As outlined, Forza Horizon 5 The Wild Truck Accolade comes with a small problem (or a bug if you want).
However, the FH5 Wild Truck bug is not caused by the Accolade but by the car most players use to unlock it.
In this case, the 2015 #24 Tankpool24 Racing Truck Forza Edition. And it may also occur while driving the 2015 #24 Tankpool 24 Racing Truck.
So the Forza Horizon 5 Wild Truck bug is very easy to fix, and all you have to do is change the car. Or the truck.
To unlock this Accolade, you'll want to drive the 2014 Unimog U5023 below.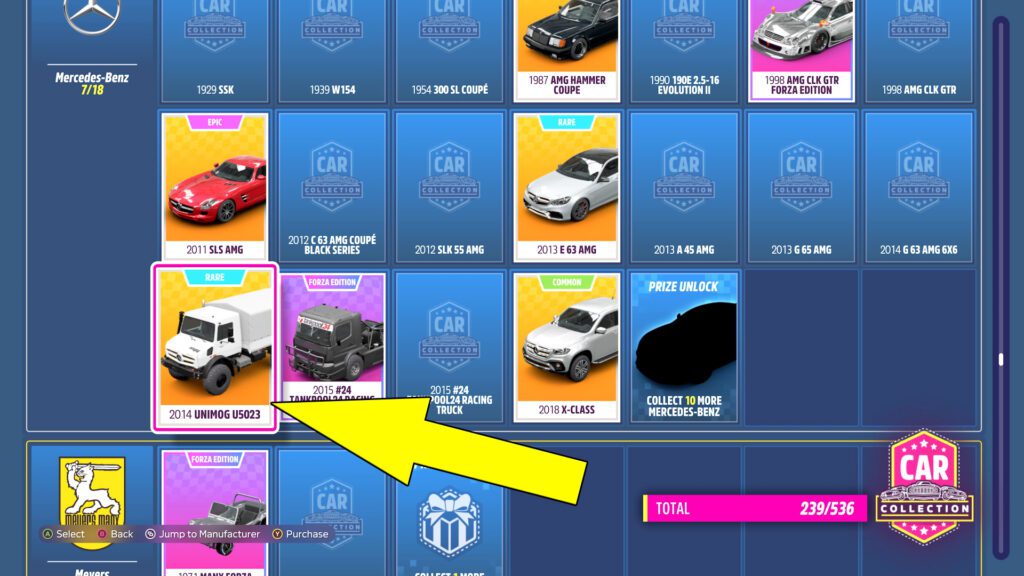 If you're using the 2014 Unimog U5023, which is a Mercedes-Benz Truck, by the way, and the Racing Event mentioned above, the Accolade should unlock, as you can see below.
Obviously, you'll have to win the race to get this FH5 Accolade.
Since the Mercedes-Benz 204 Unimog U5023 is quite expensive at the Auction House, consider buying it directly from your car collection for 100.000 CR.
So, what's with the Wild Truck bug in FH5? Well, this bug occurs for some players who try to use the Tankpool24 Truck because the game doesn't see that vehicle as a truck, even though it is a truck.
By changing the truck you are driving, The Wild Truck Forza Horizon 5 Accolade becomes obtainable.