Forza Horizon 5 Piñatas are smashable objects that can help you unlock a total of three Discovery & Collections Accolades, provided you know where to find them.
The FH5 Piñatas may look a bit hard to find at first; however, they are pretty common, as you are about to see.
Since in the video game developed by Playground Games, you need to find and smash at least 76 for the corresponding Accolades, below I'll tell you where to find the Forza 5 Piñatas.
Forza Horizon 5 Piñatas Discovery Accolades – How To Get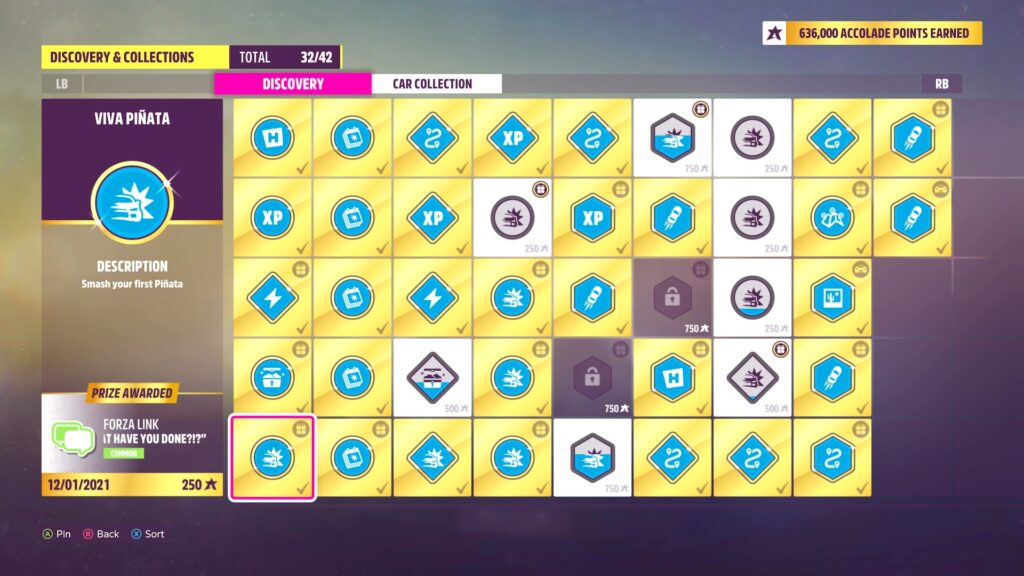 To see all FH5 Piñatas related Accolades, check the Discovery & Collections list.
You can access it via the game's menu under the Campaign tab.
From there, you have to go to Accolades and then to Discovery & Collections, followed by the Discovery list of Accolades (pictured above).
Here you can notice that there are 3 FH5 Accolades that require you to smash Piñatas:
Viva Piñata – Smash your first Piñata
Tiempo De Fiesta – Smash 25 Piñatas 
Poor Things – Smash 50 Piñatas 
As you can see, you have to smash a total of 76 Piñatas if you wish to get a total of 1500 Accolade Points.
So, let's go over these Accolades independently.
Viva Piñata – How To Smash Your First Piñata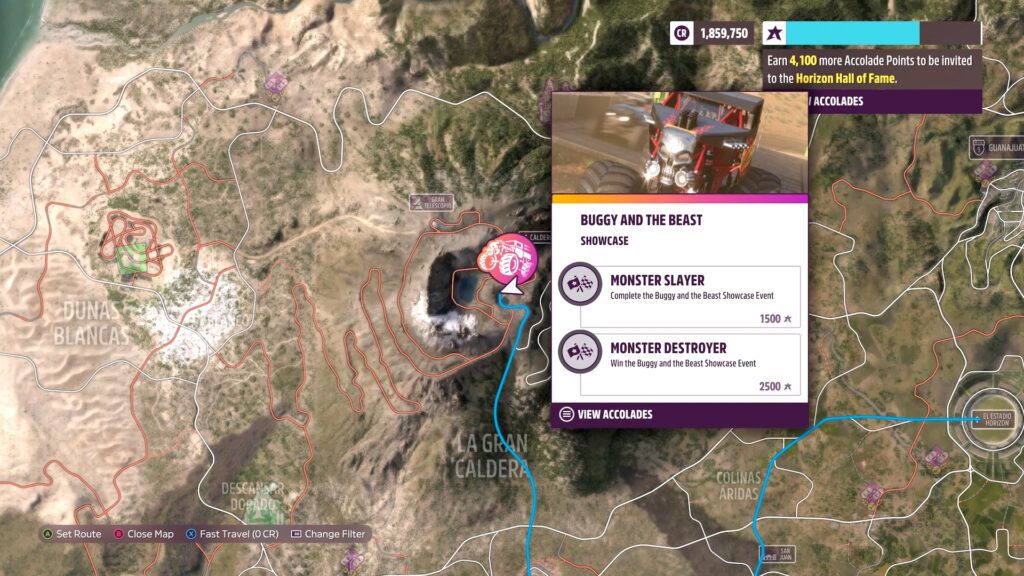 To smash your first Piñata in Forza Horizon 5, all you have to do is play the Buggy And The Beast Showcase.
You can see its location above, and you may remember it from the Hidden Bad Cactus location guide.
This Showcase features two sections. During the first one, you'll get to race against two monster trucks.
Once you finish the race (even in last place), you get to celebrate your victory in a stadium, and you must complete a series of Optional Accolades.
You'll be driving a monster truck, and while doing so, if you pay close attention to the platforms placed within the stadium, you can notice some tiny pink Piñatas, like the one in my screenshot.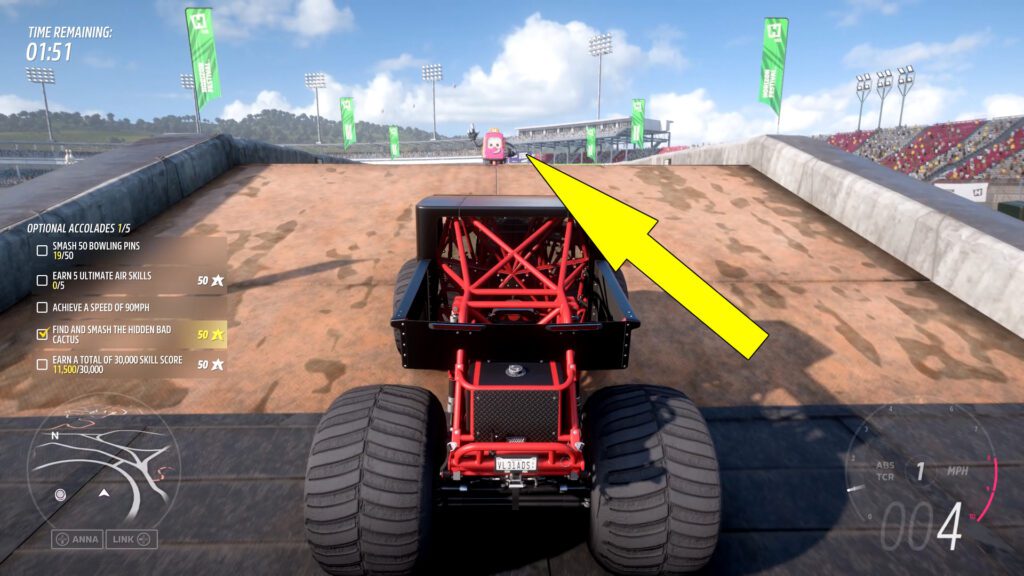 Simply smash one of them, and the FH5 Viva Piñata Accolade unlocks for you.
Tiempo De Fiesta – How To Smash 25 Piñatas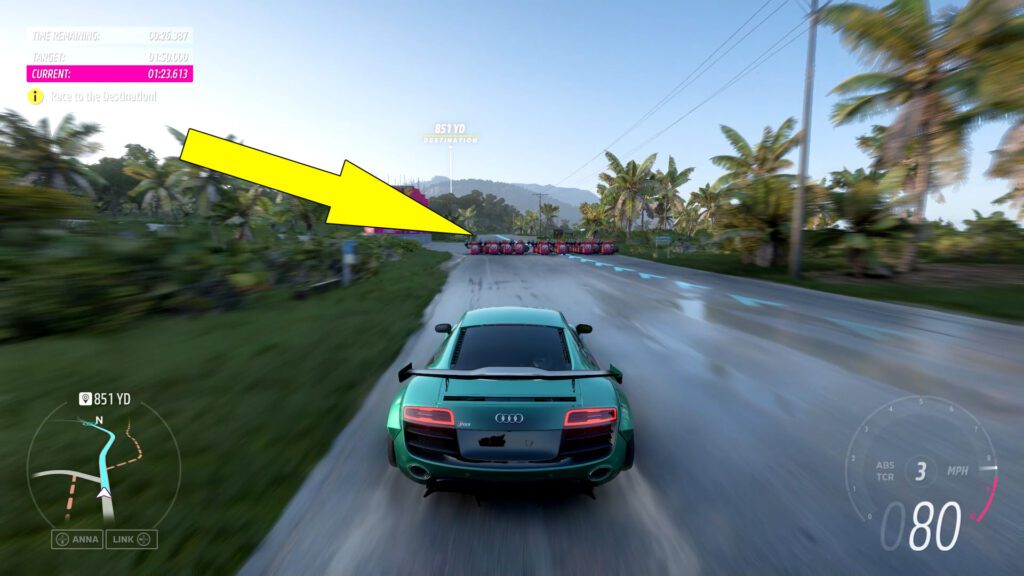 The second Accolade featuring Piñatas is the Tiempo De Fiesta, but this time you have to smash 25 Forza 5 Piñatas.
Luckily you have several options if you want to unlock the FH5 Tiempo De Fiesta Accolade:
The first method involves replaying the Buggy And The Beast Showcase because there is more than one Piñata in the stadium above; however, this method is time-consuming because every time you replay the showcase, you have to complete the race. And it also comes with a timer.
The second method relies on luck, meaning that you may be able to find more Piñatas while playing the Super7 Challenges. As you can see in the image above, you may find some Piñatas, but unfortunately, the challenges are random, and you can't tell which challenge includes Piñatas.
Finally, the third method (also recommended) is to play a custom event created especially for all Accolades involving Piñatas.
Simply put, you'll want to combine this Accolade with the next one and unlock them together by playing a custom event.
Here is what you have to do next.
Poor Things – How To Smash 50 Piñatas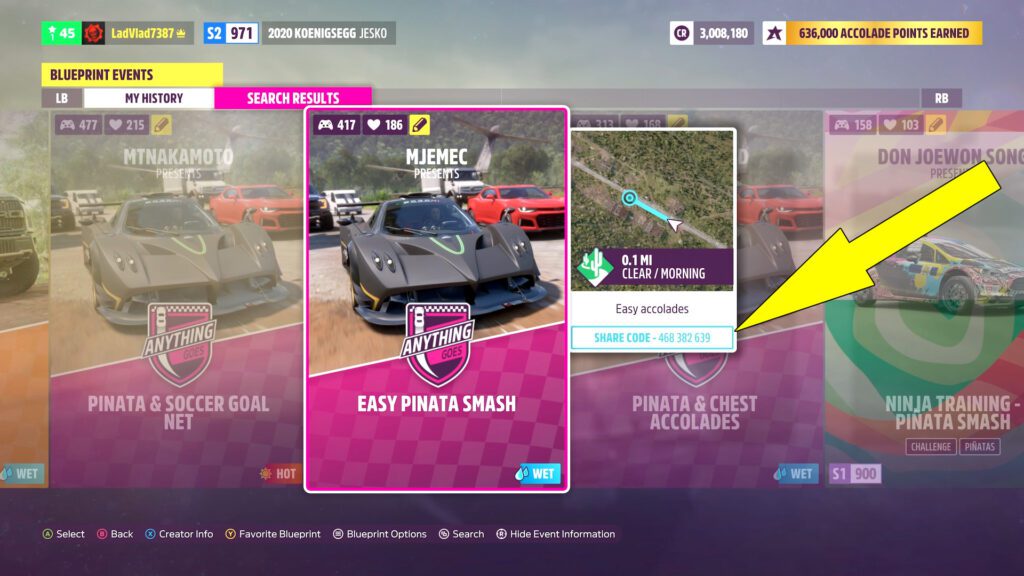 As said for the FH5 Poor Things Accolade, you'll want to opt for a custom event that revolves only around Piñatas.
User Mjemec created this event, so all credits go to him. Obviously, you can also create your event if you wish.
Now let's see how you can access the one from Mjemec.
In the game's menu, press RB and go to Creative Hub
Choose the Event Lab in the next window
Now, select Event Blueprints
Use the Search option at the bottom of the screen
In the Search window, leave all fields as they are and edit the Share Code field only
In the Share Code field, add the following code:  468382639
The event in my screenshot above should appear on your screen.
When this short race starts, you'll notice that it takes less than 30 seconds to complete, and in front of you is a row of Piñatas you can smash (pictured).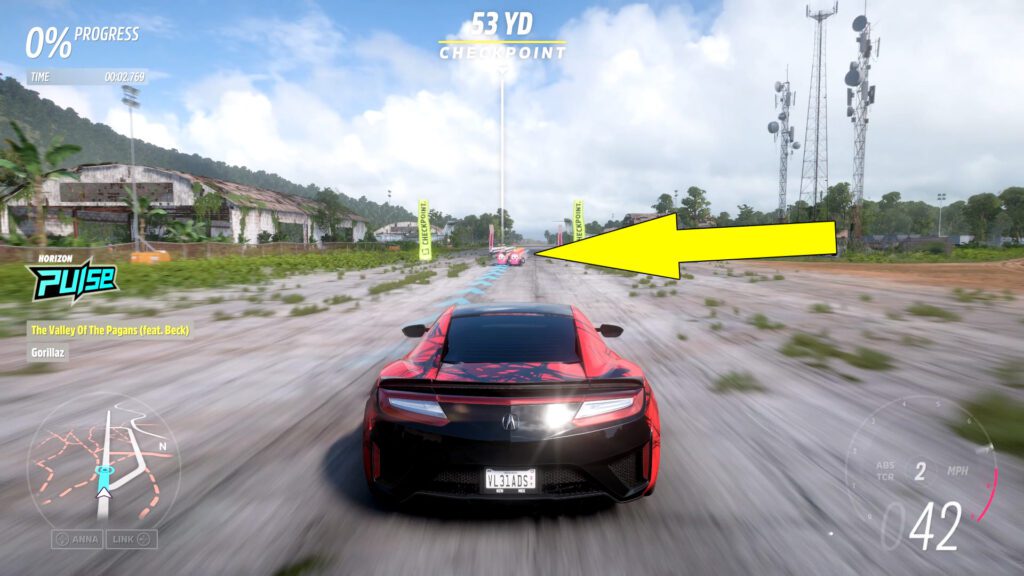 As you can guess, if you need additional Pinatas, you can replay this event until the related Accolades unlock.
Last but not least, if the code above stops working, there are other events you can try.
The only change you have to make is to type Piñatas in the Title section of the Event Blueprints search window.