Forza Horizon 5 Speed Of Light Road Racing Accolade is unlocked when you manage to drive above 250 MPH in a Road Racing Event, a task you can quickly complete following the same strategy used for the Speedzilla Accolade.
The FH5 Speed Of Light Accolade doesn't have to be complicated, and you don't have to waste your time trying to reach 250 MPH on the Road Races available in the video game.
Or, simply put, you can drive above 250 MPH in a custom race, and below I'll share with you a short Road Race that was created for this Road Racing Accolade.
Forza Horizon 5 Speed Of Light Accolade Location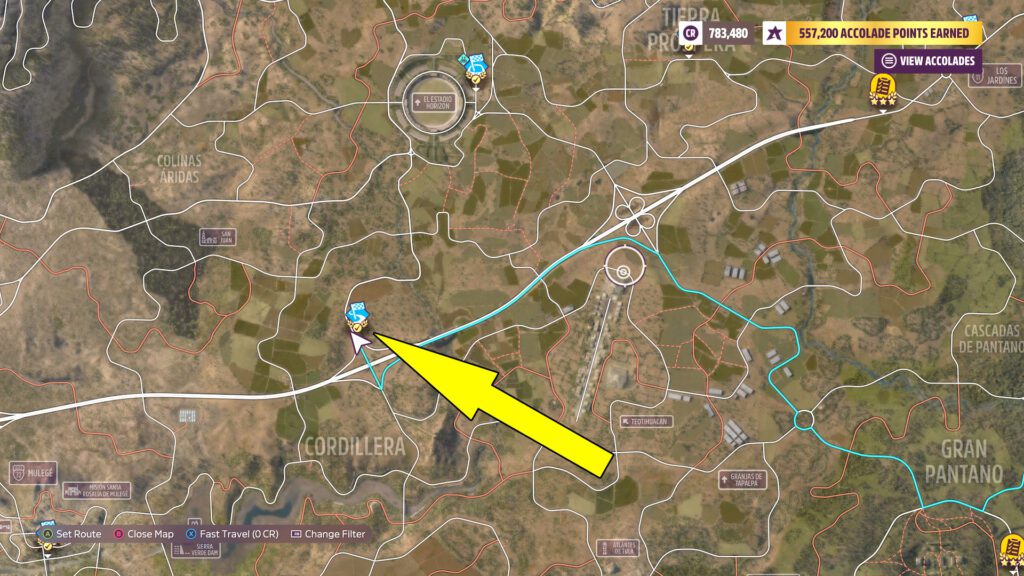 Before we move forward, it's worth mentioning that by using the Custom Road Race below, you'll be able to unlock a total of 3 Accolades, thus securing 1500 Accolade Points.
All of them have similar tasks, the only difference being the top speed you have to reach.
Since for the Speed Of Light Forza Horizon 5 Accolade, you have to drive at above 250MPH, you'll also be able to unlock the previous two Accolades:
Slow And Steady Wins The Race – Drive above 150MPH in a Road Racing Event
Can We Add A Turbo – Drive above 200 MPH in a Road Racing Event
So, you can get all these Accolades in a single run, provided you follow the instructions below.
Here is what you have to do:
Fast-travel to Llanuras Sprint Road Race event. You should see it close to the highway (pictured above)
Now, when close to the starting point, press X
Select Solo in the next menu
Next, scroll left and select Eventlab Creations (yellow tab)
In the next window, pick the Search option (lower-left corner of the screen)
In the Search window, select the Share Code option (last line from the bottom)
Finally, enter the following Share Code: 133538292
After you enter the code above, hit confirm, and you'll see the race in my screenshot below.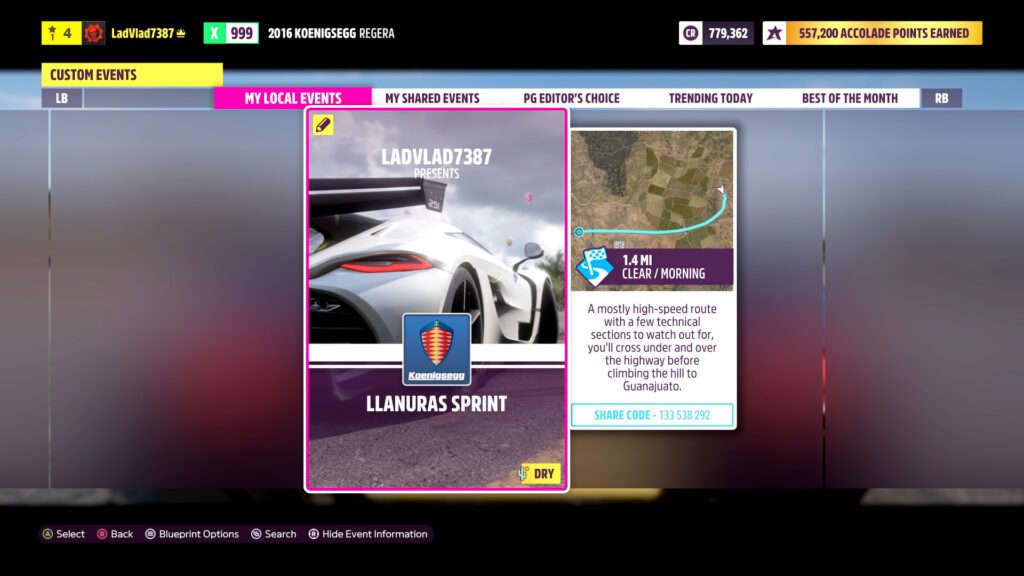 How To Drive Above 250 MPH In A Road Racing Event
To make this FH5 Accolcade even more accessible, the Road Racing Event above was limited to Koenigsegg cars, so you don't have to look for other cars.
As such, make sure you have a Koenigsegg in your garage (Regera, Jesko, One:1, or any other model).
Now, hit start, and when the race begins, take a right turn and go through the first checkpoint.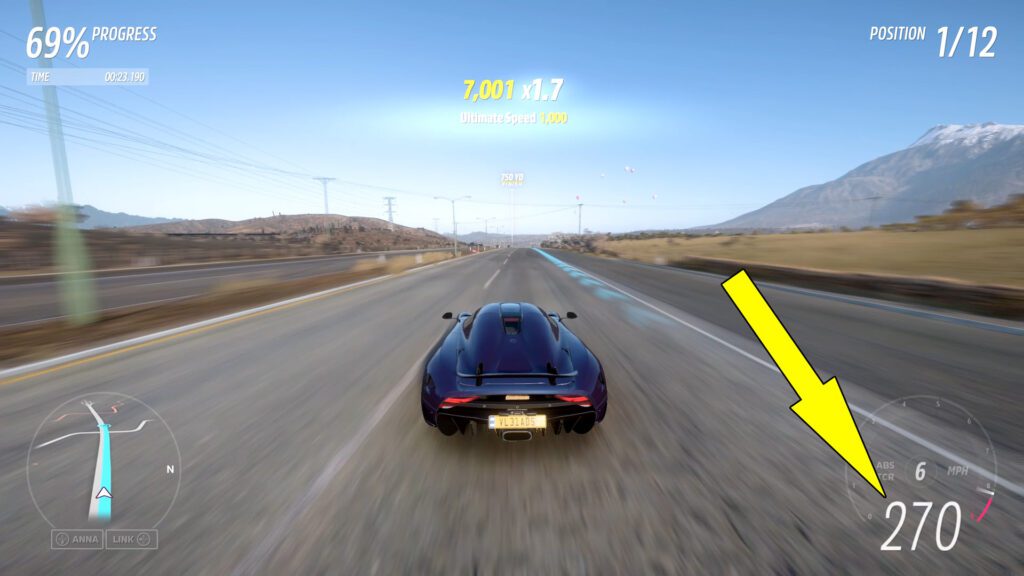 Next, stick to the right side of the highway, driving as fast as possible.
There are several checkpoints I have placed, but this Road Race is short and to the point, so most likely, you won't encounter any difficulties in reaching 250 MPH.
Last but not least, on this custom Road Race, you'll also be able to get several Slingshot Combos for the Full Spead Ahead Accolade.
However, its primary purpose is to help you unlock the Forza Horizon 5 Speed of Light Accolade.