Abbasiyah Dervis' Artifacts are also required to complete the Where One May Haggle or Try To Investigation in Assassin's Creed Mirage, which means that if you are a completionist, you'll need to look for them as soon as you enter the western district of Bagdad. As with all other Dervis' Artifacts we covered as part of our complete strategy guide for AC Mirage, to get those in Abbasiyah, you'll need to pickpocket specific NPCs or civilians, preferably without being spotted.
The AC Mirage Abbasiyah Dervis' Artifacts are best approached after you synchronize the three Viewpoints in this region.
Where To Find All AC Mirage Abbasiyah Dervis Artifacts
Let's start with the custom map showing the locations of the four Abbasiyah Dervis Artifacts you must pickpocket to get 100% completion in this district.
On the said map, I have marked all of them so you can save time while hunting down these collectibles. Now, following the same order as the one on my map, here is how to get these important items Dervis is looking for.
Dervis Artifact #1 (Small Chinese Box): In the Northwestern Corner of the Four Markets
The first Dervis Artifact is a Small Chinese Box found in the northwestern corner of The Four Markets landmark. It is relatively close to the location of the Four Markets Gear Chest Key. To get it, head to the narrow alley and look for a female NPC who constantly checks a bookshop.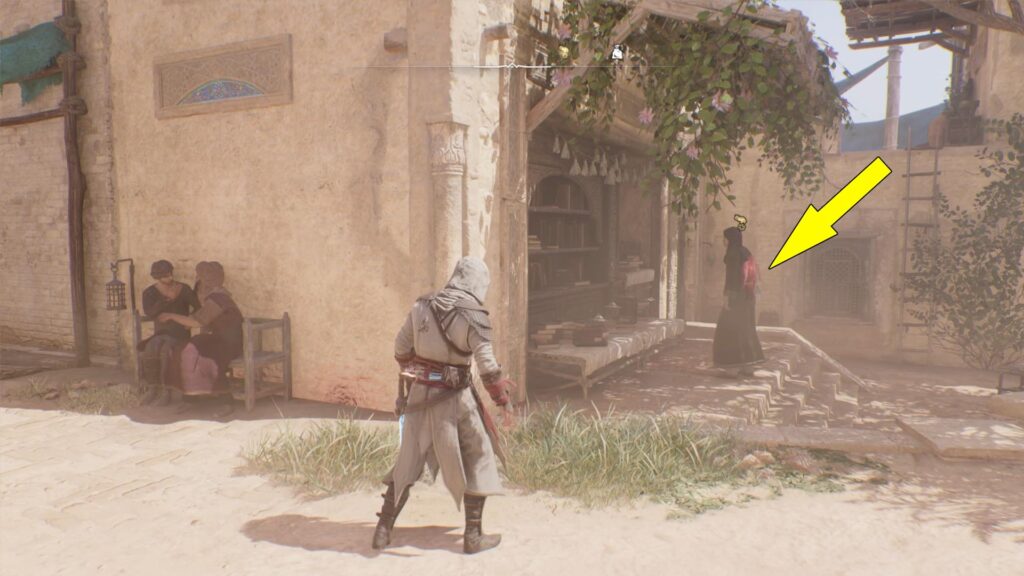 Dervis Artifact #2 (Round Moon Plaque): South of the Abbasiyah Bureau
For the second Artifact, fast-travel to the Abbasiyah Bureau, then check the southern side of the building. Near the water, inspecting a meat vendor stall, you'll find a woman carrying the Round Moon Plaque. Pickpocket the NPC without being spotted by the guards nearby.
Dervis Artifact #3 (Tang Censer): South of the Hammam Landmark
Further to the south of the previous Artifact, you'll find the third one. It is located south of the Hammam landmark at the location I have marked for you. The Tang Censer is carried by a stonemason working in a small courtyard. He is protected by two guards, so make sure you don't get spotted.
Dervis Artifact #4 (Olibanum): East of The Great Bimaristan
The last AC Mirage Dervis Artifact in Abbasiyah is found south of The Great Bimaristan Landmark. The collectible is carried by an NPC who patrols the small plaza east of the Great Bimaristan. You can see him in the following screenshot and notice that he is wearing black clothes.