The Left Behind Enigma in Assassin's Creed Mirage is a bit trickier to find and collect than A Holy Hoard Enigma, as it will require you to find a way inside a building with barred doors. Once you collect the Left Behind Enigma, you must solve the riddle and go to the indicated spot to obtain the Horned Lion Talisman.
However, it isn't easy to locate the spot mentioned in the treasure scroll because the clues given by the drawing are not very obvious.
AC Mirage Left Behind Enigma Location
The Left Behind Enigma is located in the Shari' district of the Harbiyah region, south of the Metal Factory and northwest of the Harbiyah Bureau. I've marked the exact location of the Enigma on the map below.
To make finding the Enigma easier, send Enkidu to scout the area and mark its location on your world map. Head to the location marked on the map and look for a small slope leading up to a platform between buildings. Here, you will find some wooden scaffolding. Approach it and follow the prompt to collapse it and reveal an open window.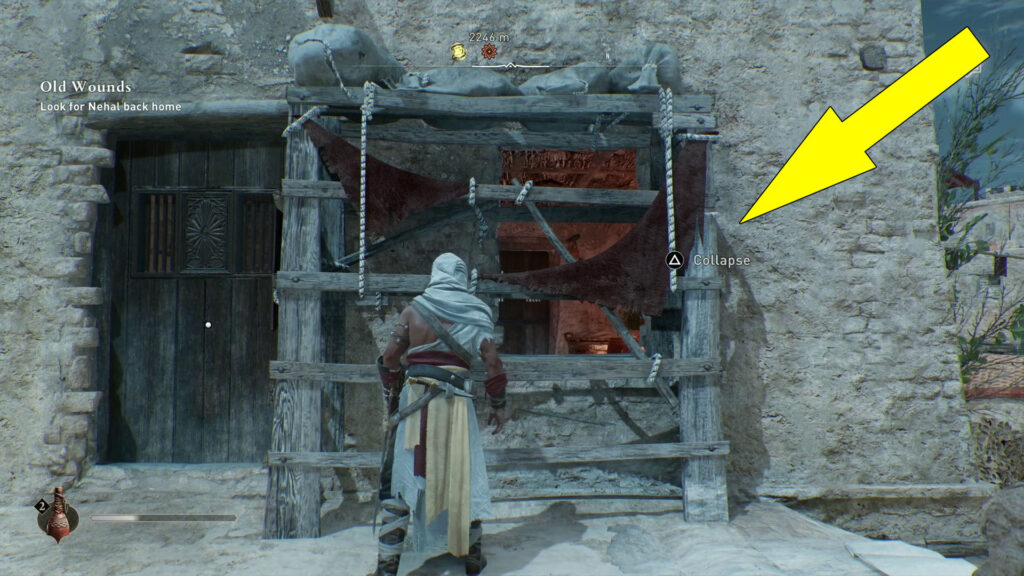 Climb into the building through the window. The Left Behind Enigma is next to the person in the corner of the room. If you're struggling to find it, activate Basim's Eagle Vision.
To view the Enigma you have collected and need to solve, go to your inventory and select your Bag. Scroll down on the right side of your screen until you find the Enigmas section. You can view a clue by clicking on it. The scroll will disappear from your inventory once you find an Enigma's treasure.
Where To Find the Left Behind Enigma Hidden Treasure
The hidden treasure mentioned in the Left Behind Enigma in Assassin's Creed Mirage is located at the Abandoned Village on the western edge of Baghdad's map. The Abandoned Village is located on the western side of the map, south of Caravanserai and west of Abbasiyah. Its location is marked on the map below.
Head towards the southern end of the Abandoned Village's coastline and locate the L-shaped dock. Then, look for a white beam near the fish racks and the cats to find and collect the hidden treasure buried in the sand.