Assassin's Creed Mirage features 6 Gear Chests you must open in the Abbasiyah District of Baghdad in order to obtain 100% completion, and just like all other chests we've covered as part of our complete AC Mirage Wiki, these chests contain important gear and upgrade schematics.
Out of six AC Mirage Gear Chests, five include puzzles you must figure out how to complete. Furthermore, some chests also require keys you can obtain from specific locations.
These chests are not only important because of their contents but also play an essential role if you want to get all the achievements and trophies in AC Mirage. Luckily, none of them require special gear, except for Basim's throwing knives, and none require you to progress the story. This means that once you synchronize all Abbasiyah Viewpoints, you can collect all Gear Chests in this specific district.
As you can see below, to help you find these collectibles, we have created a custom AC Mirage map that shows their exact locations.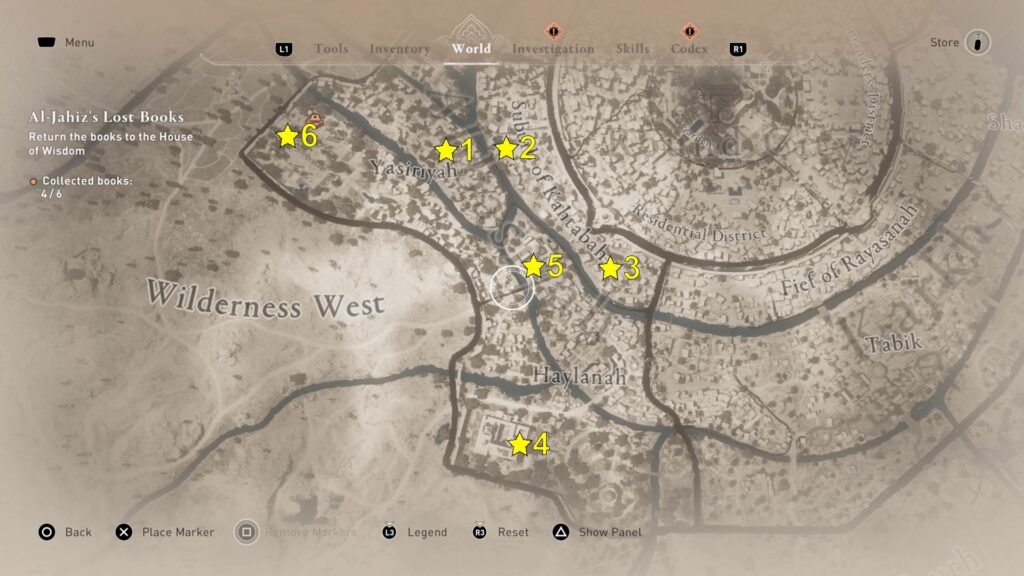 On our map, we have marked each chest in Abbasiyah, and your goal is to get to each location you see on it.
Where To Find All Abbasiyah Gear Chests in AC Mirage
Following the same order as the one on the map, the table below offers hints on how to get the Gear Chests and how to solve the associated puzzles. If by any chance you encounter difficulties in reaching your objective, make sure you check our in-depth guides, and we'll explain step by step what you have to do.
| | |
| --- | --- |
| Gear Chest: | How To Get: |
| 1. | Infiltrate the Scriptorium from the northwest and climb on the roof. Deal with the two guards, then drop to the lower roof. Jump to the balcony on the second floor and assassinate the guard in the room with the chest. |
| 2. | The Four Markets Gear Chest is reached by obtaining the Four Markets Storage Key from the NPC located on the northeastern side of the market. After you get the key to the storage room, get an explosive jar from the ground and throw it at the breakable wall in the back of the building. Now, throw a knife at the explosive jars in the room on the second floor through the grated window. |
| 3. | To get the Scholar's Estate Gear Chest, you must obtain the key inside the southeastern room of the compound. Kill the guards by the door, get the key from the table, and then head inside the room via the breakable window. Move the two libraries to the left and open the chest. |
| 4. | The Great Bimaristan Gear Chest is inside the tower on the eastern side of the roof. To unlock the door, go around the tower and jump on the railing so you can throw a knife through the grated window, aiming at the locker on the door. Enter the tower and pull the library away to get to be able to get close to the chest. |
| 5. | For the Hammam Gear Chest, you must destroy a breakable wall. You can find an explosive jug in a room northwest of the breakable wall. To get inside the room, destroy the grates on the window, then smash the vases near the movable shelf so you can clear the entrance. Grab the explosive vase and throw it at the wall, blocking the door to the room with the chest inside. |
| 6. | The chest is found in the northeastern second-floor room of the estate. To find it, first, you need to move two libraries, then check the southeastern side of the compound for the Scholar's Estate Chest Key, inside a room protected by two guards. |