Surrender is the name of the third Assassin's Creed Mirage Wilderness Enigma you'll need to solve alongside Joy Beneath Weeping Palms and Reap From the Ruins, provided you want to get 100% completion in the large area surrounding Baghdad. The Assassin's Creed Mirage Surrender Enigma solution is more accessible than Reap From the Ruins because the page you'll find includes a text instead of a drawing.
As a reward for finding the hidden treasure spot or solving the riddle, you can unlock the Rebel's Talisman in AC Mirage.
AC Mirage Surrender Enigma Location
AC Mirage Surrender Enigma page or scroll is very close to Baghdad's northwestern wall. As you can see below, it is outside the city, near the border between Harbiyah and Abbasiyah, so your first objective is to get to the location marked on my map.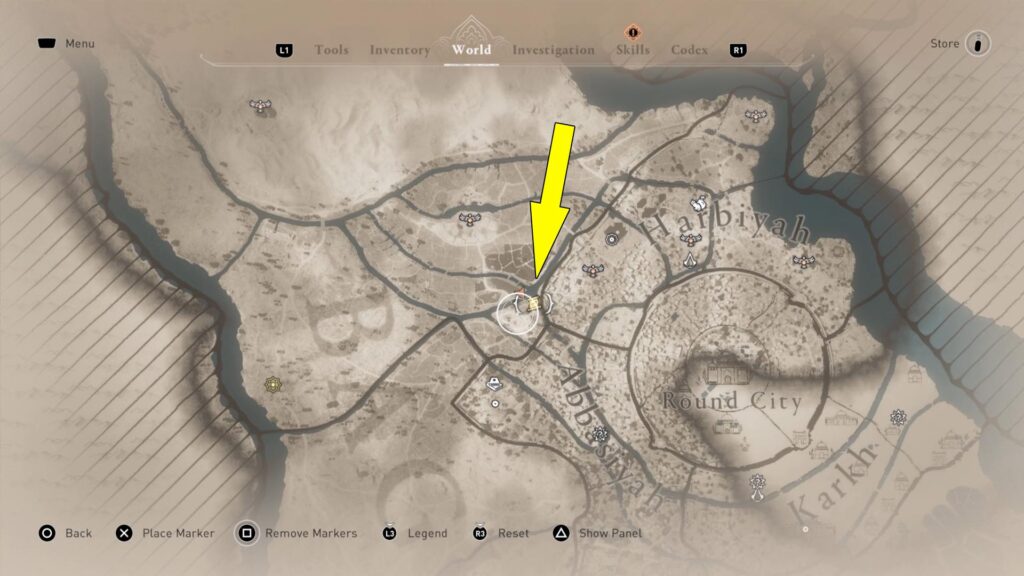 When you get close to the location above, look around, and you'll see a cemetery. This landmark is named the Tomb of Zubaydah. Now, look around, and close to the river, you'll see a small grave with a basket on top of it. On this specific grave, you'll find the Enigma page, which triggers the treasure hunt.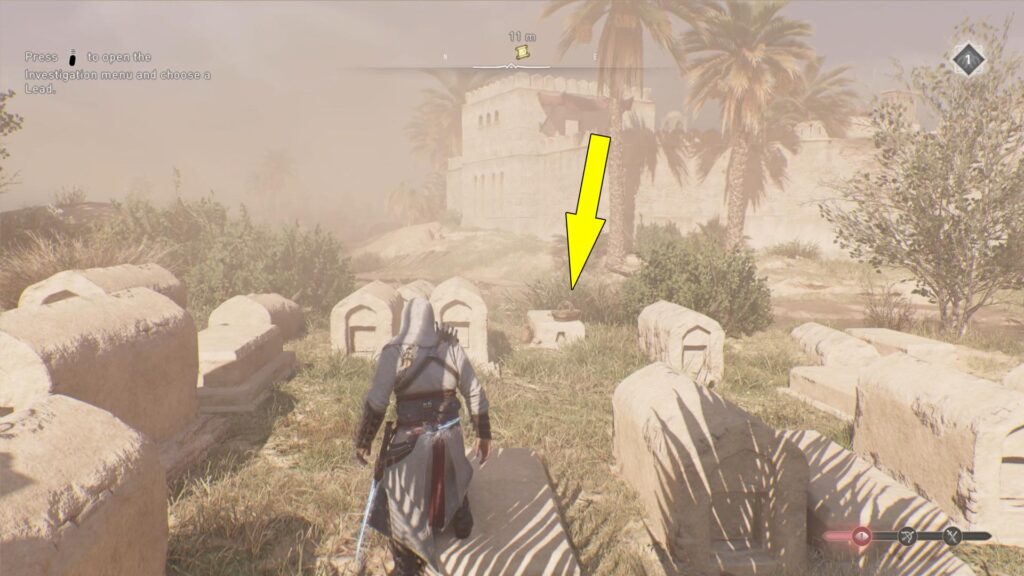 Grab the scroll from the grave, then access it from Basim's Bag. As said, to find the buried treasure, you must solve the Surrender Enigma riddle, which reads:
"Asif,
Ali will call this betrayal, but a cause that once shone bright with promises is rusted with your blood. I drop my rebel blade and leave what's left of my life north of the oasis in the village of my birth. My old home sinks beneath the waves, they lap even at its dome. Perhaps when it's submerged, I'll feel cleansed, bathed at last in something other than blood.
-D"
While this riddle may look confusing initially, if you fully explored the Wilderness in AC Mirage, it's pretty easy to solve. Here is the solution.
Where To Find the Surrender Enigma Hidden Treasure
The first hint the letter provides is the location of D's house north of the oasis. This is basically the Northern Oasis, where you find the Secret Chamber with the 3 Gear Chests.
The second hint is that D's house is sinking, which means the treasure is near a water source. We know that the waves lap at its dome, thus excluding rivers. Now open your map, and north of the Northern Oasis landmark, you'll find D's village, Ukbara. You can see the exact location below.
Travel to Ukbara and head to the northern side of the town. Since we know that D's house is sinking, look around, and you should be able to spot it relatively fast, near the dock. Swim to it, and you'll find the hidden Enigma treasure on a patch of land in the back of the house, as seen in my screenshot.