If you want to unlock the secret armor and weapons in Assassin's Creed Mirage, you will need to collect 10 Mysterious Shards, including the two in the Round City territory. These Mysterious Shards are believed to be Isu artifacts carried by the elite members of the Order of the Ancients.
While some of these shards are easy to find while wandering around, others may be difficult to locate due to the vast size of the Baghdad map.
Where To Find the Two Round City Mysterious Shards in AC Mirage
I have provided the specific locations of both Round City Mysterious Shards in Assassin's Creed Mirage below for your convenience. I recommended visiting Nehal after eliminating Al-Ghul The Slaver, the first high-ranking member of The Order, before starting to search for the Mysterious Shards.
When you do so, the Tha'abeens carrying the shards will be marked on the compass and radar once you are near them.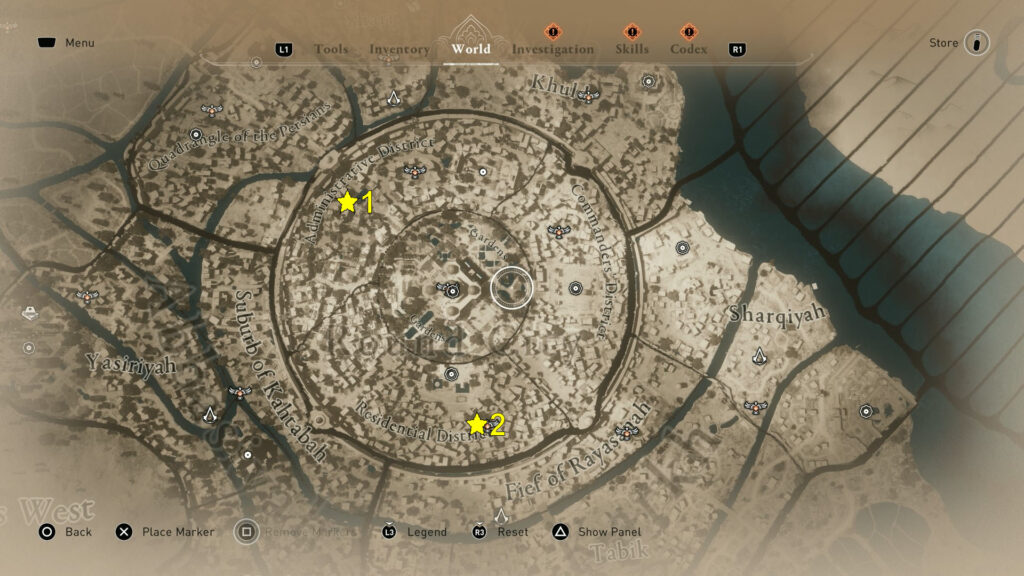 Let's follow the same order as on the map above to obtain both Round City Mysterious Shards in AC Mirage.
Mysterious Shard #1: In the Administrative District
The Tha'abeen carrying this Round City Mysterious Shard can be found wandering through the Administrative District of the territory. Only one guard accompanies him, and his path takes him around the complex that surrounds the Viewpoint of the district. Additionally, he walks near the Postal Bureau located in the southwest of the Viewpoint. You can quickly assassinate both of them if you sneak behind their backs.
Mysterious Shard #2: In the Residential District
The Tha'abeen who possesses this Mysterious Shard can be located in the Residential District of the Round City, but he also frequents Cartographer Street in the Commander's District. He patrols the areas surrounding the Harem and is accompanied by two spear guards, making it more challenging to lure him for a stealth assassination. Using the Chain Assassination skill, you can quickly assassinate all three and loot the Round City Mysterious Shard collectible.