In Assassin's Creed Mirage, Mazalim Courts Gear Chest is one of the three gear chests available in the Round City territory. Inside the Mazalim Courts Gear Chest, you'll find the Hidden One Outfit or the Upgrade Schematics (if you already found the outfit).
The Hidden One Outfit has a unique perk called Deadly Moment: Focus Chunks fill more when performing Stealth kills.
AC Mirage Mazalim Courts Chest Location
This Round City Gear Chest is located in the Mazalim Courts. This building complex is situated in the northern part of the Round City, in the Administrative District. Take a look at the map below for the exact location of the Mazalim Courts Gear Chest.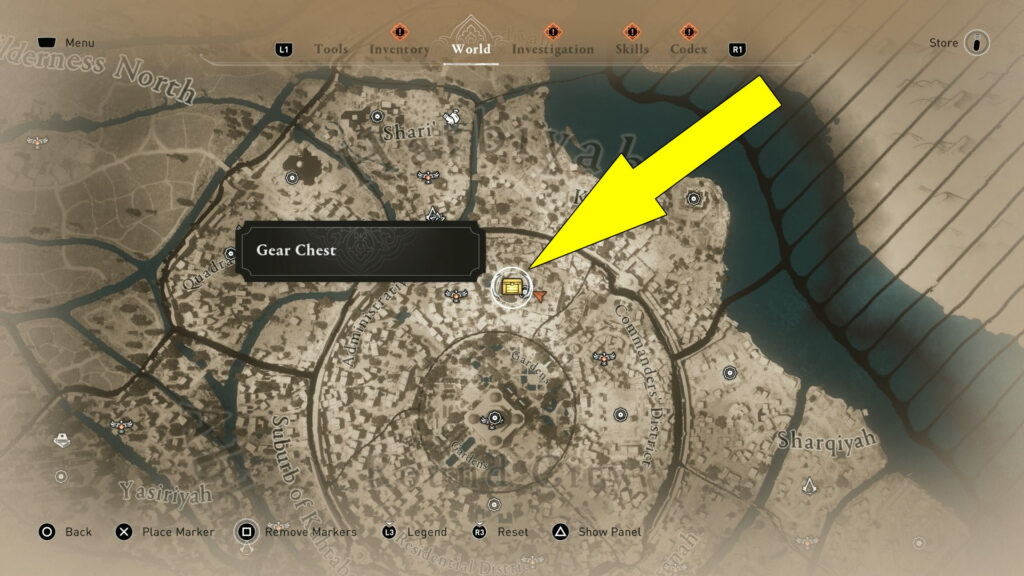 It's important to note that this is a Restricted Area and is heavily guarded. However, you can obtain this Gear Chest without throwing too many punches. Let me show you how.
How To Get the Mazalim Courts Gear Chest in Assassin's Creed Mirage
In order to obtain the AC Mirage Mazalim Courts Gear Chest, you must break a window on the west side of the complex and enter the room. To begin, make your way towards the western side of the complex, where you will find a fountain. Right above it, there's a wooden marquise covered in blue flowers.
You can use this marquise to climb up and reach the top of the building complex. Once you reach the balcony, look for a breakable wooden window (use Eagle Vision to locate it quickly). You can either use a Throwing Knife to destroy it or stand on the ledge below the window and hit it with a Heavy Attack. To perform a Heavy Attack, hold down the Light Attack button.
Climb inside through the window, and loot the Gear Chest in the middle of the room containing the Hidden One Outfit or the Upgrade Schematic for it.