If you wonder how to get the Mysterious Talisman in Assassin's Creed Mirage, you should know it's a hidden treasure obtained by solving the Delight by the Dome Enigma. The Assassin's Creed Mirage Delight by the Dome is one of the three Enigmas featured in Abbasiyah, the other two being The Gift and A Challenge.
Unlike The Gift, however, the solution to the Delight by the Dome Enigma is easier to figure out, mainly because you don't have to rely on a text puzzle but on a picture.
AC Mirage Delight by the Dome Enigma Location
As you can see on my map below, the Delight by the Dome scroll, which triggers the Enigma, is found near the Mosque Viewpoint in Abbasiyah, the western Baghdad district.
If you have synchronized all Viewpoints in Abbasiyah, fast-travel to the Mosque and perform a Leap of Faith to get to the ground. If not, simply head to the location I have marked on my map. Now, go around the Mosque and look for a covered terrace near the street. The Enigma collectible scroll is found on a small shelf in the covered area.
Pick it up, then access the scroll in Basim's bag to see a drawing depicting a fairly large building surrounded by a garden.
Where To Find the Delight by the Dome Hidden Treasure
According to the drawing on the scroll, the treasure is found in a small pond next to a weeping tree.
While the drawing may look confusing at first, the name of the Enigma contains the most important hint regarding the treasure's location. Specifically the word "Dome" because in Assassin's Creed Mirage, there is a single landmark containing this word. Precisely, the Dome of the Ass, which is found on the southern side of Abbasiyah, at the location I have marked below.
After reaching the exact location on my map, head slightly north of the dome and look for a small pond near a resting area. Inside the pond, you can spot the glowing treasure you must retrieve to unlock the Mysterious Talisman.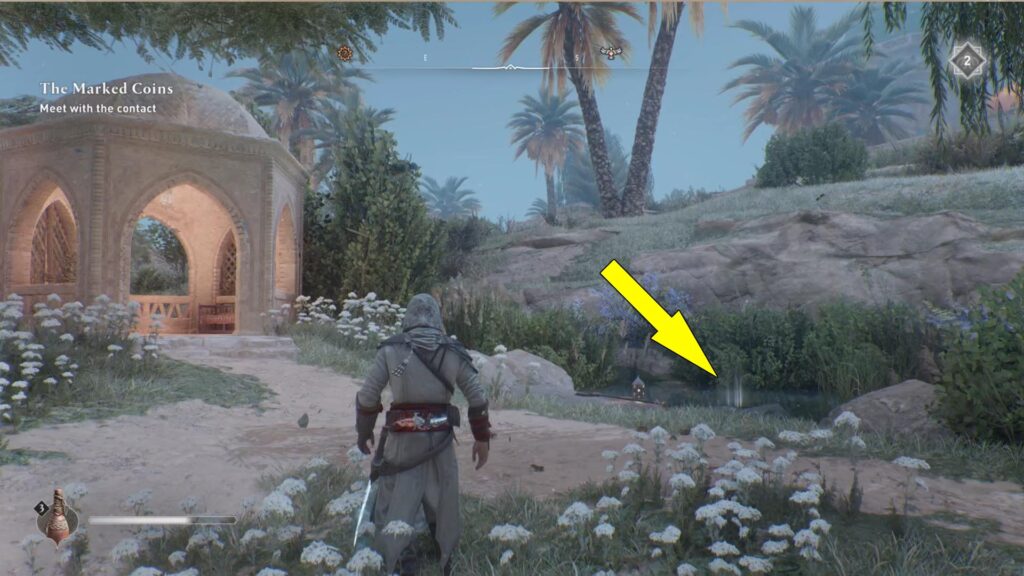 While the talisman you found doesn't improve Basim's skills or combat efficiency, it is an intriguing item you may want to wear while exploring Baghdad.