If you wish to open the three Northern Oasis Gear Chests in Assassin's Creed Mirage alongside all other Shards in the game, you'll also need the two found in Abbasiyah. The AC Mirage Abbasiyah Mysterious Shards count as collectibles you need to find if you aim to get 100% completion in the western district of Baghdad.
These shards can be pickpocketed from specific civilians or NPCs within the Abbasiyah district. However, unlike other collectibles we've covered as part of our complete Assassin's Creed Mirage guide, as you probably know, the civilians are mobile, meaning that the Mysterious Shards don't have fixed locations.
Where To Find the Two Abbasiyah Mysterious Shards in AC Mirage
Before we discuss their locations in the latest video game developed by Ubisoft Bordeaux, take a look at the map below, which marks the best spots where you should wait for the civilians carrying these two collectibles.
As you can see, the two AC Mirage Mysterious Shards in Abbasiyah are close to two important landmarks: The Four Markets and the Pharmacy of Haylanah. Remember, though, that the civilians are mobile, so the map above marks the locations where you should wait for them, not the paths they follow.
Mysterious Shard #1: In the Southwestern Corner of The Four Markets
The first Mysterious Shard on the Abbasiyah map above is obtained from an NPC who passes through The Four Markets. This landmark also includes a Gear Chest collectible, and you'll get to visit it often. For this shard, I suggest waiting for the NPC on the southwestern bridge, connecting The Four Markets and the Scriptorium landmarks.
Your target is a female NPC wearing a black dress. Luckily, she is not protected by the city guards, so simply get close to her and pickpocket the Mysterious Shard.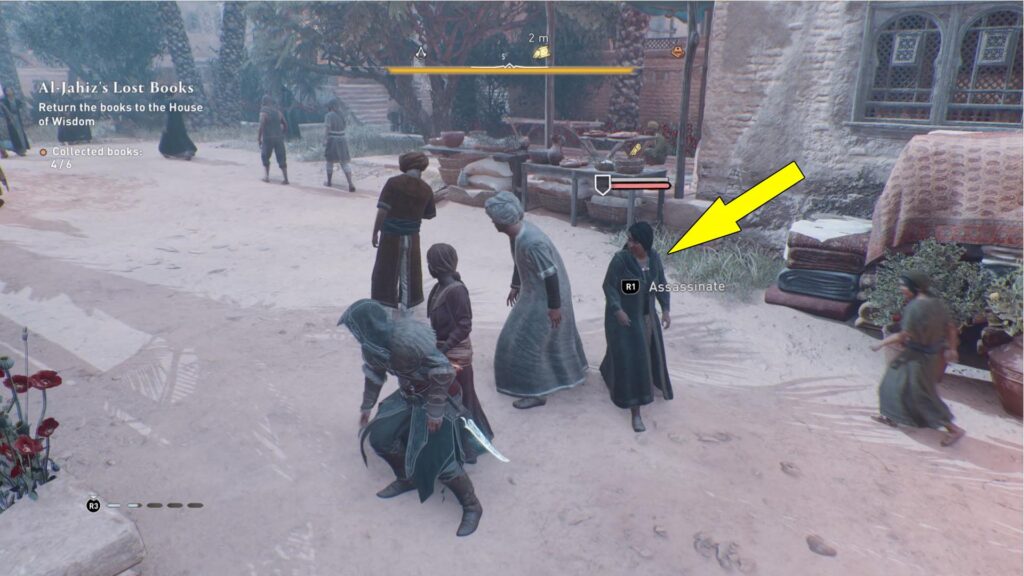 Mysterious Shard #2: South of Pharmacy of Haylanah
For the second Assassin's Creed Mirage Abbasiyah Mysterious Shard, head to the southern side of the district and locate the Pharmacy of Haylanah.Southwest of the Pharmacy of Haylanah is a bridge leading to The Great Bimaristan landmark. Wait on the bridge for another woman dressed in black; however, as you can see below, this one is accompanied by a guard. If you can't pickpocket her whiteout being spotted, you can assassinate her alongside her bodyguard.