The Assassin's Creed Mirage Hammam Gear Chest is far easier than the one from the Scholar's Estate because it requires you to solve only a small puzzle involving a breakable wall. The Hammam Gear Chest in AC Mirage contains the Zanj Uprising Dagger / Upgrade Schematic, and if you are a completionist, you don't want to miss it.
AC Mirage Hammam Chest Location
The Hammam Assassin's Creed Mirage Gear Chest, as you can see on the following map, is found south of the Mosque Viewpoint, in Abbasiyah District, or the western district of Baghdad.
To get it faster, I recommend approaching the landmark via the southwestern bridge. When on the bridge, you should see a crane you can climb to enter the Hammam's backyard. While on top of the crane, in the backyard, you can spot a breakable wall, which is pictured below. Behind the wall is the Hammam Chest collectible.
Now, to get to the chest, you must find an explosive red jar that allows you to take down the wall.
How To Get the Hammam Gear Chest in Assassin's Creed Mirage
First, enter the courtyard and place Basim in front of the wall. While facing the wall made of stones, turn left (northwest) and go around the building. Remain on the ground, but pay close attention to the right side as you move northwest. Eventually, you'll see a door blocked by a shelf. On the left side of the door is a window you can break using the throwing knives.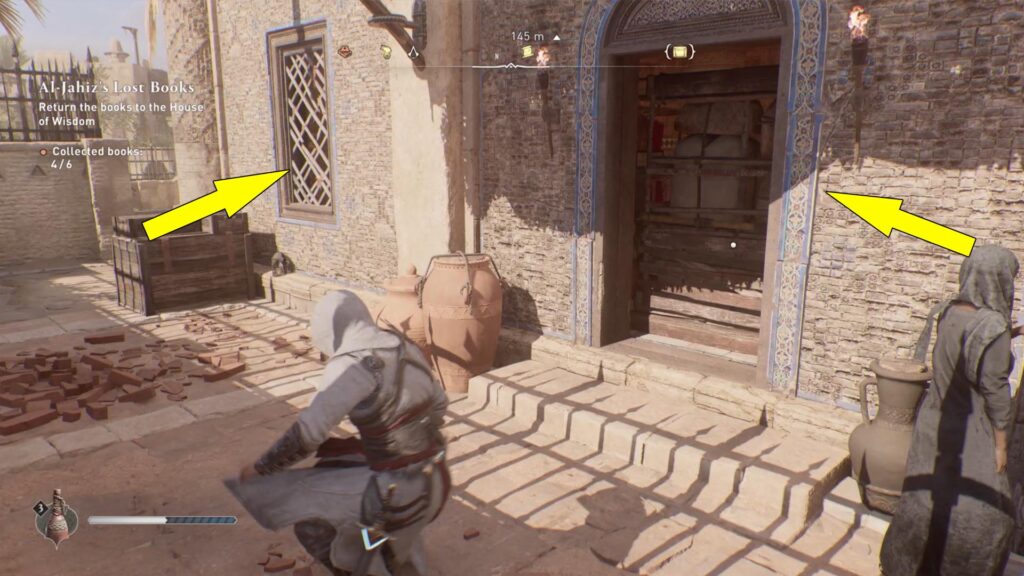 Head inside the room through the window I have marked for you, then turn right to see several jugs near the movable shelf.
Smash them with Basim's sword, then move the self away from the entrance. In the same room, look around to spot an explosive vase (red jug). Pick it up and return to the breakable wall you must destroy. Aim at it and throw the jug to clear the entrance to the room where the Hammam Gear Chest is found.
When you enter the room, head left, and you'll see it on the ground. Luckily, this chest doesn't require a key, so feel free to claim your rewards inside.