Assassin's Creed Mirage Karkh District features a single Tale of Baghdad side-mission, which revolves around a kid known as Young Eagle. The AC Mirage Leap of the Faithful Tale of Baghdad is very short (similar to Blade in the Crowd, Tool in the Shed), and it allows Basim to teach the Young Eagle how to perform the iconic Leap of Faith.
The Karkh District Tale of Baghdad requires you to climb a building that is also one of the Karkh Viewpoints – specifically, the Al-Mi'dhana Al-'Ateeqa Viewpoint.
Where To Find the Young Eagle in AC Mirage
The Young Eagle, or the NPC you'll need to help for the Leap of the Faithful Tale of Baghdad in Karkh District, is found on the eastern side of the region at the location marked below.
As you can see on my map, the Tale of Baghdad icon overlaps one of the Viewpoints icons. Head to the location you see above, and you'll find the Al-Mi'dhana Al-'Ateeqa Viewpoint. Near the street, you'll see a child yelling at the Young Eagle. If you look at the tower behind the child, you should be able to spot the Young Eagle standing on a platform.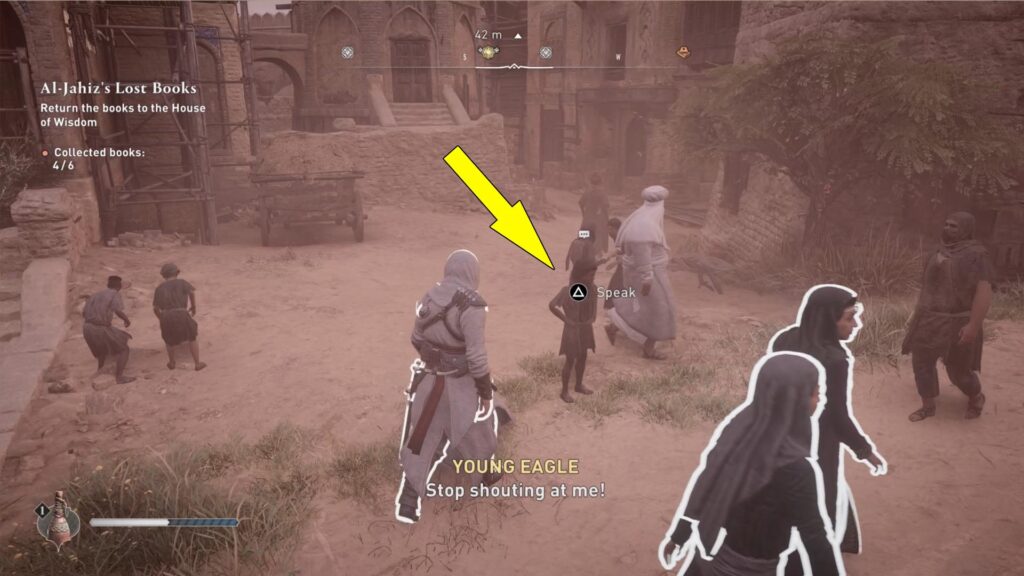 When talking to the little girl on the street, she'll tell you that the kids nearby dared the Eagle to climb the tower, and now all of them will get into trouble. Your objective is to help the boy on top of the platform.
How To Help the Young Eagle Get Down From the Tower
As said, this Tale of Baghdad is relatively easy to complete since the boy is on one of the viewpoints you must synchronize.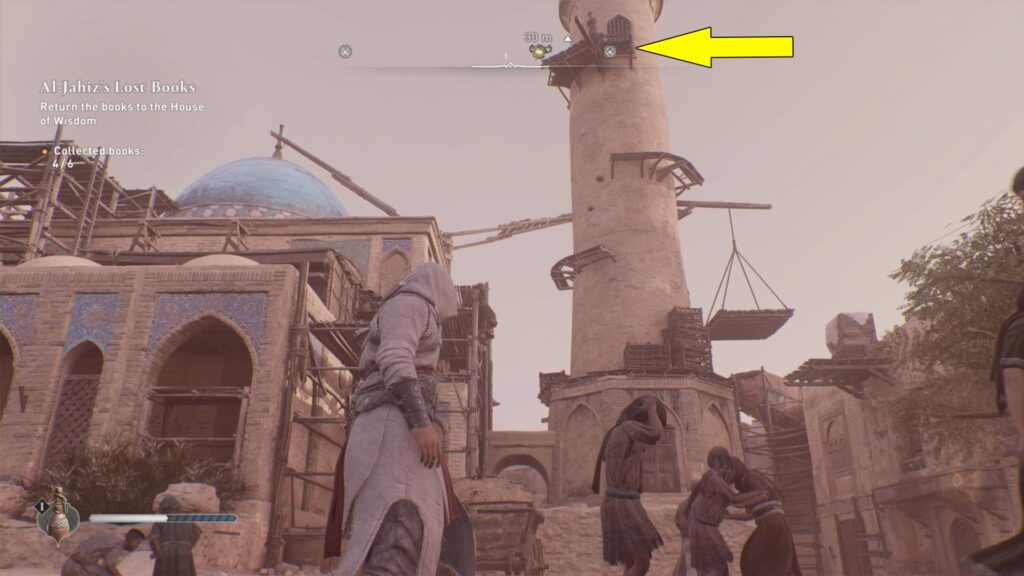 To get to him, start from the street and climb on the mosque's roof nearby. Now, climb the crane and jump on the wooden pole coming out from the tower's wall. Finally, grab the grappling point on the right side and move to the platform where the Young Eagle is waiting.
When you talk to the little boy, you'll hear Basim encouraging him. But the boy needs more than that. He wants to see how a Leap of Faith is performed. So, approach the catwalk and push the left thumbstick forward while pressing X/A on your PlayStation/Xbox controller.
After you jump into the cart below, the Young Eagle will follow you. While his leap is far from perfect, he'll be happy he managed to get down. Now, to complete the Karkh Tale of Baghdad, talk to the Young Eagle again before continuing your journey.