Feroza Criptograma Chest is one of the 15 Far Cry 6 Criptograma Chests featured in Ubisoft's latest video game and one of the 4 Criptograma Chests in Valle De Oro Region.
Far Cry 6 Feroza Criptograma Chest is by far the easiest to complete since both Charts are very close to the locked chest you have to open.
So, let's go over this one and see how you can unlock the Far Cry 6 Locked Criptograma Chest in Feroza Town.
Far Cry 6 Feroza Criptograma Chest Location
Feroza Town is an important landmark you'll visit while working on liberating Valle De Oro.
As you can see, it is found in Balaceras, northwest of Maria Marquessa Productions Military Camp.
The Criptograma Chest is in the southern section of the town, at the location marked on my map below.
When you get to the spot on my map, you'll notice that you are in an old parking lot.
Look around to find a blue building, and next to it sits the chest.
If you try opening the chest, you will see that the two charts show a starfish and the emblem of Libertad.
Here is where they are.
Where To Find The First Criptograma Chart For The Feroza Chest
From your current location (in front of the chest), head left around the building, and you'll see a yellow container.
Approach it to see the chart in my image.
To collect this chart, go around the container again, and you'll spot a green fence.
Shoot the wooden planks blocking your way, then once inside the container, turn around and look at the wall.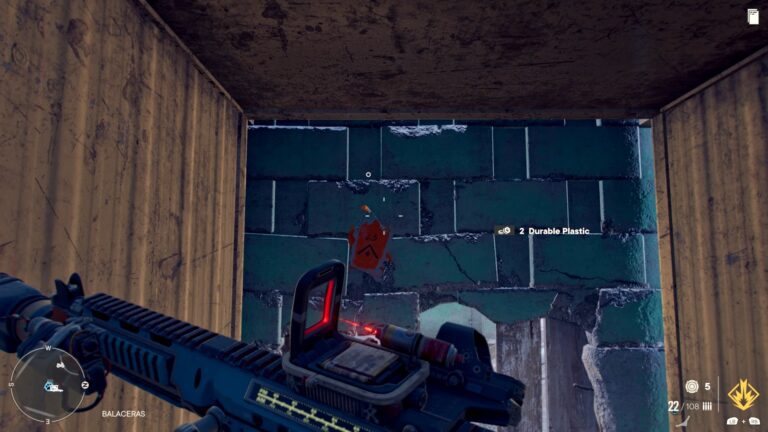 Awesome! Now let's go after the second one.
Where To Find The Second Chart For The Feroza Criptograma Chest
From the previous location (inside the container), exit through the same hole.
Now, turn left to spot the rusted car below.
Get close to the car, and shoot the wooden platform that is blocking the driver's seat.
Now, look inside the car, and you'll see the second chart depicting a starfish.
Feroza Locked Chest Content
Great job!
Now head back to the chest, and unlock it to retrieve, as you can see, the Far Cry 6 Fuego Mitts MK II Wrist Gear.
After you get the Wrist Gear, if you're looking for the Fuego Boots, make sure you find the Cielo Gardens Tower Criptograma Chest explained here.