Far Cry 6 Gordito's Spurs are your objective in the Spur of the Moment Yaran Story, which is not only hilarious but also unlocks a new side-mission named Over Easy.
Far Cry 6 Spur of the Moment is a mandatory side-mission you'll surely want to play because it unlocks one of the Roosters you can use in cockfighting.
On top of this, you'll get to fight an army of possessed roosters, as you are about to see.
So, let's go over this mission which, as said, requires you to find Gordito's Spurs, Gordito being Elvis Carballo's Rooster.
Far Cry 6 Spur Of The Moment Yaran Story Guide
As you can see, this Far Cry 6 Yaran Story becomes available at Montero Farm in Madrugada.
To trigger it, however, first, you'll need to complete the "Meet the Monteros" Main Operation.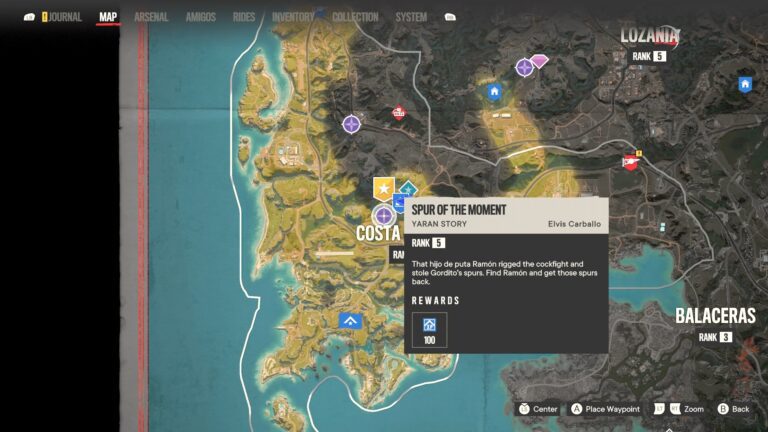 Once you complete the said operation, you'll need to find Elvis Carballo.
He is the guy in my screenshot below, and you'll find it near the small arena where the rooster fights take place.
After you talk to him, you'll learn that he owns a rooster named Gordito, which translates into Chubby.
Now, despite Gordito's weight, the rooster is a champion, which kinda makes Elvis an undefeated trainer.
The problem is Ramon, who challenged Elvis and used a juiced-up rooster to defeat Chubby.
So basically, Ramon's rooster was on steroids.
Because of this defeat, Elvis had to give Ramon, Gordito's Spurs.
Your job? Get them back so Chubby can get ready for another fight. Hopefully, this time the opponent won't be on drugs.
Spur Of The Moment: Where To Find Ramon
Good, so now that you know what you have to do, your goal is to find Ramon.
Open your map, and you'll see that you have to drive a bit if you did not explore the area named Aguas Lindas, which translates into Beautiful Waters, in case you want to know.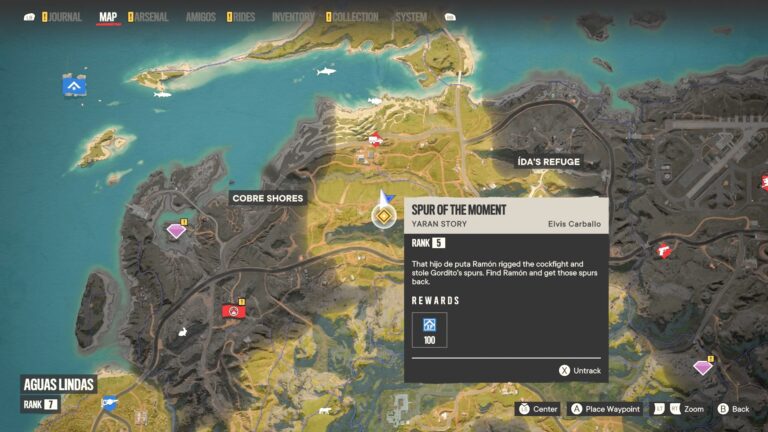 When you get to the location on my map, look for a tunnel because Ramon's shelter or his roosters' farm is in a bunker.
You can see the entrance below.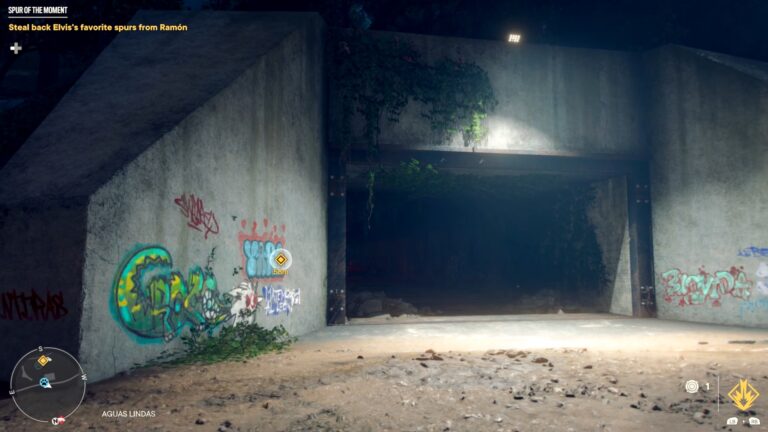 Spur Of The Moment: Ramon's Bunker Keycard
Once inside the large tunnel, hug the left side and look for a window that leads to a corridor.
Here things are quite straightforward, meaning that you'll need to follow a linear path to reach the bunker's locked door.
To open it, you'll need Ramon's Bunker Keycard, which was conveniently placed by Ubisoft's devs in front of the door.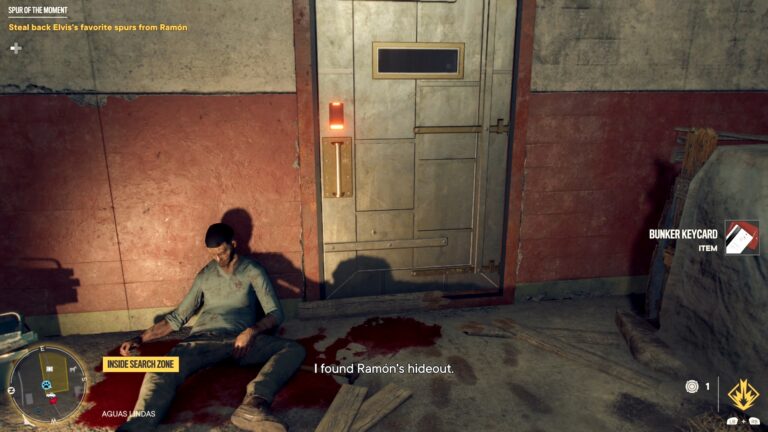 As you'll soon find out, the guy holding the Bunker Key is Ramon, who locked something inside.
What? You'll find out in a moment, but now is a good time to summon Guapo.
Where To Find Elvis's Favorite Spurs
Once you open the door, follow the linear corridor behind it, and eventually, you'll find a kitchen.
What you should notice here are the dead roosters or chickens (judging by their size) and the note on the table.
The Note With Choppy Printing basically confirms that Ramon's Rooster was on drugs. But it also tells you that the rest of the roosters became quite violent.
Or, as I like to call them, they are possessed. Again, now is a good time to summon Guapo.
Good, so before leaving this kitchen, get the El Dorado Rooster in the wooden crate and read the Short Note on the table.
Just so you know, El Dorado is not on drugs. Nor it is possessed like the rest. 
Once you go through the door nearby, head down the stairs, and you'll get to a cave.
Keep going, and eventually, you'll find El Pollo Loco.
Unlike El Dorado or Gordito, this Rooster is so high that will freak you out. Hence its name, which translates into The Crazy Chicken.
Obviously, to get Gordito's Spurs, you'll need to kill El Pollo Loco.
The moment you do that, however, start running towards the exit because you'll be attacked not by one or two but by an army of crazy roosters. Demonic creatures!
What you should know is that they won't stop spawning, and you can't defeat all of them; however, there is a trick I want to share with you.
While for Dani, these roosters are a pain, for Guapo are a blessing, meaning that they are his dinner and can help him level up his Reptile Metabolism.
So, if you want to max out Guapo's Reptile Metabolism, you can do it here.
If not, keep running and exit the bunker.
Now, obviously, you'll need to head back to Elvis and give him Gordito's Spurs to complete this Yaran Story.
Don't worry, though, you are not done with the possessed roosters just yet, because more of them await at Esmeralda Eco Farm, where you need to destroy 49 Juiced-Up Rooster Eggs.