Far Cry 6 Punto Este Lighthouse Yaran Contraband Chest is one of the trickiest in Isla Santuario, but nevertheless mandatory if you wish to get all Unique Weapons in the latest Far Cry video game published by Ubisoft.
Punto Este Lighthouse is a landmark located on the southeastern side of Isla Santuario or the first region Dani gets to explore at the beginning of her journey.
Here you'll have to find one of the Unique Weapons (there is a total of 49) inside a Yaran Contraband Chest.
Here is everything you need to know about the Far Cry 6 Punto Este Lighthouse Chest and how to get it.
Far Cry 6 Punto Este Lighthouse Chest Location
As you can see on my map below, Punto Este Lighthouse is found in Quito Region.
Furthermore is in the area known as Sagrado, close to Corto Cay.
Since this area is Rank 1, it means that you can approach the landmark the moment you complete the Prologue.
And you should because you'll get your hands on a really nice weapon.
How To Get The Punto Este Lighthouse Yaran Contraband Chest
To get the Yaran Contraband Chest in Punto Este Lighthouse, first, you'll need to unlock the Grapple Kit, which will be in your possession quite early.
Basically, you'll get it in order to reach Clara's Camp.
Now, get to the location marked on my map, and you'll find a rather tall Lighthouse.
The Chest is on top of it, and here is how to reach it:
Get close to the tower and while facing it, look up to spot a Grappling Point
Grapple by pressing X (Xbox), then press and hold RT to ascend
As you climb up, you'll get to a lower section (under the actual chest)
Here turn right to spot some resources on a wooden plank
Now slowly move towards the edge of the plank, then turn around and look up to spot another Grappling Point (pictured below)
Next, use the Grappling Point on top of the Lighthouse, and you'll reach the roof.
Once you do that, turn left and go around the central tower, but look for a small entrance on the right side.
On the ground is the Far Cry 6 Yaran Contraband Chest in Punto Este Lighthouse (also pictured).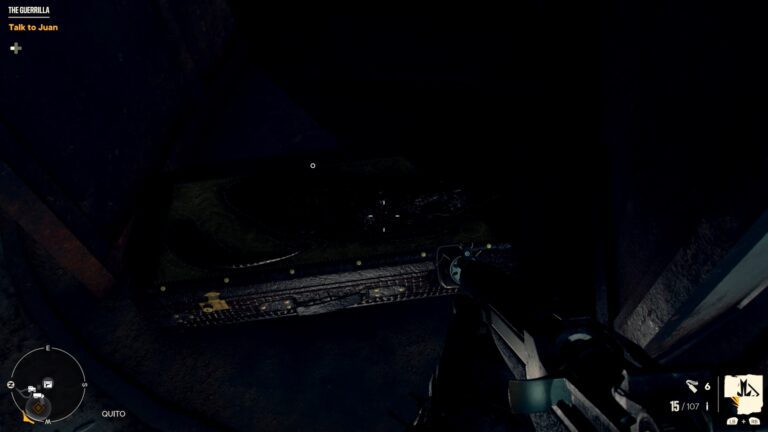 Inside this chest, you'll find the Humidora Unique Shotgun, which is one of the 7 Far Cry 6 Unique Shotguns (this guide explains how to get the rest of them).
After you get it, simply use your parachute to descend the Punto Este Lighthouse faster, or simply Fast Travel to another location.