Far Cry 6 FND Special Forces Base Armory Keycard is required to access the armory in one of Castillo's bases in the Valle De Oro Region.
The FND Special Forces Base in the latest Far Cry video game developed by Ubisoft is one of the essential military territories you have to clear because here you'll also find one of the three Legendary Baseball Memorabilia you have to retrieve to complete the Stealing Home Yaran Story (see the full guide here).
Therefore, getting the FND Special Forces Base Armory Key is mandatory to finish all side missions. Let's see how you can do this.
Far Cry 6 FND Special Forces Base Locked Door
As you can notice on my map below, the Far Cry 6 FND Special Forces Base is found on the northern side of the Barrial area, part of Valle De Oro.
This base is on the northern shore, and it is heavily guarded.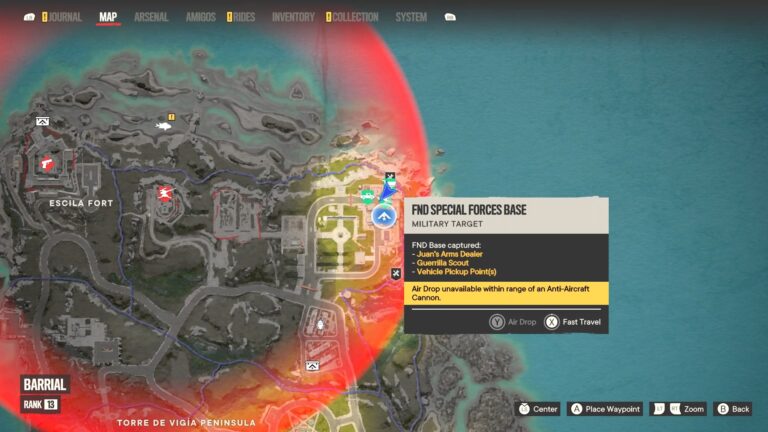 When you approach this FND Base, if you look around on the northeastern side, you'll spot a locked door (also pictured below).
This is the armory you'll need to access, but to do so, you need the Special Forces Base Armory Key.
Where To Find The FND Special Forces Base Armory Keycard
Luckily for us, the Armory Keycard for the FND Special Forces Base locked door is closer than you think, and there are three methods to get it:
You can clear the base and liberate it to obtain the key automatically
You can look for the commander of the base and put him down silently, then grab the key
Or you can find it at the location explained below
The third method is recommended if you want to approach the base silently.
As such, once you find the door turn around to spot a large radio tower on the roof of the building nearby.
Find the ladder in the back of the building, and once you get to the lower roof, look for a second ladder.
Use it to get to the top floor, where you'll see a small office. 
On the table, you'll find the Armory Keycard in my screenshot.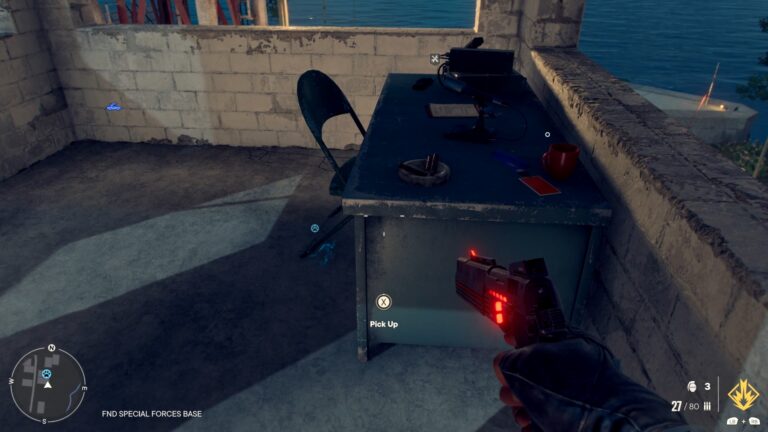 Once you get the key, head back to the Armory and loot the place.
Baseball Jersey: How To Use
Along with the FND Chest and other valuable items inside the room you just unlocked, there is a quest item you should not miss.
It is the Baseball Jersey you can see in my image below, and it sits on a wall near the green lockers.
This item is essential because you'll need it along with the Jock Strap (explained here) and the Baseball Glove (also covered here) to complete a Yanan Story named Stealing Home in Valle De Oro.
Obviously, you can return to this location if you miss it.